Ahh, the kitchen island, otherwise known as the heart of the home. While we love the traditional look of an island with counter stools as much as the next person, we've recently landed on a new obsession: bench seating.
Given all that happens around a kitchen island — entertaining guests, the kids catching up on homework after school, and happy hour with your friends to name a few — we couldn't help but feel like there MUST be a more comfortable option than a pair of stools. Don't get us wrong, we're big fans of this layout, and it works especially well if you're in a home that lacks a formal dining area. However, if you have the space, a kitchen island with bench seating is so much better — you get the best of both worlds, an open floor plan and a designated place to sit-down and eat.
Intrigued? Ahead, you'll find eight kitchen island ideas that are sure to inspire a culinary makeover.
1. Go eclectic.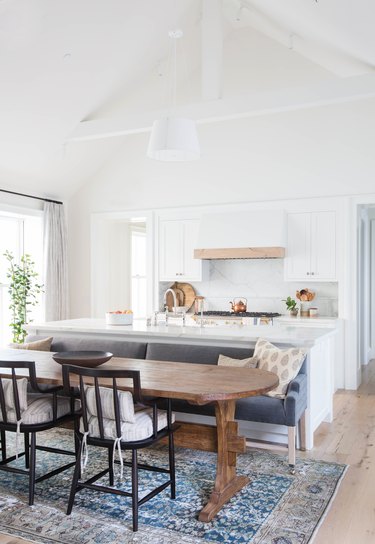 Leave it to Amber of Amber Interiors to nail a kitchen island with bench seating idea. To recreate this relaxed, eclectic look, pair warm wood with a cool, gray upholstered bench and a trestle dining table. A vintage style rug and black chairs will round out the look, perfectly balancing between modern and classic.
2. Create your own bistro.
The bistro chairs used in this kitchen designed by Jenn Feldman immediately elevate the dining nook, while keeping the overall vibe warm and inviting. Pair cane chairs with a pedestal table and a globe-style chandelier to bring this look into your own cook space.
3. Make it industrial.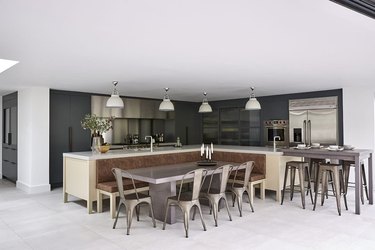 A culinary space designed by Mowlem & Co. proves that this kitchen island idea can be just as sleek and modern as it is cozy and quaint. A dynamic mix of warm wood, black finishes, and steel accents keeps this industrial-inspired space from being anything but sterile.
4. Achieve sophistication with tufted upholstery.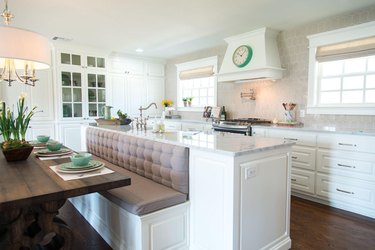 Joanna Gaines from Magnolia keeps this kitchen island with bench seating traditional and sophisticated with all-white cabinets and a tufted greige seat-back cushion fitted to a built-in bench. For warmth and character, add a rustic wood table.
5. Create separation with a glass divider.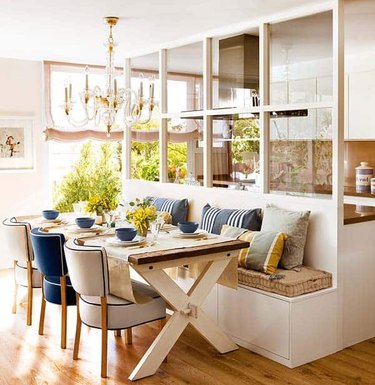 Pia Capdevila designed an imaginative and creative kitchen island idea by incorporating a glass partition between the island and the bench seating, giving the effect of a separate and intimate dining area. We love this setup for a small space that doesn't have a formal dining room — the perfect way to establish a cozy atmosphere without sacrificing light or open sight lines.
6. Go big with a U-shape.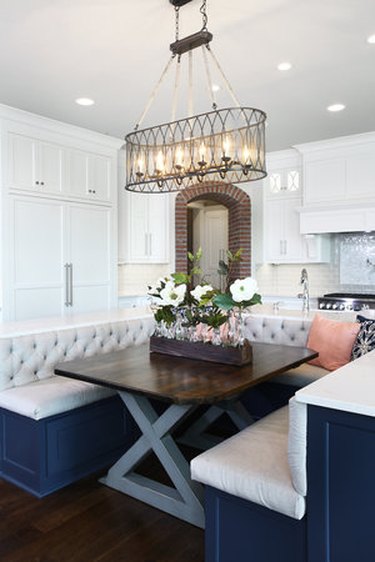 This kitchen island with bench seating by Erica of Style and Grace Interiors takes full advantage of the space with U-shaped seating to accommodate a larger group — the perfect solution for big family dinners. Follow her lead, and go with a color palette of white, beige, and navy, with a few pops of coral to bring an extra dose of energy to your space.
7. Focus on storage.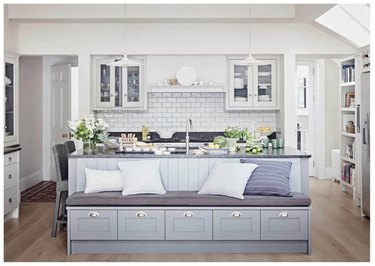 8. Try a new angle.
If you think that a kitchen island with bench seating won't work for your space, think again. This design by Oliver Burns shifts the traditional dining area to the side of the island, rather than the front. Start with an oversize traditional chandelier, and layer in velvet upholstery and a dark, antique-inspired pedestal table for good measure.