If you are looking to maximize space in your home, you're in good company. Obvious places to start include underutilized basements, nooks under the stairs, and, of course, often forgotten attics. Although the latter is usually relegated to pulling storage duty, with a bit of work, attics can actually be transformed into livable square footage.
Thanks to their signature low-pitched slanted ceilings, attics are inherently cozy spaces seemingly made for lounging and relaxing — all the makings of a casual and comfortable living room. And since this space generally has a small footprint, and a naturally open floor plan, you'll want to minimize accessories and keep the decor streamlined to give the illusion of more square footage. Of course, at the heart of any functional living room is the furniture layout which will largely be dictated by the size and shape of your setup.
Ready to design an attic living room? Here are six inspiring ideas to get you started.
When challenged with decorating small spaces, keep to an edited color palette and refined silhouettes for a sophisticated look. Kelly Hohla incorporated shades of blue in this petite attic living room for a soothing coastal vibe, and then added subtle pattern and texture with an all-over floral print wallpaper, a fringe pouf, and a statement lounge chair.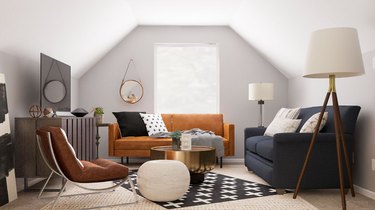 The signature clean lines, low-profile furniture, and less-is-more approach of modern style are perfectly suited for attic living rooms, where you'll want to keep clutter at bay. This space by Modsy maximizes seating with a set of sofas, a lounge chair, and pouf, but doesn't feel overly crowded due to the pared-down color scheme.
3. Include a work station.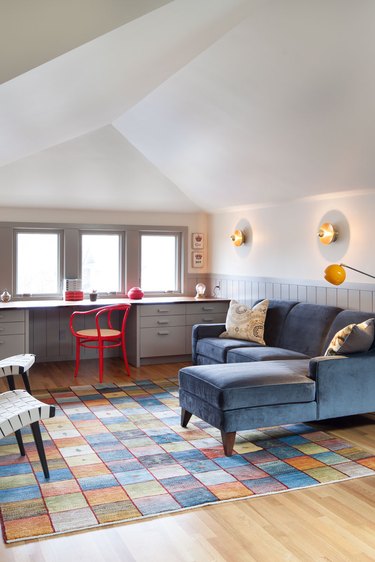 Take notes from Howells Architecture + Design and create a multi-functional attic living room by including an expansive work station along one wall, and then personalize the look with a mix of iconic furniture in bold hues. A multi-colored rug adds a playful note, too.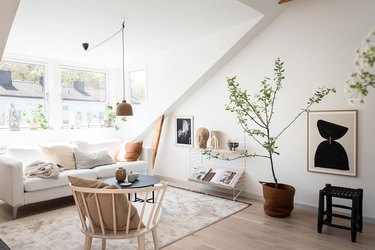 If you have the ability to add an oversize window to your attic living room — do it! Novel Interiors designed a monochrome Scandi-inspired space, replete with quintessential wood furnishings, white walls, and curated accessories. The large window floods the space with light and warmth for an un-attic-like brightness.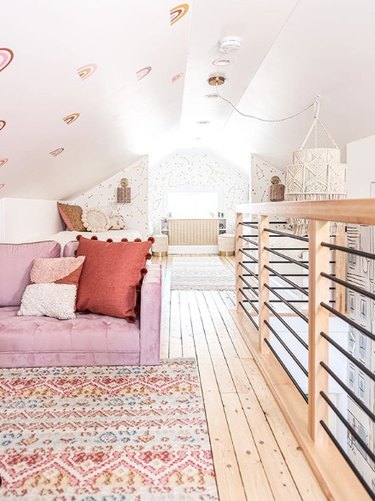 Ground your attic living room with exposed wood flooring, then define distinct seating areas with colorful area rugs and upholstered furniture in earthy hues for a free spirited space with boho undertones. Rebecca Higgs of DIY Mom added plenty of woven accessories to her attic, resulting in a charming dose of texture and dimension.