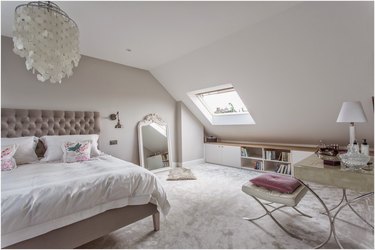 Hunker may earn compensation through affiliate links in this story. Learn more about our affiliate and product review process
here
.
When it comes to the attic, it's easy for your mind to head to a scene straight out of a horror movie — the cobwebs, the dust, all those discarded items. It sounds like something that's in dire need of renovation, right? That's where attic storage comes in. Whether you use the space as a designated area to hide Christmas decorations, suitcases, or old toys, an update will give you ample room to dump necessities.
Don't believe us? These beautiful attic storage ideas will completely change your mind about that upstairs zone.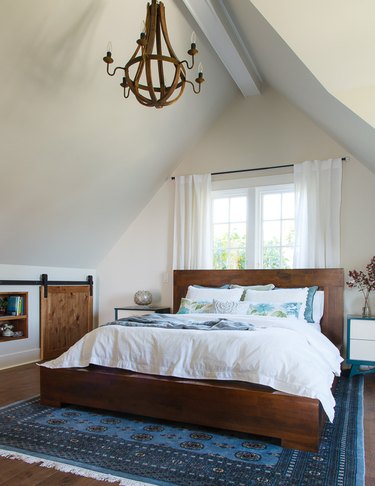 Attics can range from large lofts to tight areas with limited space. So think about the most creative way to make storage in those awkward areas. Sliding doors are ideal for attics with less square footage because they can conceal clever storage features, such as the recessed shelving in this attic bedroom by Nicole of The House Diaries.
2. Think about in-built storage.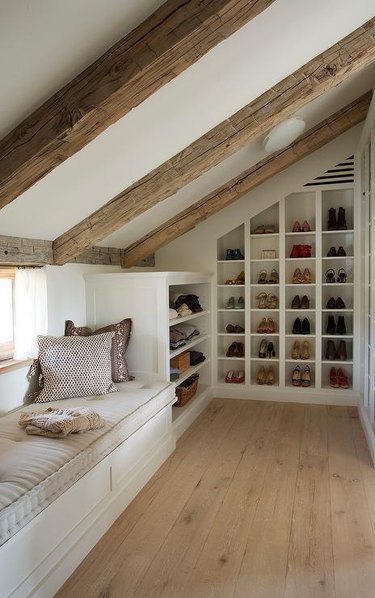 Ever dreamt of a walk-in closet? Well, your attic could be the perfect place for one! Built-in storage will make the most of your space, and you won't have to worry about dressing room privacy either. This room designed by Kathleen Walsh Interiors with architecture from Hutker Architects features angled built-in shoe cubbies and shelves that work cohesively with the sloped ceiling and exposed beams.
3. Find room under the bed.
Attics can certainly house children's bedrooms — you just need to think of ways to hide the clutter and make the most of every inch. This shiplap attic kids' space by Kara Mann is furnished with white storage beds. And there are recessed shelves, too. That means there's plenty of room for hiding toys and anything else you might not want in plain sight.
4. Incorporate low shelves.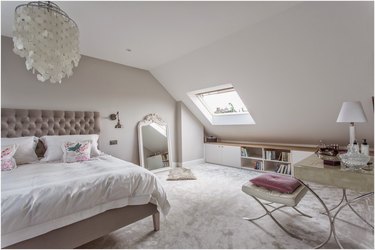 5. Work with hanging storage.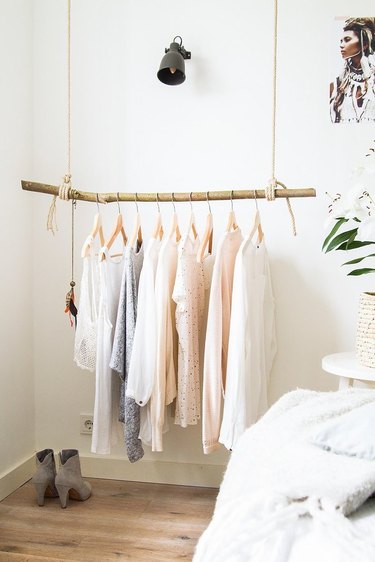 When you don't have a flat surface to mount storage hooks, you need to think outside the box. Suspend a tree branch or wood dowel from your ceiling like Amber from Amber Loves Design did for this rustic boho DIY project. A hanging clothing rail will give your attic extra style points and add a practical touch.
6. Double up on function.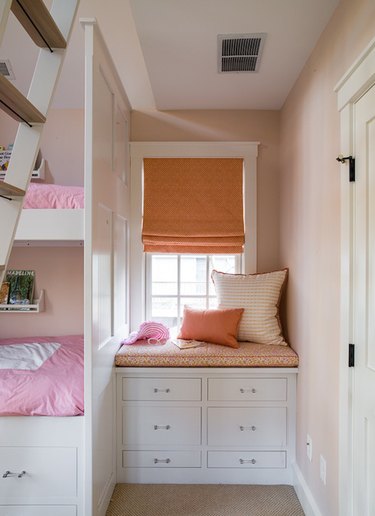 If you haven't already received the double-duty message, here it is again. Storage doesn't have to be just storage. This girls bedroom by Liz Levin Interiors features built-in bunk beds with drawers alongside a sweet window seat reading nook that also has room for clothes.
7. Consider every space's storage potential.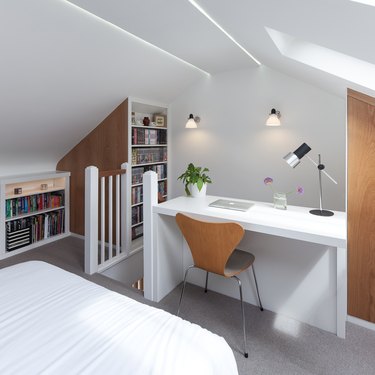 Don't miss a trick when it comes to attic storage. Finish your loft by including shelves in the eaves and using the space below the stairs, too. Every inch of the room should be ready for books, vinyls, or objets d'art, just like in this spare bedroom-meets-office from APE Architecture & Design.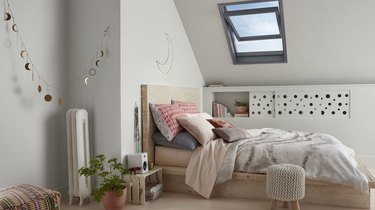 Storage in the attic needn't be boring. Think about making it into a design feature in its own right. This recessed shelf features a cut-out patterned sliding door. And it acts as a nightstand which is a great option for a smaller space.