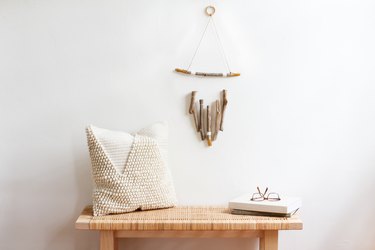 Rustic style is, in a nutshell, all about channeling the raw elements found in nature. That said, bringing the outdoors in deserves to go beyond fresh-cut florals and potted plants. Earthy tones, textured materials, and wood accents are classic markers of the cozy aesthetic and when paired together, they result in a bucolic finish that gives comfort a design-forward twist. Naturally, a do-it-yourself component goes without saying.
These days, rustic decor doesn't just pair well with farmhouse style — it goes beyond, seamlessly merging with modern, bohemian, vintage, and even coastal aesthetics as well. And if you're looking to bring an inviting touch to your space, consider it a foolproof bet. Regardless of what your level of craftiness may be, the DIY rustic decor ideas ahead are sure to inspire.
1. Portable Sofa Arm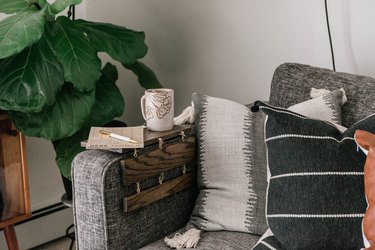 Lounging on the sofa and attempting to balance a laptop on your knees with a cup of coffee in your hand requires an unnecessary amount of effort. Cue this handy rustic style sofa arm by Dream Green DIY. Comprised of a series of wood slats attached together by string, it can fit on just about any sofa arm, regardless of its width.
2. Vanity Mirror Frame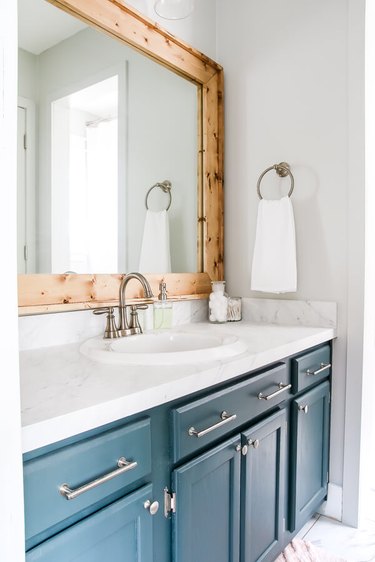 File this under a seriously clever way to reinvent a dated mirror. For her bathroom remodel, Carmen of Living Letter Home turned to this easy DIY rustic decor project (it took less than two hours to complete!), which involved a custom-built and freshly stained frame that instantly gave the vanity a new lease on life. The result is a sturdy border that invites a splash of warmth to the cooler, contemporary elements of the space.
3. Wooden Bench
Kick it au naturel with this chic wood bench from The Merrythought. Simple yet statement-worthy, the casual perch can fit into just about any room of your home. Take Manda's lead and finish the piece in a clear coat of polyurethane to show off the wood grain. DIY rustic decor never looked so good.
4. Earthy Wall Art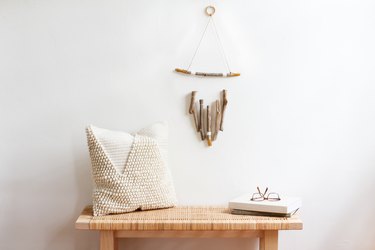 Here's to a DIY rustic decor project that even the little ones can get in on. Using a variety of branches, craft paint (for a pop of color, of course), and fishing line, Trisha Sprouse whipped up this earthy accent piece that hits all the right notes.
5. Blanket Ladder
Joyfully Growing's rustic style blanket ladder is a trendy storage solution we can all get behind. The simple DIY requires a pair of long, thin boards and a handful of dowels — a few basic tools and bolts go without saying — and a wood stain of your choice to achieve the perfect country-cool finish. Once complete, prop the ladder in an empty corner and dress it with your coziest throws.
6. Lengthy Art Ledge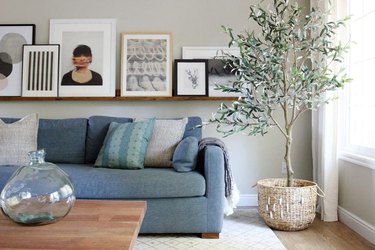 7. Rustic Barn Door