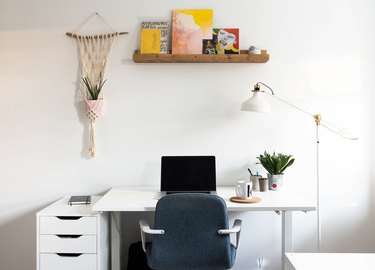 Now that we've grown accustomed to our new at-home offices and have adapted to the challenges of WFH life, furniture company Article wants to know what makes for an ideal work from home setup. In a new study conducted by the company via Instagram, fans gave their answers to the most Googled questions about working from home. With more than 1,500 responses, here's what people had to say.
Yes, desks are important, but a whopping 76% say having a comfy chair was the most important part of their WFH setup. Perhaps those startup companies were on to something with all those bean-bag chairs. An additional 67% also said it was important that the chair work well with their current decor when not being used for work.
Plants are more important than art.
With all that time spent at home, it's a great time to become a plant parent. People are embracing adding plant life to their desk, with 54% of respondents saying they've added lush greenery to their WFH space instead of art.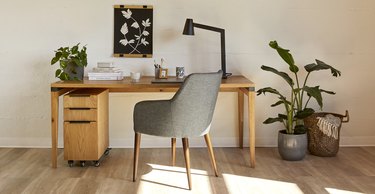 Two-thirds of people don't have a separate office.
Perhaps unsurprisingly, 67% surveyed don't have a separate office space in their home, instead opting to use a kitchen table, bedroom desk, or even the bed to use as their daily workspace. The remaining 33%, we assume, were probably already used to working from home. Still, even if you're starved for space, you can create a cozy home-office nook from an empty corner.