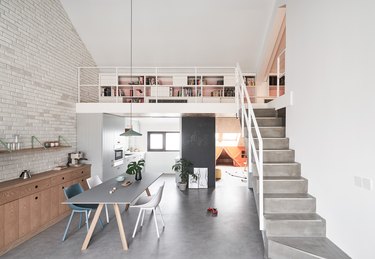 Hao Design has a knack for designing homes that are inspiring to the young and the young at heart — the firm isn't afraid of using color or having a bit of fun. (We still can't get over this apartment that has its own slide.) For a couple and their young son in the Haidian District of Beijing, Hao devised a family-friendly, two-level home designed for flexibility. (Like sliding chalkboard doors that can close the kitchen and the playroom off from the bright and airy open living and dining area.)
The home's dramatic sloping ceiling made things challenging for the designers, but they were determined to preserve and highlight it. The upper level houses the study, and the team took advantage of every square inch of space. The catwalk above the living area is outfitted with bookshelves that conceal the apartment's ventilation systems. Each level has spots for play, which lets mom and dad work or cook and still keep an eye on their little one. The end result is a home that encourages togetherness, while letting everyone have their own space.
---
Elizabeth Stamp is a freelance writer in Los Angeles. Her work has appeared in Architectural Digest, Elle Decor, and CNN Style.