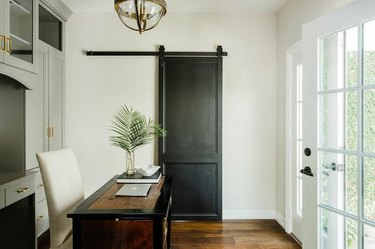 Home offices are rising in popularity. And if you have a devoted work spot in your home, you should already consider yourself lucky. If you have a home office door as well, you're even luckier.
These openings don't have to be dull, either. From pocket doors to French selections, there are plenty of options that will add style to your remote area while keeping certain things, like the sounds of children and housemates, out and other things in. (Becasuse nobody wants to hear the details of your video meeting.)
Here are some home office door ideas we're loving.
1. French doors are popular for a reason.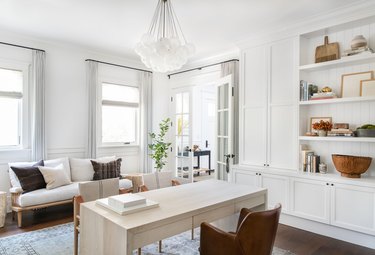 There's a reason why French doors have been beloved since the 17th century. The classic style is almost a hybrid between a window and a door, so it lets light stream in which is a must for long days. We'd work from home forever if we had this office designed by Amber Interiors. Just look at that chandelier!
2. Jib doors create a cozy, secret space.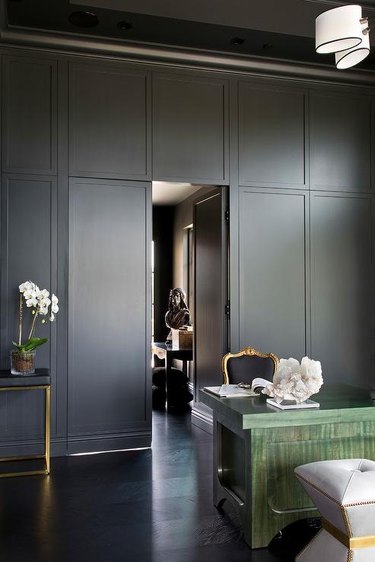 Don't tell us we were the only ones with childhood dreams of having a secret room. This black, paneled office by Andrea Schumacher Interiors is hidden behind a frameless jib (or concealed) door that makes for a sleek and mysterious space. A luxe French chair and an emerald green desk add polish to the decadent style.
3. Black barn doors mean business.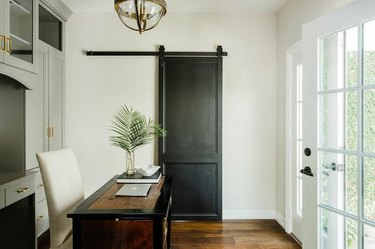 How sleek is the black barn door in this work spot from Lauren Haskett Fine Design? Simply slide it over to reveal a classic home office with plenty of storage space and a generous, if not distracting, view of the outdoors. The inky hue pops against cream walls and creates an anchor for the otherwise minimal decor.
4. Pocket doors will feel like they're barely there.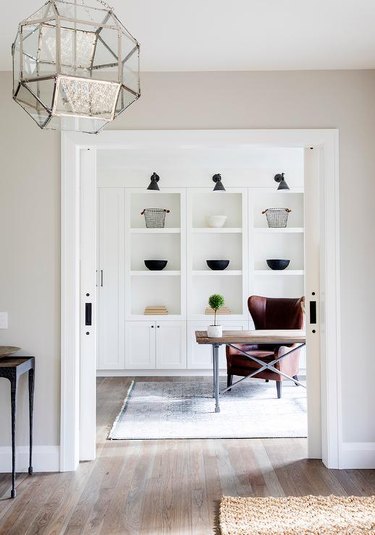 If you prefer an open concept layout but still need to close off your office from time to time, install pocket doors. They're a polished and seamless choice that take up hardly any space. And we love how the minimal apertures lead to an equally minimal room here. If only we could keep our offices this clean.
5. A patterned door will be perfectly contemporary.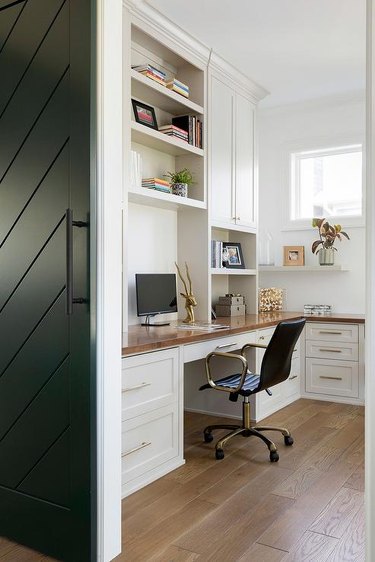 Hello, herringbone! This patterned black door leads to a large and ultra-organized home office. If you want a similar look, consider pairing intentional black decor with taupe built-ins. All this office, designed by ADŌR Bespoke Homes, needed to complement the space was a black leather chair.
6. Louver doors will let in the light.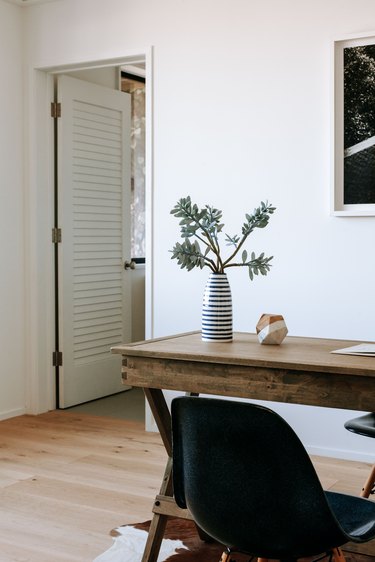 Louver doors for a remote WFH space? If you're not avoiding outside-the-office noise, then why not? The horizontal slats will let in light and air while also adding texture and aesthetic interest. This office cut back on decor, allowing the door to be a true focal point.