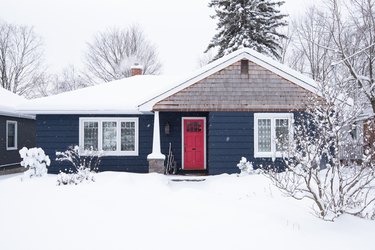 What does your front door say about your home? Fortunately, you get to make that decision. Some homeowners prefer an entry that's a little mysterious, while others want their home's exterior to feel open and inviting. Every single element of the door design, from the color to the way the fixtures are positioned, can determine whether people want to venture inside in your home or sprint in the opposite direction.
For an entryway that accurately reflects your personal tastes and welcomes guests, check out these eight traditional front door ideas for inspiration.
1. Highlight your door with a brass kick plate.
A black traditional front door instantly creates an air of elegance and drama. And this particular home beautifully executes the look by adding a little bit of flourish to the solid door with a brass kick plate and coordinating mail slot. The house's off-white exterior, gray porch steps, shrubs, and mounted lights help to elevate its overall style.
2. Try a bright white.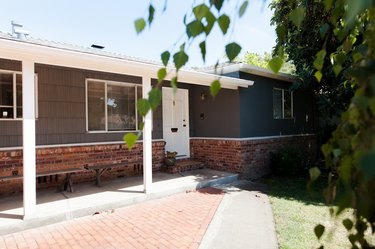 A surefire way to create a standout entryway is to work with bright shades, like the stark white in this ranch-style home. To break up the dark hues a bit, use the classic bright color to coat the front door, the frieze beams, and the porch roof. Polish the look by adding white exterior window trim.
3. Add some gloss.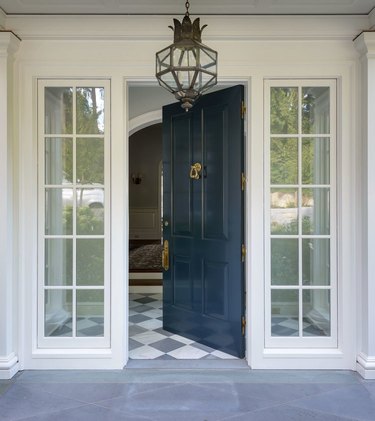 4. Put the landscaping to work.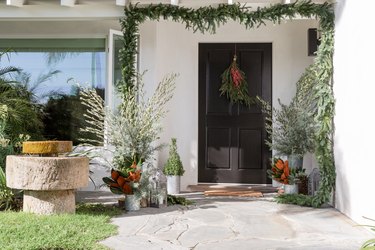 Dark, traditional front door colors don't have to emit such a serious vibe. If you want a deep hue that's not too overwhelming, lighten the mood with the landscaping. Accentuate the porch area with plenty of potted plants and flowers or toss in a seasonal wreath for good measure. Incorporate a light-colored stone walkway and a fountain in the yard to enhance the natural aesthetic.
5.   Use bright colors and plants.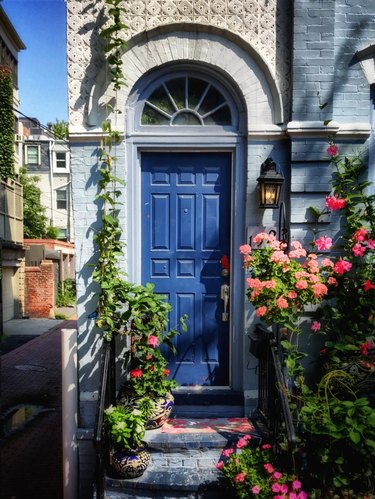 6. Leave your wood untreated.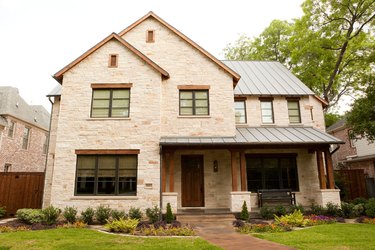 7. Use glass panes to glam up the entryway.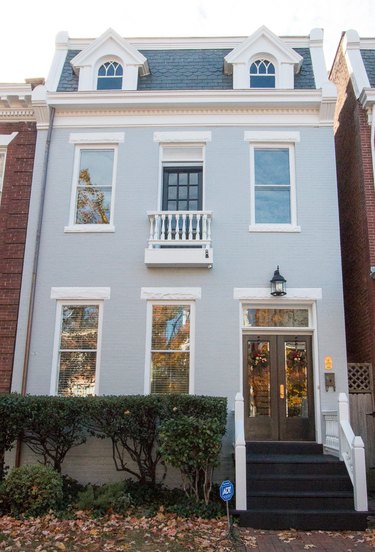 These gorgeous doors with glass panes are the result of a complete entry renovation project by 17 Apart. The historic townhouse's original doors were upgraded with natural brass hardware, an entirely new threshold, bottom door sweeps, and weatherstripping for increased insulation. To mimic this look, install windows in your entryway and go with classic door fixtures. During the holidays, double up on the wreaths for decoration.
8. Paint it red.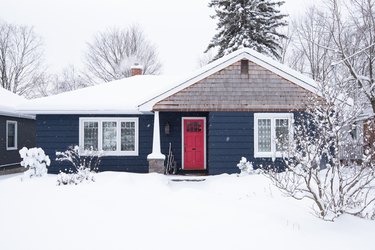 According to various trains of thought, a red door could represent anything from good luck to financial freedom. Regardless of your take on that, though, we think the vermillion hue stands out for all the right reasons. If you choose red for your front door color, don't stop there! Paint the door trim in a contrasting shade like white or cream.