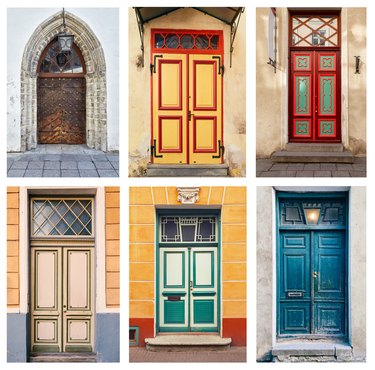 Your front door is the first thing guests to your house will see, so you want it to feel welcoming. A new door is one of several techniques that will help you enhance the curb appeal of your home. If you're in the market for a new door, this guide's for you.
Terms to Know
Inswing (I/S): When a door opens inward.

Outswing (OS): When a door opens outward.

Left hand/right hand: Refers to hinge placement; this is important because, when replacing a door, you'll need to get one with the same hinge placement as the original. When a door's hinges are on the left side as the door swings toward you, it is a left-hand door. When a door's hinges are on the right side as it swings toward you, it is a right-hand door.
Brickmould: The molding around the outside edge of the door. Often installed around the flat case moldings.

Energy Star Certification**:** A US-government-backed rating of energy efficiency.

Grille: Detailing made of metal, wood, or plastic that causes glass to appear as though it is divided into smaller panes.

Jamb size: The depth of the door frame from front to back, covering the drywall or siding and wall studs. A standard door jamb measures 4 5/8 inches.

Kickplate: A sheet of metal on the bottom of the door that protects it from scuff marks.

Lite: A glass pane in a door.

Masonry opening: The space between the bricks that surround the door.

Net frame dimension: The frame's full width and height.

Rough opening: The required dimensions to fit a pre-hung door, including the frame.

R-value: An insulating material's capacity to resist heat flow.

Sidelites: Panes of glass on either side of a door.

Transom: A glass pane above a door; styles include box (rectangular), arch, and ellipse.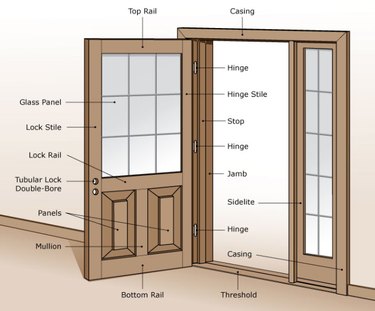 Material
Whether your top priority is energy efficiency, matching the style of your home, or security, there's a material ideally suited to that goal. Many doors are made of a combination of materials, but the material on the surface is what will most affect durability, appearance, and price.
Wood: From pine to hardwood, you have many choices with wood doors. Dent resistant and heavier than other materials, wood entry doors are usually made of frame-and-panel construction. Because of their sensitivity to sun and humidity, wood doors must be painted or finished to protect them; you can buy them pre-finished, or do the job yourself to save. Even then, wood doors are best reserved for sheltered entryways, and they'll require periodic painting and maintenance to avoid warping or cracking under constant exposure to the elements. You can get solid wood, but many doors consist of wood-veneer skins sandwiched around an engineered-wood core, which helps control warpage. Select veneers at least 1/16 inch thick for durability. Wood doors are a traditional choice for homes.
Fiberglass: Unlike wood or steel, fiberglass resists cracking, denting, and warping. It won't rust, and it's virtually maintenance-free. This tough, durable material also resists the elements. Fiberglass doors are ideal for heavily trafficked entryways. They often have wood-grain texture molded into the material, which may be painted or stained, making it almost impossible to tell they're not wood. Fiberglass doors contain foam insulation and weather stripping, making them the energy-efficient choice.
Steel: Steel doors cost less than other materials and require little maintenance. They usually fit more tightly in their frames, and, like fiberglass, have foam-core insulation for energy efficiency. They can withstand severe weather, and weather-stripping reduces the likelihood of swelling, shrinking, or warping. You can remove dents and dings with an auto-body repair kit. And although they may rust and they need regular maintenance and paint, steel doors are stronger than wood or fiberglass, making them more secure—and the best choice if security is your number-one concern.
Door Styles
There are a number of "style" decisions you'll need to make when selecting an entry door. These choices go far beyond the simple visual, aesthetic style of the door.
Your entry door may a single door or a double door.

A slab door is sold as the door unit only, absent the frame. It must be tailored to fit the existing door frame, which is a job for a skilled carpenter. A pre-hung door, on the other hand, is sold as an all-in-one unit that includes the door, its hinges and the frame—complete with thresholds and weather-stripping—all attached together, ensuring a precise fit.
A panel door is constructed of horizontal rails and vertical stiles that enclose panels of wood or glass. The exterior of a flush door, meanwhile, is made of a single piece of material, which is typically flat. Flush doors can, however, be carved or embellished—the name simply tells you that the face is made of a single piece.
The outside of exterior doors is sometimes clad in metal or fiberglass to protect them from the elements. They may be covered with a skin of plywood, vinyl, or melamine.
You also have aesthetic style choices, from traditional styling to mid-century, rustic, or contemporary.
Finally, the shape of the door can also be custom ordered. Besides a flat top, styles include true arch (a full half circle at the top), flat arch, Gothic arch, Tudor arch, elliptical arch, and cathedral arch. Double doors may be arched, too.
A standard entry door measures 80 x 36 inches, with a thickness of 1 3/4 inches, but you can order custom doors, even from big box stores. When replacing an existing door, it's simplest to purchase one the same size as the original. Altering the size or add lites will require reframing the opening and altering other details. To find the size, measure both height and width across the face of the door; if necessary, round up to the nearest inch. Also, note whether it's a left-hand or a right-hand door.
If you're buying a pre-hung door, you'll also need three other measurements: j**amb width, rough opening,** and exterior opening (or, if your house is made of brick or stone, the masonry opening). The correct jamb width ensures that the interior trim fits flush to the wall. To find jamb width, measure from the back of the interior trim to the back of the exterior trim.
To get an accurate measurement of the rough opening, you must remove the interior trim. Measure from the top of the opening to the bottom of the sill, as well as the width between the framing members. Compare the rough opening specifications of the door you plan to buy against your actual measurements to make certain it will fit.
To get the exterior opening, measure the distance between the outsides of the exterior casing, as well as from the top of the trim to the bottom of the sill. Note: It's best to choose only pre-hung doors with a standard 2-inch-wide brick molding trim. Compare your measurements with those of the door you plan to buy. If it's too small to fill the space completely, or if you prefer a different trim style, there are solutions. The best is to order a door with a wider, flat casing that fits the opening, then attach decorative molding that looks similar to the existing exterior trim. Or, you could order a door with standard molding and fill the gap with strips of wood during installation.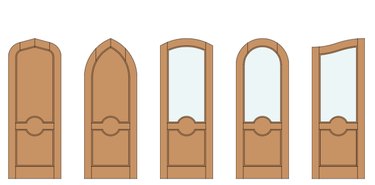 Appearance
Manufacturers offer doors in dozens of styles, and many let you customize their appearance. To make your front door your own, you can special-order panels, glass panes, and specify the finish of your choice, as well as select from many hardware options.
Hardware: Knobs, handles, and locks are sold separately. Packaged handle-sets include the lock cylinder, latch, strike plate, and either a handle, lever, or knob; buying a packaged set helps ensure that all the parts will work properly together. Increase your security with a deadbolt lock, and make sure it extends 1 inch past the edge of the door. When choosing, locks, knobs, handles, and door viewers (which are optional), select the same finish so you don't get a hodgepodge appearance.
Select knobs and deadbolts before ordering the door, and ask the salesperson to have the door pre-drilled during manufacture so it will accept your hardware. Although this costs a little extra, it's a small price to pay fors avoiding the nail-biting task of drilling into a new door.
Finishes: Some retailers sell doors painted, or stained and varnished. In other cases, you have to prime and finish them yourself.
Glass: Glass is practical—it lets in natural light and allows you to see out—but can also serve as an accent. You can place panes in the door itself, as well as on either side (known as sidelites) or above it (this is called a transom). Glass may be beveled or frosted, or it may have designs etched in it. You have the option of stained glass; real leaded glass costs more than the fake stuff, naturally. Glass can be segmented into smaller panes by a grille, or it can be tempered to resist impact. You may have the option of sound-muffling glass and glass with a low-emissivity (low-e) coating that filters out UV rays that can fade flooring and upholstery fabrics.
Panels: Thicker panels are an indication of higher quality. Look at the distance they rise from the door surface—panels on doors of lower-end quality are 9/16 inch thick, as compared to higher-end doors that have 1 3/8-inch panels.
Accents: Customize your entry and add curb appeal with accents such as door knockers, pediments, capitals—or save money and go without these extras.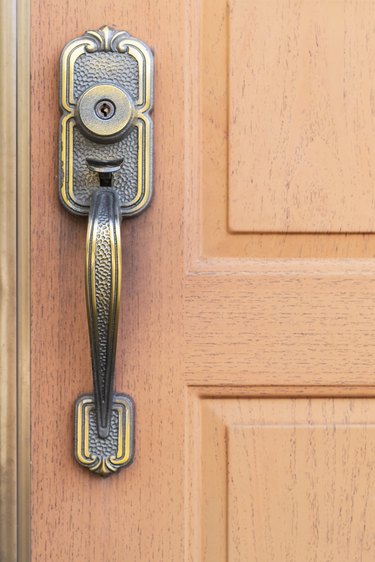 R-Value and Energy Efficiency
R-value measures insulating power. The higher a door's R-value, the better it resists heat flow—and the lower your heating and cooling bills. In fact, choosing an energy-efficient exterior door can trim up to 10% off energy bills, so save money by buying the most energy-efficient door possible. Look for doors with an Energy Star certification, which tells you whether a door is energy-efficient and rates doors deemed so by geographic zone in the US—Northern, North-Central, South-Central, Southern. Stick to doors with a thumbs-up for the zone you live in. You can also use the National Fenestration Rating Council (NFRC) label to compare the energy performance of different doors.
Because steel doors are made with a wooden or steel inner frame, the cavities of which are filled with high-density foam insulation, metal doors have a high R-rating, between R-6 and R-8. Wood doors have a low one of R-2 or R-3, but those with split construction—an insulation core between laminated pieces of wood—have a higher insulation value of R-5. Glass is a terrible insulator, but most doors use insulated glass to keep them energy efficient. Doors without lites must have a minimum R-value of R-5.8 to receive an Energy Star certification, and doors having lites with a surface area of 50% or less must have an R-value of at least R-4 to receive the endorsement.
Choose steel or fiberglass doors with a thermal break—either a vinyl strip, or a part of the wood frame. This separates the inside and outside door skins and prevents the conduction of cold and heat from the outside through the skin and the frame, and stops the formation of frost on the inside surface.
Air leaking through the perimeter of a door actually wastes more energy than doors with lower R-values. This is why weatherstripping is your friend. To receive Energy Star certification, exterior doors must comply with a maximum air leakage rating of 0.5 cfm/square foot—but note that you won't find air leakage measurements on NFRC labels.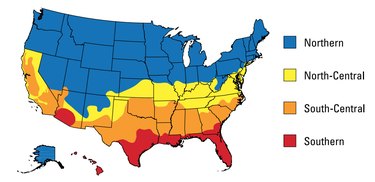 Cost
Exterior doors come with so many options that costs can vary greatly. Below is a list of average prices for simple slab doors—pre-hung doors cost more. And if you opt for sidelites, double doors, and all the other bells and whistles, a good, stylish entry door can easily cost several thousand dollars.
Steel: Steel is the most affordable choice for doors. A basic slab model costs about $150; decorative styles are $200 and up. As mentioned earlier, pre-hung doors cost more.

Fiberglass: A basic fiberglass slab door costs about $200; decorative styles run between $250 and $600 at home improvement centers. Note, however, that a fiberglass door fully loaded with all the features can come in as high as $4,000—because the accessories are no cheaper despite being mounted in a relatively low-cost door.

Wood: Wood doors cost the most. You can find a basic model with an engineered wood core for about $300; decorative styles start at $700 and go up; solid wood doors start at $600 and may cost as much as $4,000.