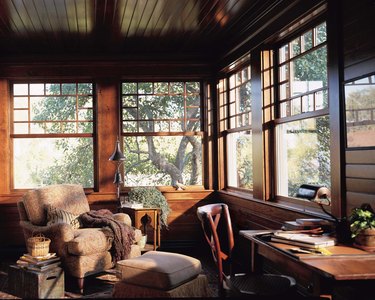 Vinyl-clad windows are built from wood but the exposed exterior parts are covered with molded polyvinyl chloride (PVC) to make them more weather-resistant. As with other clad windows—primarily aluminum- and fiberglass-clad—you get the best of both worlds: the beauty and strength of natural wood on the inside, and the superior durability and low-maintenance of non-wood materials on the exterior. Regardless of cladding material, all clad windows are made with wood (usually solid pine or fir) frames, which includes the jambs, sash, and sills. Some are trimmed on the interior with oak, maple, cherry or other hardwoods. Vinyl-clad windows should not be confused with all-vinyl windows, in which all structural components are made of rigid PVC.
Trade-Offs of Vinyl-clad Windows
Among clad windows, vinyl dominates the marketplace, primarily because the cost is roughly half of those with aluminum or fiberglass cladding. Although the PVC used in vinyl windows is stable, impact-resistant, energy efficient and essentially rot-proof, it lacks the structural strength of aluminum or fiberglass. Vinyl also does not hold paint well and has a history of being prone to fading and even warping in some conditions. Some vinyl-clad window manufacturers use "advanced resins" or other additives in the PVC that they maintain resist chalking, fading and warping. For window buyers, these are important performance factors to consider, and they should be addressed in the windows' warranty.
Factors to Consider When Choosing Vinyl-clad Windows
The chief reason that vinyl-clad windows outsell other clad options is the lower cost of vinyl. However, this cost difference starts to disappear as you go up in quality. Vinyl-clad windows from premium manufacturers can be just as costly as aluminum- and fiberglass-clad products.
Another factor to think about is availability. If you are purchasing new windows from a home center, you will find that well over half of the types they offer are either vinyl-clad or solid vinyl. This doesn't necessarily translate into more options, however, as aluminum and fiberglass are offered in a variety of textures, including simulated grain that looks like natural wood. You will also find more in-stock windows in the vinyl category, but keep in mind that if you are shopping for replacement windows you will likely need to have them custom-made for your size. This normally does not have an appreciable impact on the cost, but it can add 3 to 6 weeks of waiting time on the order.
It's also a good idea to check on the local building code requirements. If you live in a coastal area, the local code may require the better impact-resistance and structural strength of aluminum cladding (in addition to shatterproof glass). Your window dealer will be able to steer you in the right direction concerning local codes.
Many homeowners who live in warm, humid climates select vinyl-clad windows because they are the most resistant to rot and do not have corrosion issues as aluminum can. Vinyl also tolerates extreme swings in temperature well and is popular in very cold climates as a result.
Features and Options of Vinyl-Clad Windows
You can find vinyl-clad models in most popular window types, and you don't have to give up any of the popular features offered by window manufacturers. This means you can customize your window order to include the best features for each window in the house. For example, it might make sense to pay extra for low-e coatings on large living-room windows that receive a lot of sun, while a small bathroom window probably won't benefit from this feature.
Low-E coatings. Windows of all types can usually be purchased with Low-E (low emissivity) film that reduces infrared and ultraviolet ray penetration, keeping your house cooler in the summer and warmer in the winter. While not yet standard, it has become a very common option since it was first introduced in 1979. The extra costs usually runs around $14 to $15 per square foot of glass area.
Shatterproof glass has a layer of clear plastic sandwiched in the glass panes, much like auto glass. This may be recommended where windows are vulnerable to impact and where safety is critical. A less-expensive alternative is tempered glass, which is designed to shatter into small pieces rather than large shards, like standard glass does. Tempered glass is required by code for low windows and all glass doors.
Multi-lite grids. Many windows feature a gridwork of plastic grilles, normally between dual glass panes, that are purely decorative. Others contain mini-blinds between the glass panels, where they are protected and thus never need cleaning.
Nailing flanges. Some replacement windows are equipped with flanges so they can simply be nailed to the sheathing around the rough opening. Installing these requires you to remove all the trim from around the old windows, and possibly some siding too (for this reason, they are regarded by some as better suited for new construction). Others have no flange so they can be fit into a trimmed window opening and secured to framing members of the rough opening through the jambs of the window.
Color and finishes. The exterior cladding on vinyl-clad windows usually comes in standard colors of white and variations of sand or buff. Most manufacturers do offer a handful of custom colors at a premium cost. Colors tend to be on the light side, since darker colors absorb more heat, which can lead to warping or even sagging. Note that is it is not recommended that you paint vinyl. The wood interiors may be unfinished, primed, or primed and painted at the factory, depending on how much you are willing to spend.