Replacing a shabby or damaged garage door can boost the curb appeal of a home, make using the door more convenient and, in some cases, save on energy bills.
Expect to pay anywhere from $600 to $6,000 for a new garage door, including installation costs. The exact amount will depend on the material the door is made from, as well as extras such as special finishes, glass inserts, and the overall style of the door.
Garage Door Materials
Steel is the most common garage door material. A basic, uninsulated, door for a one-car garage that comes in a standard color with a raised panel design will cost about $300. Add $300 to $700 for installation. But an insulated steel door that comes close to an R-19 and that has a realistic simulated wood pattern could cost $2,000 or more. Some doors are finished with a composite or fiberglass overlay to obtain the natural-looking wood grain finishes.
The door's design can affect the price. Carriage house-style doors are popular right now. This is a style that appears to open outward from the middle, although most modern steel carriage house doors actually roll up on tracks like standard garage doors. They are often part of the higher end of a manufacturer's door line. They usually have windows and finishes that look like wood, and they complement traditional house styles. An insulated version will cost about $2,100.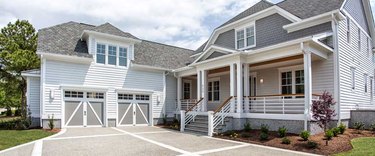 Aluminum doors are lightweight and usually cost less than other types: about $700 to $1,400 for standard doors. Transparent, full-view doors are more expensive. These doors consist of full-width glass panels that are held in the aluminum frame. A single door typically has 8 or 10 panels in two rows that are separated by thin aluminum rails and stiles. The frosted panels can be backlit to provide a soft glow at night. This style works well with contemporary houses; costs run about $1,800 to $2,200.
Wood garage door prices vary widely, from about $1,300 to $4,000 and up. That's mainly because at the lower end of the cost scale are doors made of solid wood rails and stiles with plywood panels. At the high end are custom or semi-custom doors made of white oak, Spanish cedar, African mahogany, and other species. The doors arrive ready for priming and painting, and they will require periodic maintenance.
Vinyl doors are a small part of the industry, but they are experiencing regional growth, especially coastal regions where salt and humidity are issues. Expect costs in the $900 to $1,500 range.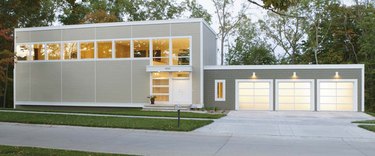 Garage Door Openers
Most garage door openers fall into the $175 to $350 range. Expect to pay about $325 in addition for installation. The higher-end models offer such features as LED lighting, battery backup to keep the door operating during a power outage, and wifi capability. Wifi-enabled openers let you control the door through your smartphone, letting you know when the door is opened or closed when you are away from home.
All garage door openers have built-in safety features. An auto-reversing mechanism stops the door from closing and reverses its direction should it strike an object on the way down. Photoelectric sensors located near the floor of the garage are connected to one another by an invisible beam. When something breaks the beam, such as a parked car that straddles the threshold of the garage, it prevents the door from closing
One thing to consider when selecting an opener is how the garage door is used. Openers are designed to be used a few times a day. But if the garage is used as a primary entrance during the day, it pays to buy a heavy-duty model that will hold up under constant use.
Buying a Garage Door
Garage doors and openers are sold both through door dealers and at home centers, which often offer installation services. In addition to the cost of materials and labor, make sure the quote includes any charges for removing and disposing of the existing door.