Despite the fact that they let in natural light and fresh air, provide a handy escape route in an emergency and let us enjoy the outdoors from inside the house, windows and doors are something of a drain when it comes to energy efficiency. When compared to a well-insulated sidewall, windows and doors are not as efficient in keeping heated air in cold climates nor keeping out the scorching heat of the sun in hot climates. But window and door technologies are improving, and it pays to seek out the most energy-efficient products possible.
Window Components
There have been improvements to window frames and glazing systems. In addition to traditional wood and metal frames, windows can now be made from vinyl, fiberglass, or composite materials. Vinyl and fiberglass frames consist of a series of hollow cavities that can be filled with insulation, making them better at resisting heat loss than wood windows. But it's a mistake to judge the energy efficiency of a window based on the frame alone. There are many wood windows that are just as efficient as vinyl windows because efficiency depends on the entire window, including the frame, glazing, coatings, tints and spacers.
Advances in glazing systems include
The use of double and triple panes of glass.
Better spacers that separate the panes of glass and help prevent heat loss.
Inert gases, such argon, xenon or krypton, pumped into the air spaces between panes to help stop heat loss.
Low-emissivity (low-e) coatings that resist heat flow. Depending on where they are applied, they can stop heat loss in cold climates or prevent heat gain in hot climates.
Invisible films that, when suspended between panes, create additional insulating air spaces. Low-e coatings can be applied to the films.
Tints that block unwanted heat gain.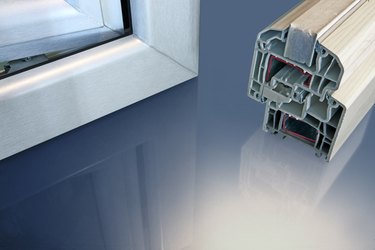 Window manufacturers combine these technologies to create products that solve specific energy problems. Some windows are better at preventing heat loss in cold climates. Others are designed to stop unwanted heat gain in hot climates. So where you live will help you choose windows that offer the best energy efficiency for your area.
Measuring Energy Performance
Here's are some performance parameters to consider when shopping for windows.
U-values. Unlike the more familiar R-values that measure resistance to heat flow, U-values measure the rate of heat flow. When considering R-values, the higher the number, the better. But with U-values, the lower the number, the better the performance. These values are reciprocal to one another: products with high R-values have low U-values, and vice versa.
If you live where heating is the major energy expense, you will want windows with low U-values. It is important to consider the U-value for the entire window unit, not just the frame or glazing.
Solar Heat Gain Coefficient (SHGC). This is a number between 0 and 1 that indicates the window's ability to block unwanted heat gain from direct and reflected sunlight. Windows with low SHGC ratings help reduce air-conditioning costs.
Visible Transmittance (VT). This is another number between 0 and 1, but this one shows the percentage of visible light that gets through the glazing. The higher the number, the more light gets through.
Air Leakage. This measures the overall tightness of the window's construction. It is a number between 0.1 and 0.3. Look for low numbers.
A good place to find out which windows are best for your area, check out the Energy Star recommendations. Energy Star is a voluntary Environmental Protection Agency program that promotes energy-saving products, including windows and doors. Energy Star windows and doors must be more energy efficient than standard products. But it is important to remember that Energy Star standards are minimum requirements. There are windows available that greatly exceed the minimum standards for both U-values and SGHCs.
Energy-Efficient Doors
As is true of windows, doors can also be energy drains in the well-insulated walls of your home's exterior surface. The most common door materials are wood, steel and fiberglass. While wood is traditional, its insulating ability can't be improved upon. Steel and fiberglass doors can contain an insulated core that pumps up its heat-stopping ability.
Because solid doors do not contain any glass, they can offer homeowners products with lower U-values than you would expect from a typical window. To meet Energy Star requirements, a solid door must have a U-value that is 0.17 or lower—compare that with windows installed in the coldest parts of the country that must have U-values of 0.27 and lower.
Doors that do contain glazing, including entry doors with sidelites, are divided into two groups: those whose areas contain 50 percent or less glazing, and those with over 50 percent of their area covered with glass. The glass on energy-efficient doors can contain the same energy-saving technologies that are found in windows. When choosing an energy-efficient door, use the same logic you would use when selecting windows. In cold climates, look for low U-values to keep heat inside the house. To reduce air-conditioning costs, look for doors with low SHGCs, especially if the doors contain a lot of glass Again, the Energy Star program is a good place to start your search. There are requirements for doors without glazing and for those with different levels of glazing. And the requirements are based on geographic location.
Finding Energy Information
You may be able to find energy performance information in the product literature of the windows or doors you are considering. Some products have labels attached to them that list the energy parameters shown above. But it is often difficult to find information easily. One place to check is the directory of the National Fenestration Ratings Council. The group is an independent body that rates and certifies windows and doors.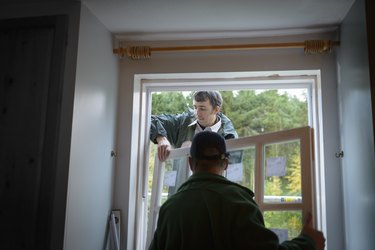 Installation Matters
The most energy-efficient window or door will be useless if it is installed improperly. Windows and doors need to be square and plumb in their openings. The area between the window or door frame and the house framing must be insulated, preferably with expanding foam designed for the application before the finish trim is installed. The products should open and close easily. Good installation contributes to the energy efficiency of windows and doors.