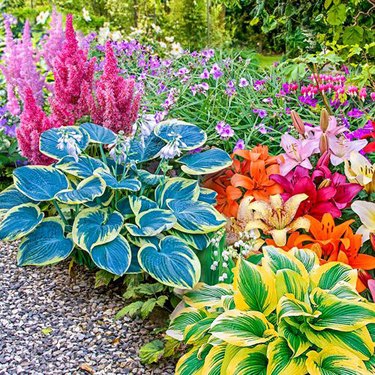 Sun and plants are a natural fit, but what do you do when your yard and surroundings don't let the sunshine in? Plants that require full sun need around eight hours per day of direct sunlight. These include many of the most coveted species. But if your yard basks not in sun but in sublime shade during the hottest of days, your landscape can enjoy the solar relief, too. With new cultivars featuring showy foliage hitting the marketplace constantly, an expanding cornucopia of colors awaits you even in the shade plants sections of your local nursery. Here are some appealing landscape plants that do not insist on full sun, and some tips on how to choose and grow them.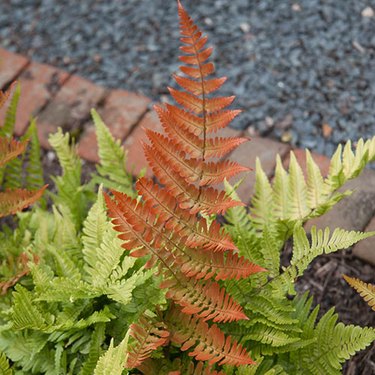 Perennials
Most of the traditional shade-tolerating landscape plants are perennials. Of these, ferns and hostas are the established leaders. But even among these many new species with varying shapes and shades have been developed. Rosy maidenhair ferns start out with rose-colored fronds that eventually mature to dark green. Japanese painted ferns, including the 'Regal Red,' have wispy, silver fronds that are set off by dark red stems and veins. 'Autumn Brilliance' features copper and orange and red and green when emerging, and also shifts to all greens as the season extends. Some growers and garden centers specialize in hostas that venture well beyond the traditional blues and greens and into the golds, whites and even reds—not to mention the broadening selection of variegated patterns and combinations, and sizes ranging from miniature (2 to 3 inches) to giant (3 to 4 feet).
Heuchera (also known as coral bells) are shade-loving perennials known for being top-notch companions to hostas. And their universe of color options, both in foliage and blooms, has grown remarkably recently.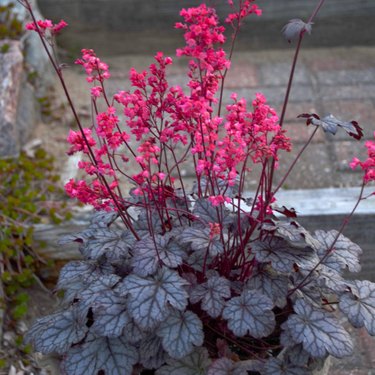 Tip
11 Shade-Tolerant Perennials
Hosta (Hosta spp.)
Fern (various spp.)
Coral bells (Heuchera)
Astilbe (Astilbe spp.)
Columbine (Aquiligia spp.)
Bleeding heart (Lamprocapnos spectabilis, formerly Dicentra spectabilis)
Lamium (Lamium spp.)
Cranesbill geranium (Geranium spp.)
Lungwort (Pulmonaria spp.)
Phlox, including woodland phlox (Phlox divaricata) and creeping phlox (Phlox stolonifera)
Lily-of-the-Valley (Convallaria majalis)

Annuals
Annual plants have historically provided most of the color punch in gardens—shade or otherwise. As with perennials, the options continue to grow with every new gardening season. Coleus is certainly one of the best known and most popular shade-tolerant annuals, offering a full spectrum of colors and leaf patterns. They thrive in containers and in the ground. Impatiens (garden impatiens, Impatiens walleriana, in particlar) are legendary shade-growers and one of the few flowering annuals of which most gardeners are aware. Reds, oranges, purples and white are some of the more traditional flower colors for impatiens. However, a widespread outbreak of impatiens downy mildew disease has prompted many gardeners to shy away from impatiens in recent years, at least until the disease appears to come under control. New Guinea impatiens (Impatiens hawkerii) seem thus far to be unaffected by the disease.
Most varieties in the Begonia genus also do well in low light. There are several different classes of begonia commonly used in landscaping, including tuberous begonias (true shade lovers with huge, neon-bright flowers), wax begonias (which also tolerate sun), and rex begonias (known for their spectacular foliage, grown frequently as houseplants) . It is possible to overwinter begonias indoors in colder climates. Some, such as wax begonias, respond better when stored in their container over the winter. Others should be dug up and their bulbs stored in a cool dry spot. Fuschia is yet another family of annuals that succeed in shade. Fuschia can be grown as a perennial, but only in the warmest climates. More typically they are planted as annuals in containers and hanging baskets. These cascading, low-growing plants bloom in a huge variety of colors and tolerate very humid conditions.
Tip
11 Shade-Tolerant Annuals
Coleus (Plectranthus scutellaroides)
Impatiens (especially Impatiens walleriana)
Begonia (Begonia spp.)
Fuschia (Fuschia spp.)
Viola (Viola spp.)
Sweet alyssum (Lobularia maritima); tolerates partial shade
Salvia (some species, including Salvia dorisiana, Salvia chiapensis, Salvia cacaliifolia, and Salvia buchananii
Polka dot plant (Hypoestes phyllostachya)
Larkspur (some species, especially Delphinium exaltatum)
Lobelia (Lobelia erinus)
Browallia (Browallia speciosa)
The Many Shades of Shade
Shade comes in many varieties, from deep or full shade in which little to no plantlife will survive, to partial shade, which normally gets around four hours of sunlight per day. Most shade-tolerant plants are classified as preferring either full or partial shade. When it is not in direct light, your partially shaded area may still get some beneficial light, including dappled sunlight. Shaded gardens tend to get more light in winter, from a combination of lower light that finds it way more easily under trees and shrubs, and the simple fact deciduous trees drop their leaves and allow the sun in.
Growing Landscape Plants in Shade
The plants that grow best in shade are the ones that are naturally shade tolerant, which generally means plants that are at home growing on the forest floor. However, since most of our yards bear little resemblance to a forest, even if they are shady, there are some tips you can do to make your space more hospitable to shade plants.
Natural shade-tolerant plants prefer slightly acid soil, so taking a pH reading and adjusting the balance accordingly is a good starting point.
You can also make minor improvements in the light amount by doing some limbing and thinning of the tree canopy, if that is the source of the shade. Not everyone is comfortable with that strategy of course, as most of us do not want to endanger trees.
Mulching your shade garden is usually a good idea, and if you choose a lighter-colored mulch you will gain a reflective benefit that brightens the garden somewhat.
But, with the exception of adjusting the pH, these are relatively low-impact improvements. The best strategy really comes down to plant selection—choose shade or partial shade plants and be prepared for some trial-and-error.
Tip
If you are struggling to get the plants in your shaded garden to thrive, try mixing in a few hardscaping elements, such as a garden bench, birdbath, or rock bed. These elements will spice up a flagging garden visually, and if done properly, they can also open things up a bit to create space and airflow that can help your plants, especially in low or moist areas.