Things You'll Need
Circular saw or router with straight cutting bit

Handsaw

Sandpaper (medium-grit)

Paint or urethane

Paintbrush

Tempered or insulated glass

Decorative trim

Hammer

Finishing nails

Silicone caulk

Wood putty stick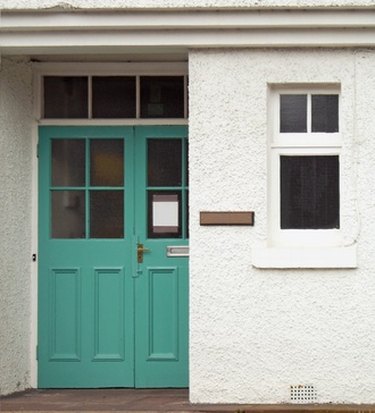 Many people like having a window in a door so they can see who might be standing on the other side, or to simply let some light into a dark area. Rather than purchasing a new door, consider putting a window into your existing door. If your door is solid wood, you'll need to take it down and cut a panel the size of the window you want to install. The process will be easier if your door has wooden panels, as you can simply remove the wood panel and use it to serve as the window pane.
Step 1
Cut the panel out of the door or a piece the size you require for your window. Finish the corners with a handsaw to get a nice, clean cut.
Step 2
Sand the edges of the opening with medium-grit sandpaper to make it smooth. Coat the exposed raw wood with paint that matches your door or urethane to protect it from wood rot.
Step 3
Hammer finishing nails into a piece of trim that you've placed inside the opening on the outside of the door. You'll also be putting a piece of trim on the inside of the door after installing the glass. The thickness of the trim pieces together should be the thickness of the opening, minus the thickness of the glass. For example, if the opening in the door is 2 inches thick and the glass is 1/8 inch thick, each piece of trim should be no greater than 7/8 inch thick.
Step 4
Apply a bead of silicone caulk around the inside of the trim. Set the pane of glass into the opening so it adheres to the silicone caulk. The glass should be 1/4 inch shorter and narrower than the window opening.
Step 5
Apply another bead of the silicone caulk around the inside perimeter of the glass. Insert the other piece of trim up against the glass panel and around the perimeter of the inside opening in the door so it adheres to the silicone. Hammer a few finishing nails into the molding at an angle so they penetrate the wood opening. This will sandwich the glass between the outside and inside layers of trim.
Step 6
Fill any nail holes with a wood putty stick and paint the trim on either side to match the door, or refinish the paint on either side of the door entirely.
---
JIm Cooper is an attorney and business consultant. He serves on the board of many corporations. He is also a published writer with more than 30 years of experience. Cooper's articles have been published in "American Executive," "Men's Health" magazine, "Newsweek," "Marie Claire" and "Mademoiselle" magazines.