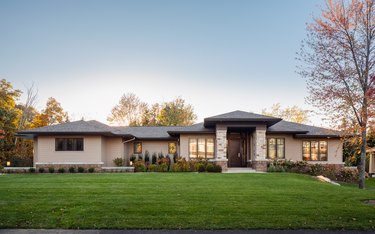 Do you dream of a chic house surrounded by nature that will look classic throughout the decades? You're not alone.
According to Realtor.com, ranch houses were "meant to blur the lines between indoor and out the way formal homes hadn't before." Around the 1930s, these houses started to gain more popularity; California architect Cliff May is usually credit as establishing the midcentury modern ranch home aesthetic around this time. According to Angie's List, they really took off around the 1950s to 1960s. Ranch homes are normally one story with low roofs and not a lot of exterior ornamentation. They normally don't include elements like porches that other homes might incorporate. Craftsman houses already feature overhanging eaves and pared-down architectural elements so it makes sense that the two would go hand in hand.
We're taking a look at a few craftsman style ranch homes for inspiration. Check out our favorites below.
1. Modern Black and White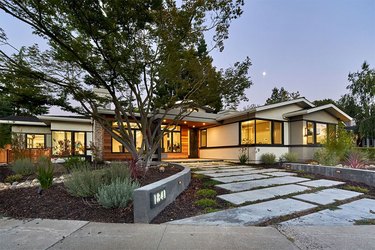 The color combination and sleek design of this exterior definitely helps to shape the craftsman style ranch house into a more modern look. The landscaping also helps brings that natural element.
2. Classic and Neutral
If you want something more traditional, opt for neutral hues. The white trim on this home's exterior lends a classic feel.
3. Natural Material Accents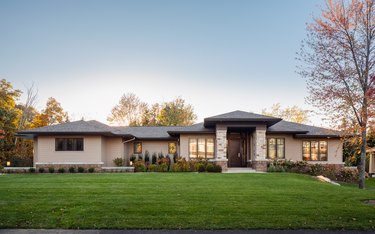 Embrace a blend of materials in your craftsman style ranch home exterior. This project by Visbeen Architects uses stone pillars and stucco details that are "a nod to the craftsman and Mediterranean designs that influenced this updated architectural gem."