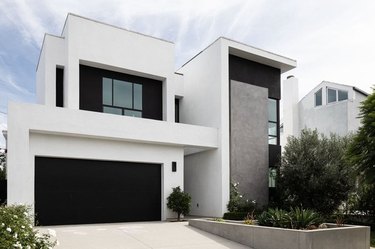 When it comes to interiors, modern style is all about neutral palettes and subtle decor. But a home space can also be modern in its exterior. A modern house has characteristics that instantly set it apart from more traditional residential structures — ones that continue to make it a popular approach.
Modernist architecture started to really take hold around the turn of the 20th century, with some sources even tracing it back to as early as the 1850s. Modernist architects were all about trying to simplify what homes looked like. The emphasis was on function, no bells or whistles needed. And it wasn't just popular in the U.S. According to the Royal Institute of British Architects, the term Modern Movement came into use in Britain around the 1930s. Mexican architect Luis Barragán has had a tremendous influence on modern architecture (and is often referenced as minimalist), with his practice based in Guadalajara around the 1920s.
According to the Pennsylvania Historical & Museum Commission, modern architecture really breaks down into a few styles, spanning from 1925 to 1950. This includes"the boxy shapes of International style buildings" which we can definitely see in structures today. A lot of the features of modernism, as a whole, still have an influence on present-day architecture, from commercial to residential. Keep reading to learn more about the major characteristics of a modern house.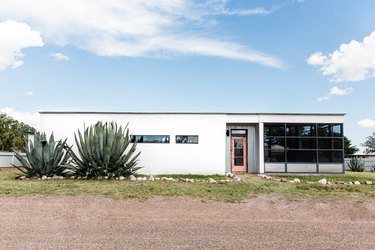 While this is technically a feature of the interior space, it's easy to tell when a home has an open floor space. Many modern house designs like to stick to this free-flowing blueprint, creating a distinct look.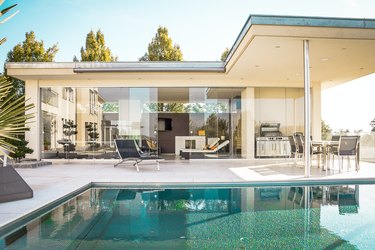 Many houses in this vein stick to simple materials like glass, steel, and concrete. This also applies to minimalist architecture, which in some ways falls under the umbrella of modernism because of the overlap between characteristics. (If you're getting midcentury modern vibes, you're not wrong.)
3. Black and White Palette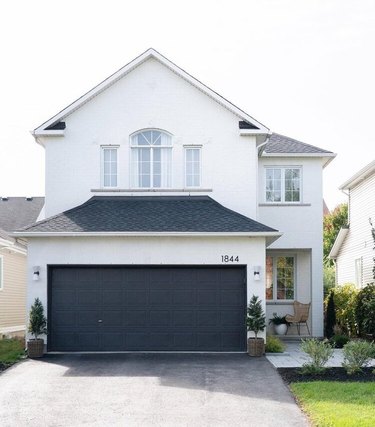 While the layout of this home might strike design enthusiasts as more on the traditional, the simple palette gives it a modern upgrade. You'll see many modern house exteriors stick to a black-and-white look for simplicity and timelessness.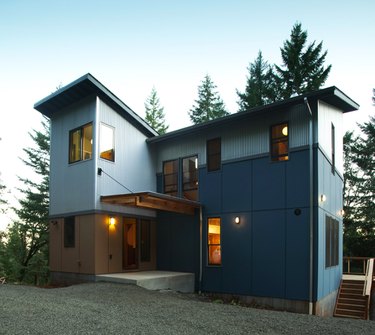 Many modern house designs focus specifically on form, especially in relation to the home's surroundings. This 2f0rm Architecture project focused on natural light. The decks sit adjacent to the dining and living areas in order to "add to the overall living space during warmer weather," according to its website.
You'll notice that modern house exteriors doesn't have any unnecessary flourishes or or trim. That means many instead sport clean lines that make for a simplified frame. This Pavonetti Architecture home uses exposed wood and steel to create a look that's "pure Modernism with a regional vernacular referencing aging structures such as barns and stables."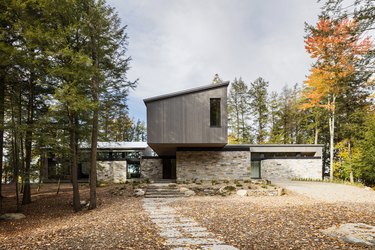 You'll notice most modern house exteriors will sit lower to the ground and their angles often make for a boxy shape. This project from ARCHITEM Wolff Shapiro Kuskowski architects combines familiar features of modernist homes — like glass and a simple outline — with a rugged exterior for an outdoors-y vibe.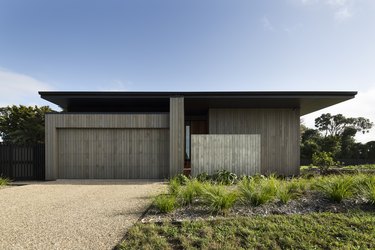 Again, the way that modern house exteriors incorporate angles and lines makes for a pared-down look. And it's all about function, too. This MRTN Architects project has a slight Brutalist bent and keeps things really low-key from the get-go. The prominent black eaves "frame the landscape views and enhance the appearance of the surrounding greenery," according to the project page.