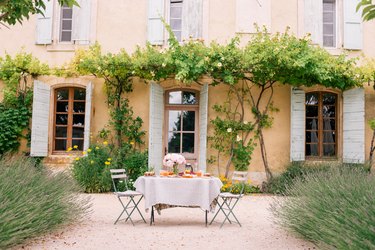 Between the lavender fields, vineyards, peaks, and valleys, the French countryside is about as idyllic as it gets. And while we can't all splurge on a bucolic estate, the next best thing would be to emulate elements of this pastoral dream in our own backyard. Inspired by the homes of Provence and its neighboring southern region, French country style is a far cry from the refined and ornate architecture associated with Parisian flair. But what it lacks in polished glam, it more than makes up for in comfort with an element of effortless cool.
A French country exterior will often feature a neutral base built from stone or stucco and the presence of reclaimed wood is almost always a given. The shutters and surrounding greenery are where you have the opportunity to introduce a wealth of color, resulting in a dynamic facade. Hungry for more? Scroll on for six dreamy French country exteriors that will inspire you to channel the region and transform your own humble abode.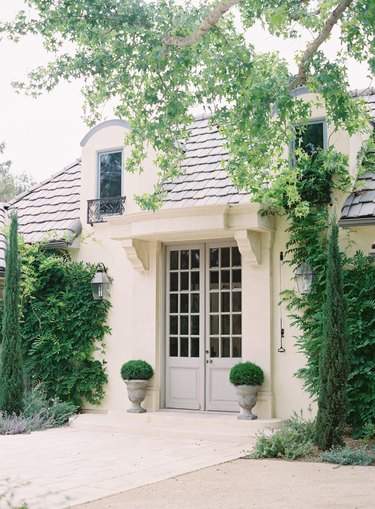 Given that the French country aesthetic is rooted in traditionalism, you can expect to see many parallels between the two styles. Symmetry is a major hallmark of the latter and when it comes to French country exteriors, it translates straight down to the architecture of a build. This stunning home designed by Dani Blasena of HauteFetes is a perfect example with its blue-tinged French doors flanked by a pair of Juliet balcony windows and the twin topiaries guarding the entrance.
2. Create a garden with no bounds.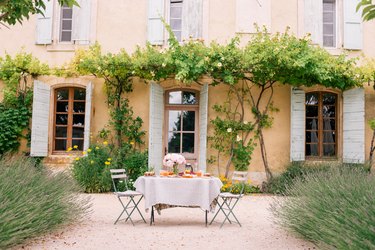 We'd be hard-pressed to spot a French country exterior without some sort of a climbing flower or plant. Cue this swoon-worthy house in Provence, captured by Julia Berolzheimer. The greenery trailing up the facade not only contrasts with the pastel orange walls, but also contributes a lively detail with a lush botanical twist.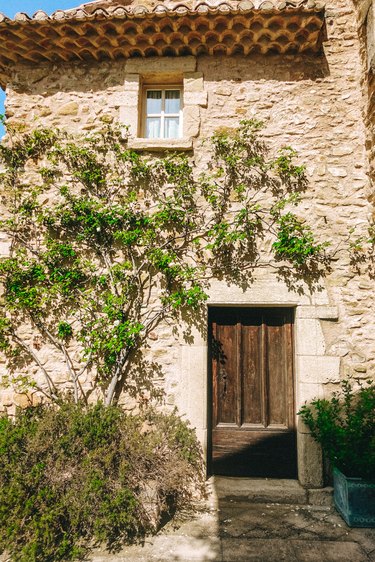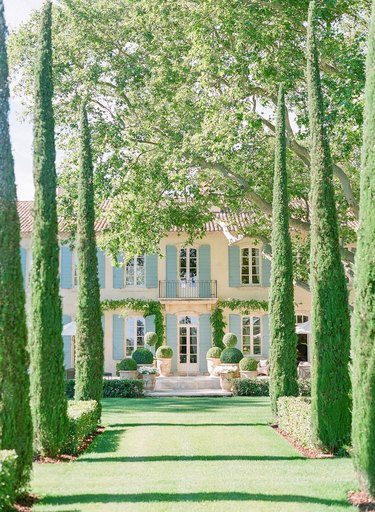 When it comes to French country exteriors, landscaping is just as important a detail as anything else. Whether you're looking for low-key curb appeal showcasing a cluster of olive trees surrounded by wild lavender bushes, or you want to go all out with manicured foliage — like this 18th-century farmhouse in Provence, known as Le Mas des Poiriers — it's all about emulating that distinct balance between pastoral and glam.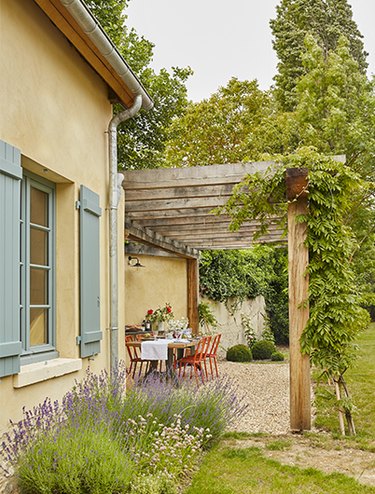 You'll find that most French country exteriors will feature some sort of a white, beige, or soft yellow facade. Think of shutters as an opportunity to bring in a fresh splash of color that will subtly contrast with the neutral backdrop, all the while lending your home a unique finish. This bucolic sanctuary, spotted on A + B Kasha Paris, is picture-perfect proof.
6. Play to your environment.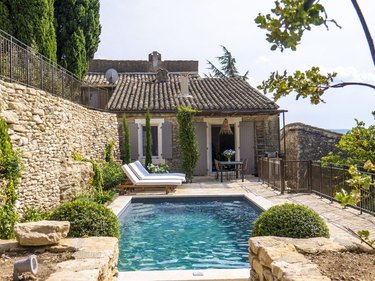 A French country exterior will often mimic its surroundings, as is the case with this hillside Airbnb. By harnessing the natural qualities of the architectural materials it feels like a seamless extension of the natural terrain. It's all about channeling that raw, earthy look, which will allow your humble abode to feel like an authentic addition.