But have you considered exterior house shutter ideas? A house doesn't always need shutters, but we think they are the ideal, classic finishing touch. Back in the day, they served a practical purpose, but today, they're more for aesthetics, as they frame windows and anchor the color palette.
Shutters have a way of reinforcing your exterior color palette. For instance, if you're dreaming of an all-white house, shutters can offer visual interest and add a bit of color, too. Here, Julia of Gal Meets Glam has selected whisper-blue exterior house shutters to accompany her breezy white front porch.
2. Do more than just frame your windows.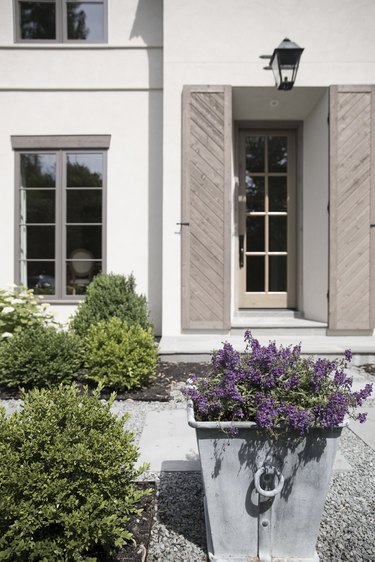 Although they almost always frame windows, exterior house shutters can be taken beyond windows and placed elsewhere. For instance, we think they look especially chic when bordering a doorway, something that the team of Kate Marker Interiors chose for this home.
If you're like us, and just can't get enough of exterior house shutter ideas, there's good news: the look isn't just for windows. The team at Urban Grace Interiors nailed the idea and created a cohesive appearance by emulating the look of blue shutters with the loveliest shutter-inspired door. Swoon!
4. Pair with flower boxes for the perfect combo.
Exterior house shutters are always a timeless choice, but let's say you want to kick it up a (tiny) notch. In this case, we recommend a few cans of black paint. It's the quickest way to modernize your shutters, as proven by these black shutters spotted at Magnolia Market at the Silos and snapped by Liz Marie of Liz Marie Blog.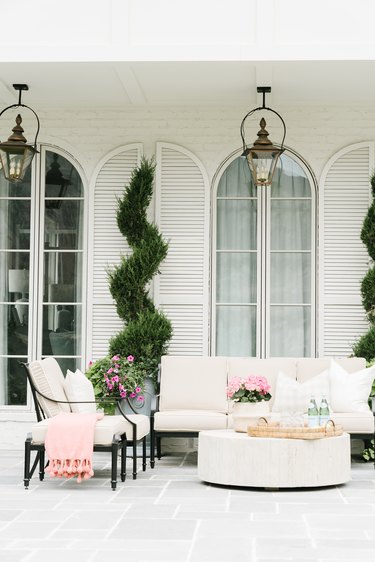 Sometimes, shutters can inspire you to go big or go home. If you are lucky enough to have large windows, equally large shutters will match the grandiose look, creating an effect that's guaranteed to turn heads. Rachel Parcell's shutters are both impressive and classic.
7. Mirror the color of your shutters.
To really solidify your exterior color palette, we recommend finding ways to weave the color of your shutters into other elements of your porch. Brooke of Nesting with Grace has black shutters, so she continued the color theme by painting the front steps and door in the same shade.
8. Keep the focus on the upper windows.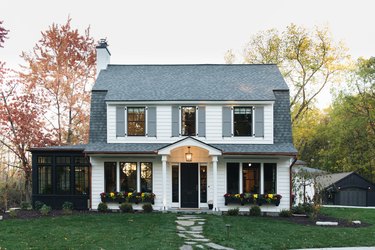 If you have a two-story home with more windows than you can count, be selective with the shutter placement and focus your efforts on the second floor windows. Let Jean of Jean Stoffer Design show you how it's done with the help of this home's gorgeous exterior.