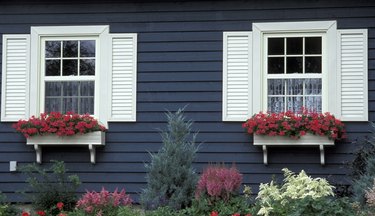 Exterior shutter material should be weather resistant and straight grained. These characteristics enable shutters to withstand warping, shrinking and swelling. Cedar is one of the wood species most commonly used for shutters. Redwood and cypress also are viable options.
Cedar
Cedar is the go-to wood for many exterior applications. It's dimensionally stable -- meaning it's resistant to warping and twisting. Cedar contains cypressene, a naturally occurring oil that repels bugs, decay and moisture. Cedar is affordable, straight grained and easy to work with, easily yielding to saws, screws and fasteners. Cedar is available rough-surfaced, which adds a textured look, or smooth planed, which imparts the look of fine woodworking. Cedar may be left to age naturally to a soft gray color, or stain or paint can be added.
Redwood and Cypress
More appropriate for high-end installations, redwood is dimensional stable and resistant to bugs, decay and moisture. The natural beauty of redwood needs little maintenance and looks best without stain or paint. As with any exterior wood, redwood gains longevity when sealed. Cypress trees flourish in the South and have been used in the southern states for many years. Contemporary carpenters rely on cypress throughout the United States for exterior trim and shutters. Cypress is much like cedar but harder. It has the same protective, resistant qualities as redwood and cedar but with more density.