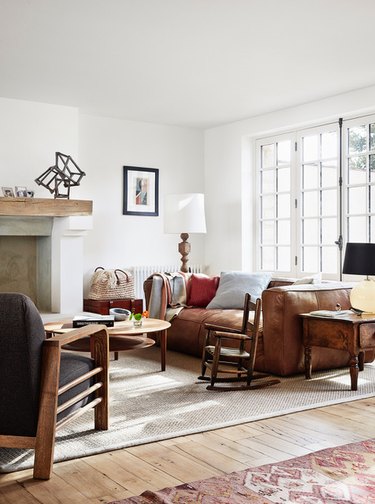 As our regular readers are well aware, we here at Hunker headquarters have a penchant for Parisian interiors — and we've made no effort to conceal our admiration for French design. In fact, we're still swooning over the ornate marble fireplace in this historic 7th arrondissement apartment and the rustic tomette flooring in this fashionable Marais flat. Although Paris, admittedly, steals the spotlight when it comes to our coverage of French interior design, we'd be remiss if we didn't extend our gaze beyond the impossibly chic apartments of the city to the charmingly understated abodes of the country.
Curious as to which elements are truly quintessential to French country interior design we consulted an expert on the subject: principal designer of the Parisian real estate agency A+B Kasha, Betsy Kasha. "French country design is a style which is likely defined differently based on where you live," the designer tells Hunker. "But I believe the feeling of the style is universal — warmth, relaxed elegance, and an uncontrived sophistication." Below, the designer shares five French country living room ideas that we're willing to bet will give Francophiles (like us) heart palpitations. Read on to find out exactly how to infuse your space with that provincial je ne sais quoi.
1. Mix and match furniture styles.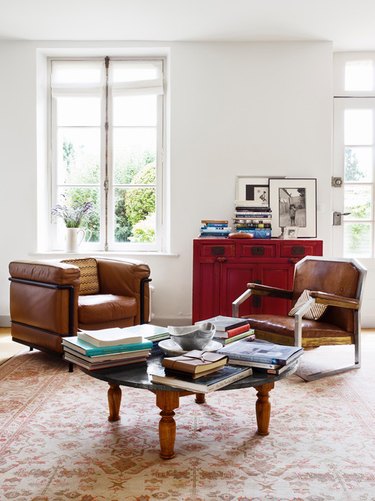 To curate a lived-in space that exudes relaxed elegance, Kasha recommends mixing and matching comfortable furniture pieces in varying styles. "Comfort is key in creating a successful living room, regardless of its location," the designer shares. "But, as most country homes have a more relaxed and casual style than their city sisters, it is easier to successfully mix colors, patterns, and furniture styles in country interiors." Gain inspiration from this French country living room, in which Kasha paired a contemporary leather armchair with a vintage one in a more traditional silhouette. Follow the designer's lead and opt for pieces in similar shades to keep the look of your living room cohesive.
2. Opt for natural textiles.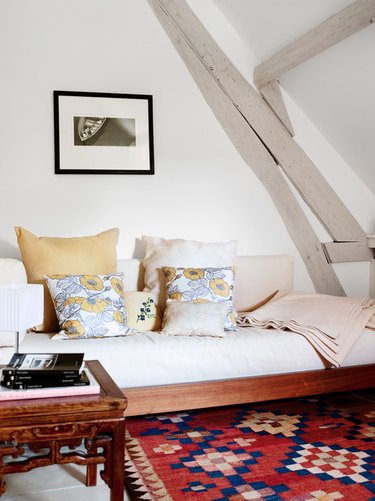 "Natural textiles such as cotton and linen have been long associated with French country chic," Kasha divulges. "Patterned cotton rugs are charming and add lovely pattern and color to French country floors," she recommends, as exemplified by the space here. "Soft pillows and throws are the hallmarks of an old Normandy house in the winter," she adds. You can't go wrong with simple prints and stripes, such as those found in Provence, says the designer.
3. Add charm with vintage decor.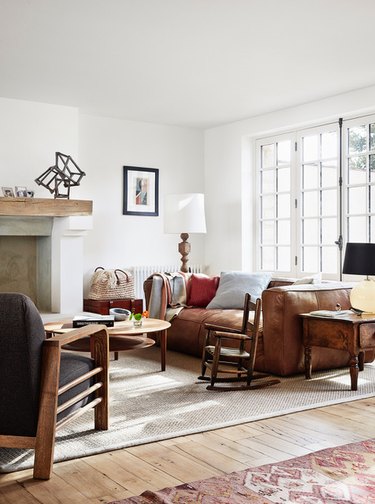 According to Kasha, the secret to nailing a French country-inspired living room that boasts uncontrived sophistication lies in vintage decor. "The French countryside is famous for its community flea markets held every Sunday during the spring, summer, and early fall," says the designer. "At these markets, it is very easy to find treasures — objects of beauty or whimsy — which add charm to one's home as well as bring great joy and conversation at a very low cost! These are the objects which can easily identify a French country home."
4. Avoid overdecorating.
Although decorative accents lend charm to a space, Kasha cautions against overdoing it. "There is a tendency to clutter a country interior with lots of antique accessories and handmade textiles," the designer explains. "Accessories are important in personalizing a room, but it is easy to overdo it. To avoid this, try treating each room as a fashion ensemble," she advises. "For example, a dramatic necklace or earrings will enhance a simple black dress but not necessarily both at the same time!"
Pro tip: Kasha advises changing out your accents seasonally to optimize relevance. "A pile of warm, comfy blankets on a sofa is very appealing in February, but not in August," she notes.
5. Allow the space to feel lived-in.
"Country style is often associated with a cozy, family, at-home feeling," says Kasha. "This can be achieved by incorporating things into the decor which are associated with cozy at-home activities, such as books, board games (chess, backgammon), music (instruments, turntable), and drawing (easel, pencils)," she offers. Take style notes from this French country living room idea and allow your favorite books to pile up on your coffee table to get the look.
---
Megan Beauchamp is a writer and editor in Los Angeles. Her writing has appeared in MyDomaine, House Beautiful, Bustle, and Brit + Co., among others.
View Work