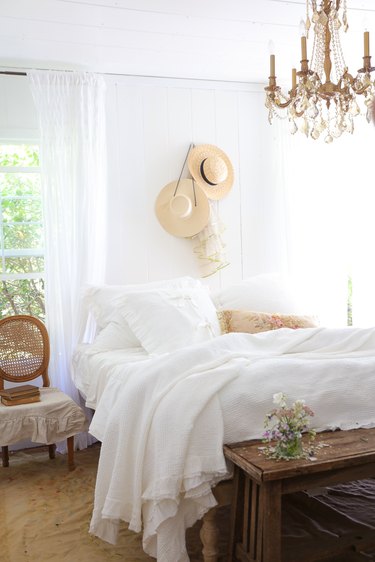 Close your eyes and imagine that you're on a train winding through the French countryside. As soon as you arrive at your destination, you catch the scent of lavender lingering in the air. Then you step through the door of your accommodations. You can't help but feel relaxed amid the soft colors, natural materials, and ornate visuals.
This is the vibe of French country design, an approach that comes from — you guessed it — the countryside of France. While Paris is known for its pomp and ornate details (inspired by Versailles, no doubt), the French countryside is punctuated by charming cottages brimming with worn woods, airy palettes, and antique treasures. It's a casual, unfussy look that also manages to weave in bits of fancy flair.
It's a style that's made its way to the United States, which means that you don't need to take a trip to France in the near future in order to bring the same look and feel into your own home. Here are seven lovely French country bedroom ideas that will have you saying, "Mais oui!" in no time.
1. It's all about well-loved woods.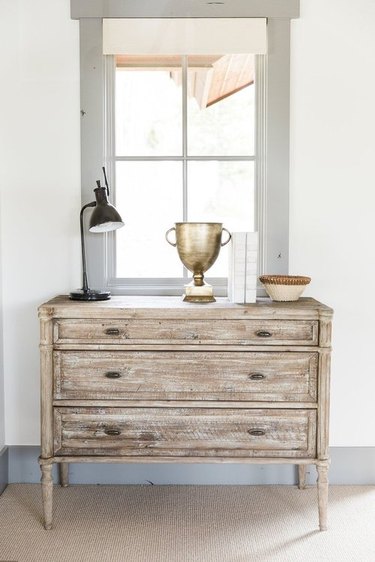 Wood furnishings in French country bedrooms tend to look as if they've been used and loved for years and years. Whether you buy a new piece that looks old or you make the ultimate score at a flea market, light, distressed, whitewashed wood finishes are right at home in French country spaces. This dresser chosen by Shea of Studio McGee is the epitome of French country chic.
2. Display your best flea market finds.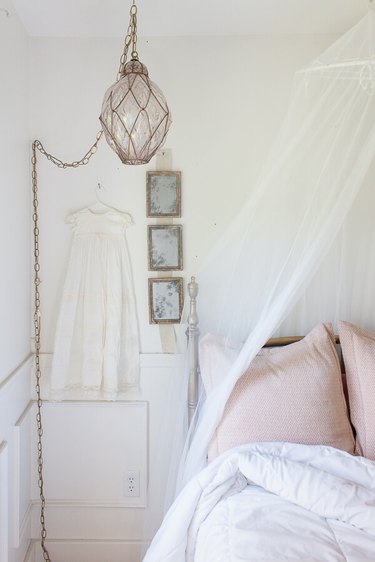 If you're drawn to French country style, it's a safe bet that you also adore antiques. We believe that vintage pieces are a must-have in a French country bedroom, so when you're styling your space, plan to hit up a flea market or two — or three or four. Look for lighting with delicate silhouettes, airy textiles, and frames with patina, like the finds displayed in this bedroom belonging to Sara of Twelve on Main.
3. Keep the palette neutral.
French country bedrooms are well-known for their light-colored, wispy palettes that inspire relaxed vibes. This bedroom styled by Rachel of Maison de Pax is a study in peace-promoting neutrals, ranging from white, cream, gray, and green. The warm woods don't hurt either.
4. Mingle florals with subtle patterns.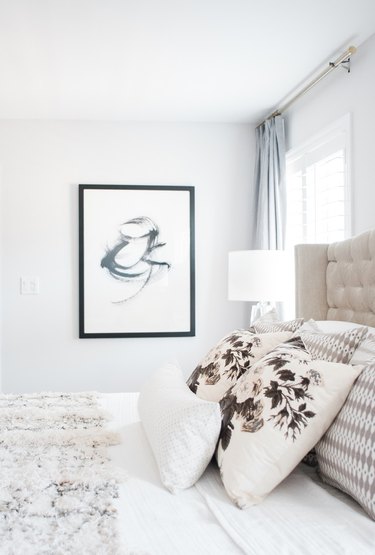 Floral patterns are a mainstay in traditional French country bedrooms, but there is a way to make things look more modern. Mix florals and subtle, abstract patterns together. We are loving this combination witnessed in a bedroom designed by Jacquelyn Clark of Lark & Linen.
5. Wrap the room in cozy, luxurious textiles.
If you want to feel really relaxed in your French country bedroom, you'll need to outfit it with the coziest textiles around. Consider an upholstered headboard, tons of throw pillows in various textures, and sumptuous linens worthy of a Provençal bed and breakfast. Just imagine curling up in these rustic sleeping quarters belonging to Natalie of My Vintage Porch.
6. Showcase mirrored pieces.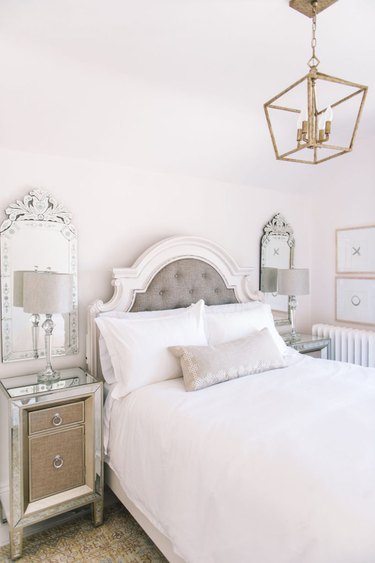 Mirrors are also commonly seen in French country bedrooms. You can bring in a mirror that you've discovered at a flea market (extra points if it has nicks and perfect patina) or you can represent the look through a pair of mirrored nightstands, which is what Leslie of The Leslie Style did in this airy bedroom.
7. Hang a stunning chandelier.
Even though French country style is on the more laid-back end of the French design spectrum, there are some nods to Parisian motifs. French country bedrooms are made complete with a gorgeous, opulent chandelier — preferably one with crystals, of course. We can't get enough of the exquisite crystal chandelier hanging in this bedroom belonging to Courtney of French Country Cottage.