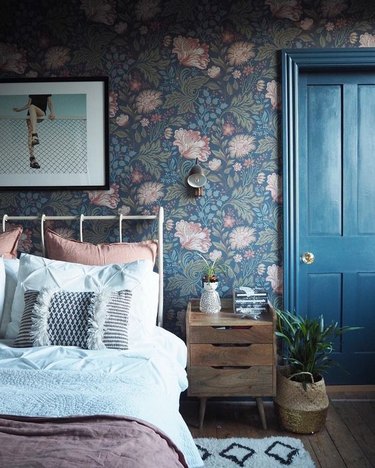 Admit it, you've imagined yourself in an English cottage at one point in your life, haven't you? Kate Winslet's idyllic country abode in the 2006 rom-com hit The Holiday was enough to make us all swoon. Well gang, we've got news for you. Chintz is in and a traditional English country bedroom is an instant way to add some old-fashioned charm to your digs. Want something pretty yet classic for your boudoir? Channel these seven English country bedroom ideas. Silk pajamas and sheepskin slippers NOT included.
1. Wall paneling is your friend.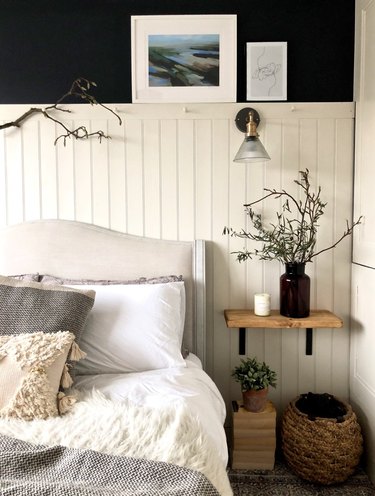 2. Choose Arts and Crafts-inspired decor.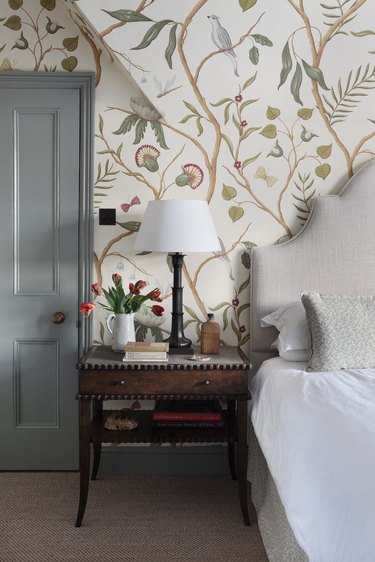 The Arts and Crafts movement provides an essential point of inspiration for English country style; think artisanal details and a celebration of the handmade. Ham Interiors opted for a botanical hand-block Hamilton Weston wallpaper in this bedroom, injecting period charm and elegance into these sleeping quarters.
3. Make way for a four-poster bed.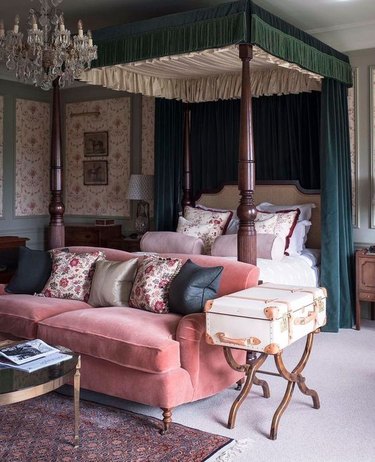 Traditional English country bedroom ideas are cozy and snug, a place to curl up with a good book before an even better night's sleep. To guarantee a peaceful slumber and make sure your bedroom really has that pastoral charm, invest in a four-poster bed with all the fittings. If you're looking to create a hotel vibe, this is the way to do it.
4. Don't be afraid to go bold.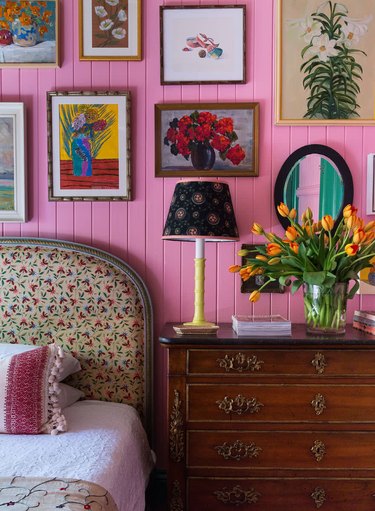 Country style doesn't have to always equal muted colors. This eclectic bedroom design by Anna Spiro brings all the bright vibes to an English country bedroom, and we're loving the modern hot pink update to the wood wall panelling. The rest of the room has been dotted with characterful accessories and colorful, floral artwork, keeping it country but cool.
5. Think about vintage accent pieces.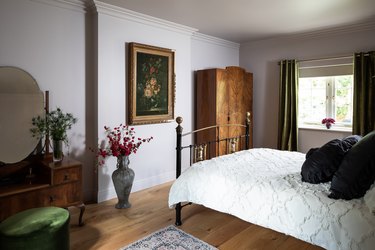 Realizing a country bedroom idea needn't be expensive. Shop for cheap vintage furniture at antique shops and thrift markets without breaking the bank. Louise Brown has created a frugal take on English country style with this minimal sanctuary laced with vintage details. Lighting is important, too. Steer clear of harsh white bulbs and opt for more a more ambient glow to achieve the ultimate country look.
6. Make it modern.
Give your country cottage a modern update by using a brighter color palette and contemporary patterns. You don't have to select dated decor. Kendall Simmons has taken the traditional country bedroom idea and modernized it by pairing floral bed linen with light and airy furniture and colorful wallpaper.
7. Work the floral.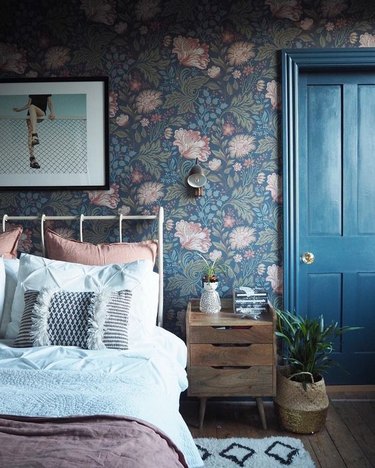 Nothing says English country style like a good ol' floral pattern. A profusion of whimsical prints will make for a quaint country aesthetic with a nod to vintage. Pair your ode to Laura Ashley with softly patterned bed linen and, you guessed it, more florals, for a charming and feminine take. Or, for a modern update, make like Sandra from The Idle Hands and add some au courant artwork and vintage accessories. Oh, and painting the door blue doesn't hurt either.