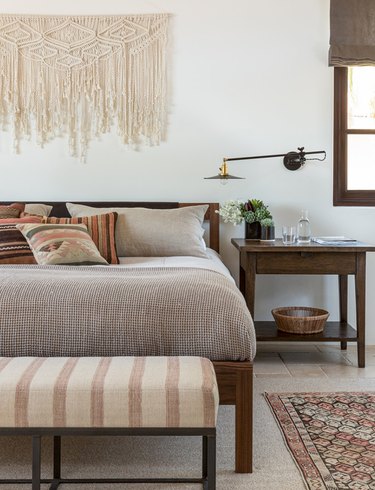 Bedside lighting is an important consideration for completing any bedroom. After all, beds aren't just for sleeping. They're also where people unwind after a long day by reading, knitting, conquering sudoku — you get the idea. So, it's important that your lighting be equal parts aesthetic and practical. Long gone are the days when industrial task lighting was the only option for illuminating late-into-the-night activities. Keep scrolling for 10 bedroom lighting ideas that aren't just task lamps.
1. Opt for barely-there lamps.
Barely-there contemporary glass table lamps make a statement without distracting from the decor in this sophisticated bedroom by Angie Hranowsky. Black shades add contrast to the neutral color palette while a graphic rug adds visual interest.
2. Go big, or go home.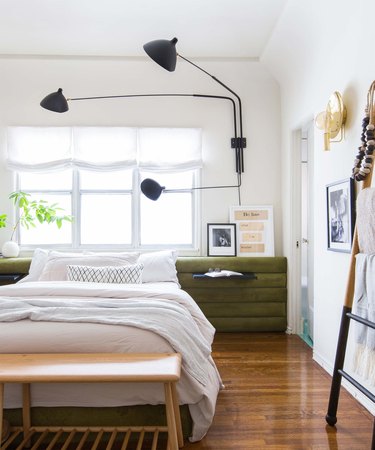 An oversize, three-arm sconce makes all the statement you need in a small bedroom. When you're short on space, it's important to choose hardworking elements, as Brady Tolbert does in his bedroom makeover. This bedroom lighting idea is equal parts form and function, providing light to both sides of the bed while adding a dose of drama.
3. Install a chandelier.
A pendant light over a bed? Who knew that could work? The French, of course. This linear light fixture graces many of the guest rooms in the chic Parisian Hotel Panache, providing an unexpected, yet welcome, take on overhead lighting. A black lacquered cane bed and speckled print wallpaper add charm and contrast paired with crisp white linens.
4. Embrace contrast in a neutral room.
Ground a muted color palette with hardworking swing arm sconces in an oil-rubbed bronze finish, as Shea from Studio McGee does in this bedroom. The modern cylinder shape brings a bit of an edge to the traditional space without taking up a lot of visual real estate. A pivoting head maximizes focused lighting.
5. Embrace a French pole light.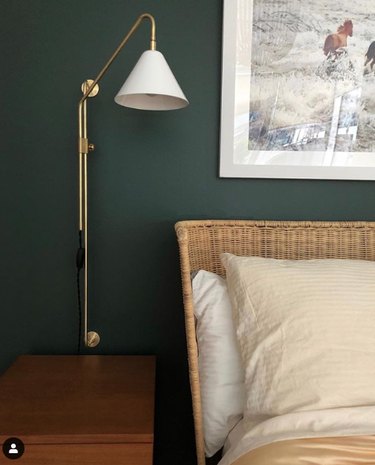 What a tease; wish we could see more of this moody space by Designing A Tiny Empire, too. French pole lights are a timeless choice that play nice with a variety of interiors, including traditional, modern, and classic; depending on their shade and finish. They feature a cantilevered arm that rotates for ultimate adjustability. We don't know about you, but we're swooning over this graceful brass version.
6. Choose a simple, yet functional light.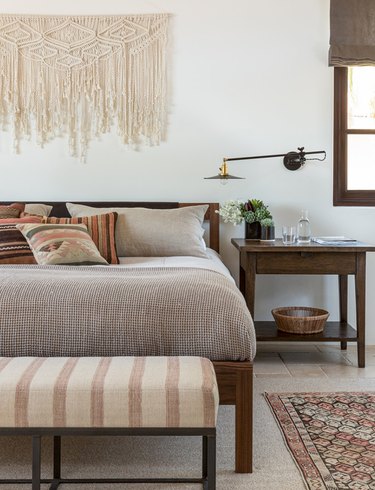 Do you hear what we hear? That's the sound of crashing waves outside this Cabo San Lucas bohemian bedroom. Jute Home deftly combines texture and pattern in natural colors, creating an earthy bedroom escape. Streamlined oil-rubbed bronze lights lend a modern vibe without visual weight. These beautiful lights rotate in multiple directions, giving lots of flexibility.
7. Make a big statement with small sconces.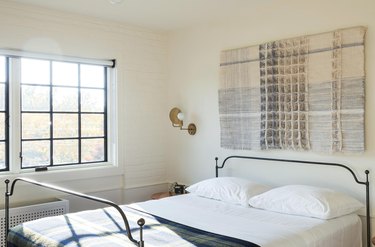 The orbit sconce draws inspiration from early American candle holders. They're a simple, yet refined addition to this pared-down bedroom in the Rivertown Lodge designed by Workstead (so are the lights). What they lack in size, they more than make up for in design. The wall sconces offer a surprising amount of light adjustability, thanks to the disc that orbits around the exposed bulb, enabling light to reflect in various directions.
8. Say "yes" to leather.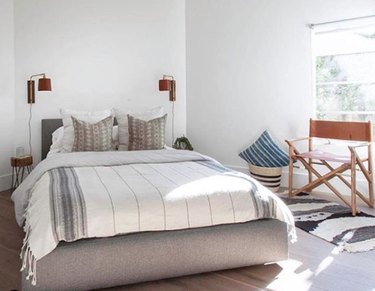 Maybe it's just us, but we subscribe to the belief that just about everything is better wrapped in leather; these sconces are no exception. They bring a tactile touch to this beachy bedroom by Studio Matsalla. A gray platform bed is a soothing backdrop to neutral linens, block print pillows, and a fringe blanket.
9. Add character with vintage lights.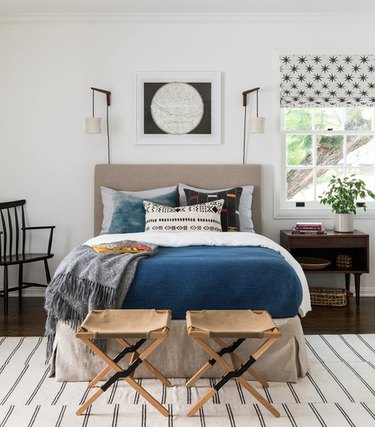 When in doubt, choose vintage. Danish midcentury wall lights infuse another layer of warmth to this casual and eclectic bedroom. The teak wood arm swivels and the shades are height-adjustable. Designer Katie Hodges hangs them high and directly overhead, ensuring ample focused light.
10. A task lamp will always work.
Sometimes, it's hard to break away from tradition. For those who simply can't quit task lamps, a vintage style in aged-brass, as seen in this understated Shaker style bedroom by designer Katie Martinez, is a classic choice. Plenty of warmth is added to the clean-lined design through a wood bed and a fringe blanket. Pale blue walls and patterned drapes add interest.