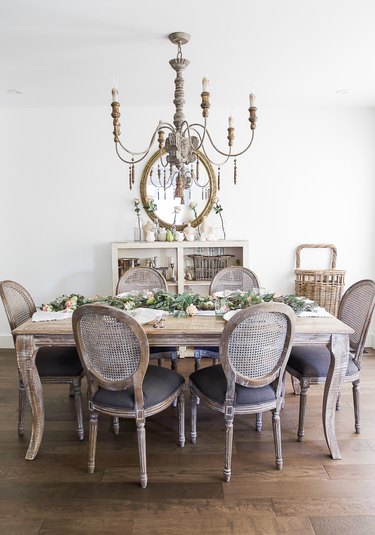 The most famous, most ideal French country-style dining room is in Giverny, France: Claude Monet's big dining area with bright yellow walls, red-and-white checked floors, a simple tablecloth, and plates hung on all of the walls. It might be the ultimate, but its elements are pretty true to the pastoral-chic aesthetic that we've come to know as French country: effortless elegance mixed with rusticity.
A few hallmarks of the look, inspired by, well, French country and Provençal style in the south of France include natural materials (like exposed wood or stone); distressed, imperfect paint; checked patterns; toile; and copper. Read on for a few more French country dining room ideas that you can incorporate into your own home.
1. Fancy Chandeliers
Avoid overdecorating so you can go full-on glam with the chandeliers above your French country dining room table. It'll balance the unfussy elegance that's a trademark of this particular style. Let Courtney from French Country Cottage show you how it's done.
2. French Vintage Dining Chairs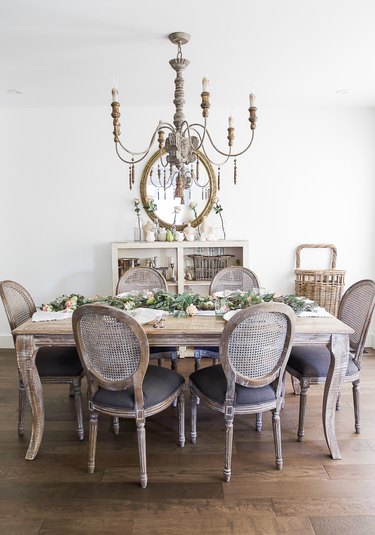 3. Antique Mirror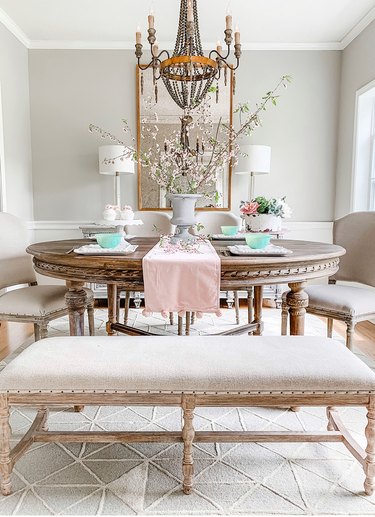 We can't think of anything more fitting for a French country dining room than a huge antique mirror hanging on the wall. Peruse flea markets or antique shops to find the perfect piece to round out your design. Or, follow the lead of blogger Pamela Dyer and splurge on a new option (like this one by Kathy Kuo) for your home.
4. Floral Prints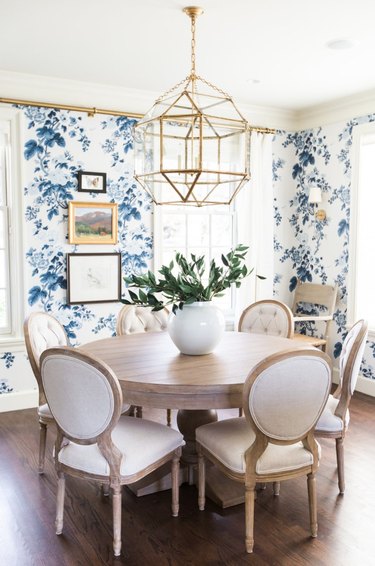 The French country dining room is all about comfort. Opt for chairs with upholstered seats and backs, and keep the fabric neutral so you can add a bold pattern to the walls. Shea from Studio McGee opted for this vibrant blue floral wallpaper that definitely makes an impression.
5. Terra Cotta Floors
6. Simple Farm Chairs