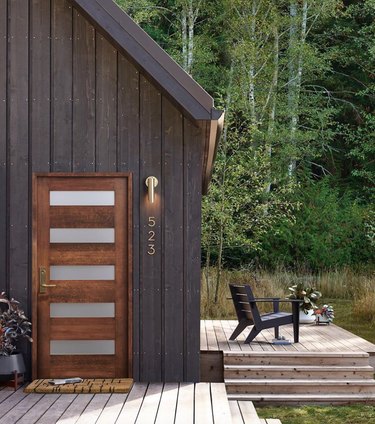 For some, the word "cabin" evokes images of off-the-grid, modest structures located deep in the woods, void of everyday conveniences including running water and electricity. If that's not your idea of a good time, behold modern cabin ideas.
What are modern cabins you ask? They blend the less-is-more tenets of minimalist design with the warmth and approachability of cabin culture. While they embrace rustic undertones, they also incorporate contemporary design principles like clean lines, a neutral color palette, and a pared-down aesthetic.
One of modern design's foremost foundations is the blending of indoor and outdoor spaces — often through the use of floor-to-ceiling windows and glass walls that disappear into folding doors — all with the intent to showcase a home's surroundings. And because cabins, modern or otherwise, are generally surrounded by nature's riches, these two styles are a match made in design heaven. Are you looking for ideas on how to create a modern cabin of your own? Read on.
1. Let your view work for you.
This striking modern cabin by Finland-based Pluspuu makes the most of its surroundings through the use of minimal design — the predominant materials being glass and Finnish wood. The floor-to-ceiling windows allow the breathtaking view to be appreciated while indoors, and the black wood finish gives the lakeside retreat a fresh, Scandi-chic look without distracting from nature's beauty.
A-frames are the darlings of the cabin world, embraced for their ease of construction, distinct shape, and steep roofline which doesn't allow snow to accumulate. A dramatic coat of paint like the black hue seen on the Kyst Hus A-Frame renders a modern cabin vibe, while a facade made up of almost all windows allows for an abundance of natural light.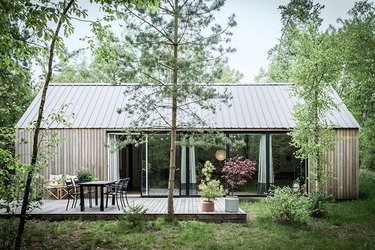 If you're looking for a modern cabin idea that's equal parts warm and functional, consider a monochrome Scandi-inspired exterior made of natural wood tones. Pufik Homes created this single-story refuge amidst the trees with a series of sliding glass doors set between walls clad with evenly spaced wood slats. A corrugated metal roof introduces an industrial bent.
4. Mix and match materials.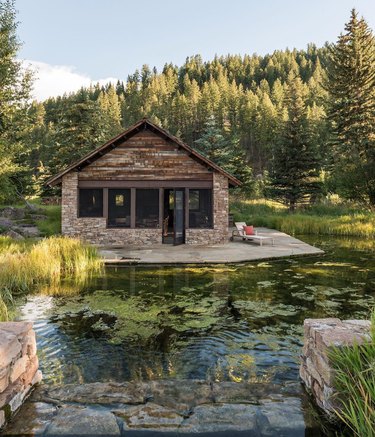 Although modern homes generally stick to a few select exterior building materials like steel and glass, it's possible to combine earthy materials and still achieve an au courant aesthetic. Case in point: this cabin by JLF Architects makes use of stone, reclaimed wood, and corten steel, yet still has a contemporary vibe.
5. Infuse farmhouse details.
Bring a farmhouse sensibility to your modern cabin by embracing vertical tongue and groove siding and if you've got the space, a porch. This A-frame by Studio PLOW, blends the simplicity of modern digs with the warmth and down-to-earth goodness of a rustic cabin, and then adds personality with a selection of curated outdoor decor — not much is needed to enhance the forest landscape.
6. Consider modern accessories.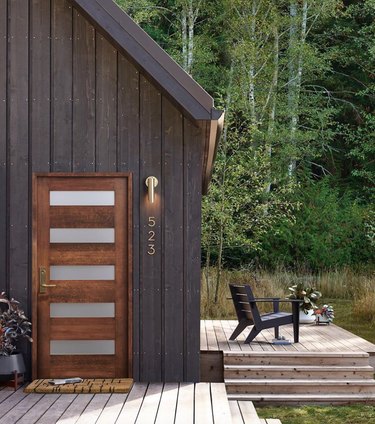 Look to accessories with clean lines, contemporary shapes, and eye-catching finishes, such as the cylindrical sconce and sleek house numbers spotted on this home, to impart a modern vibe on a traditional cabin. A front door with inset frosted glass panels is a nod to midcentury modern design and enhances the curb appeal.
7. Add architectural details.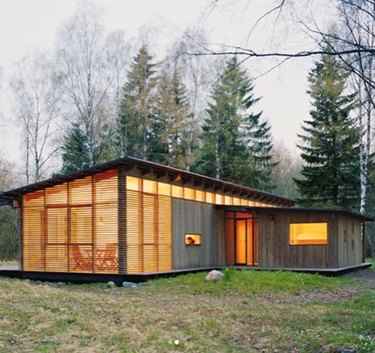 Put a personal spin on your modern cabin idea with the addition of horizontal wood slats. WRB Architects installed floor-to-ceiling louvered windows on this welcoming home — for a look that's equal parts functional and decorative — bringing texture and depth to the exterior while adding a layer of privacy that still allows natural light to flow through.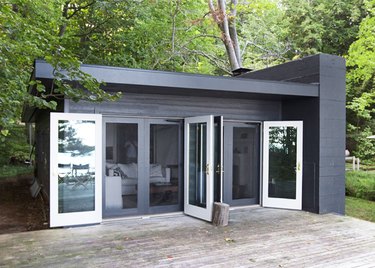 It might feel like a bold statement, but a fresh coat of exterior black paint is actually quite calming among a sea of green and practically camouflages this structure in its surroundings. Sarah Sherman Samuel refurbished this lake house in Michigan, adding a double set of French doors for plenty of fresh air and easy access to an expansive deck. White interiors offer a welcome dose of contrast.