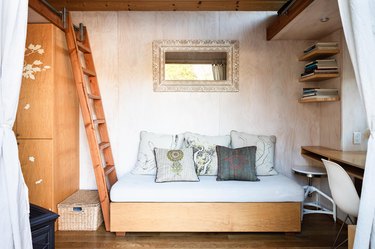 The tiny house movement has made its mark in the world of design and for good reason. Serving as the ultimate incentive for shedding clutter and the superfluous, it's become a symbol of downsizing for the better, with sustainability in mind. You've surely seen them while scrolling through Pinterest or Instagram — compact homes where the living room, kitchen, and dining area somehow all manage to coexist within 100-square-feet. It goes without saying that this sort of small space living falls right in line with a modern decor scheme. After all, a sleek and streamlined home goes hand-in-hand with living minimally.
That said, living with less doesn't have to mean a compromise on style but rather just being intentional in how you decorate and mindful of your clutter. From clever storage solutions to scenic setups and more, read on to discover the modern tiny house ideas that might just inspire you to pare down.
1. Double up on sleep space.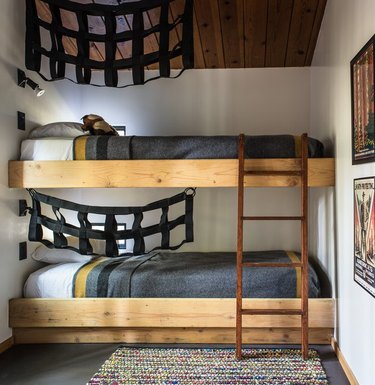 2. Don't overlook the bathroom.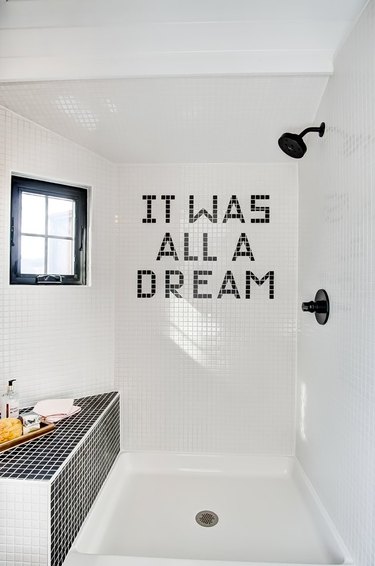 3. Get creative with storage.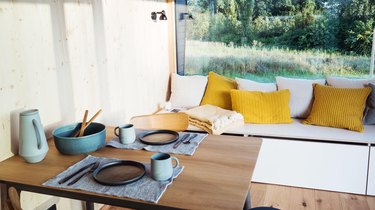 Making the most of every available square inch is essentially a prerequisite for modern tiny house living. In this mini dining area, spotted on Cabin Spacey, the bench seating below the window includes ample storage space for everything from kitchenware to bedding.
4. Let the furniture do the talking.
The clean-cut details of this modern tiny house make quite the case for living with less. The Scandi-chic furnishings give the sparsely decked out space a bold dose of style and character, allowing the exterior views to take center stage.
5. Rethink bedside tables.
Chances are, you probably won't have the floor space for a nightstand — never mind two of them — so the next best thing is to take to the walls. This modern tiny house made do with a pair of floating shelves that flank the compact bed, providing a no-frills solution with ample room for essentials.
6. Don't be afraid to use color.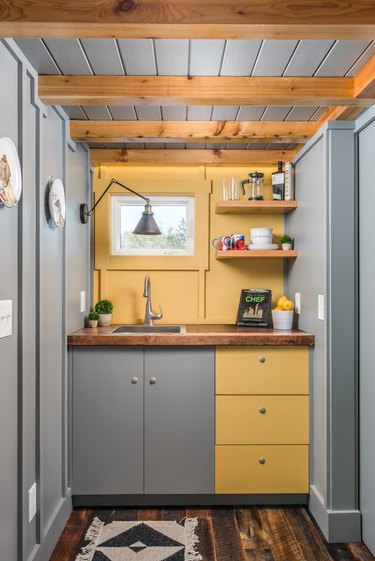 7. Keep the elements cohesive.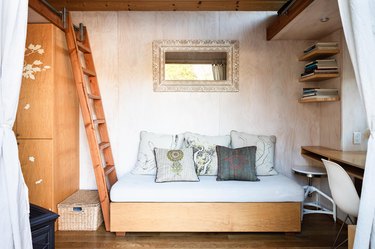 A modern style living room calls for clean lines and a cohesive set of colors and materials that work together in effortless harmony. In this tiny Ojai home, the bulky wooden base of the sofa bed is offset by the upholstered cushion that introduces a soft, comforting touch to a room that's primarily made up of hard surfaces.
8. Bring the outdoors in.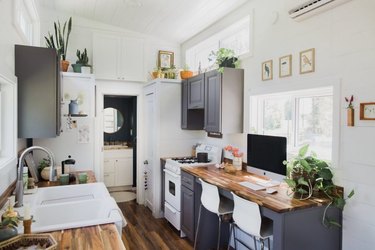 9. Make the most of your surroundings.
If you have views like this, you're doing tiny house living the right way. Arrange your workspace in front of a window for a mood-boosting setup that maximizes productivity. In this light-filled, makeshift home office, a contemporary desk complements the modern build of the interior, fitting right in with the home's linear architecture.
10. Don't forget the backyard.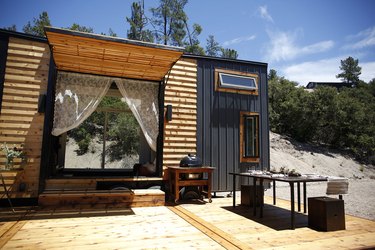 When the inside of your home is lacking in square footage, it only makes sense to expand outward, as this couple did in their 300-square-foot home. The modern tiny house, featured on Cup of Jo, comes with ample patio space — providing enough room for an ultra-sleek dining table set that feels like a seamless extension of the equally chic architecture.