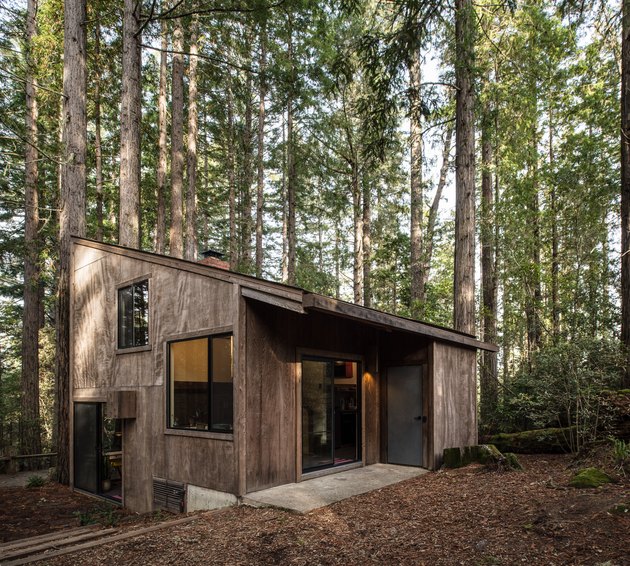 When Chad DeWitt, creative director of Framestudio, and his husband, James Cook, went searching for home to buy after being priced out of the Bay Area, they ended up finding an architectural gem — a tiny 1986 cabin in a redwood forest — in Sea Ranch, a beachside community 100 miles north of San Francisco. DeWitt wanted to preserve the history of the cabin (which they now call The MiniMod) which was the work of notable Bay Area–architect Joseph Esherick, while making some modern upgrades. At the top of the to-do list was a fully functional kitchen and more sleeping areas. DeWitt and Cook also wanted to make the home available as a short-term rental, so the update needed to be durable and have more storage.
The design preserves the home's open plan and by using reclaimed wood from the house, Framestudio was able to restore original details. Eco-friendly and recycled materials were chosen and costs were kept low by opting to forgo things like granite countertops, a tile backsplash, and even dimmers on the light fixtures. DeWitt also made sure every square inch had a purpose, from the extra drawers in the kitchen toe-kicks to the custom built-in sofa that conceals storage and a pull-out queen bed. The finished cabin is just right for the couple and their many visitors.
1 of 7
Living Room
In the living room of the 684-square-foot space, the couple chose gray wool for the built-in sofa for a very practical reason: It matches the coat of their dog who likes to nap there. The Alvar Aalto stools can function as seating or tables.
2 of 7
Dining Area
The cabin consists of three open levels connected by wood staircases. Durable rubber tile flooring was installed throughout the home.
3 of 7
Kitchen
Framestudio replaced the lower cabinets in the kitchen, while the upper cabinets were restored. They also installed new appliances and rebuilt the exhaust system to fit the original design using a fan from the period.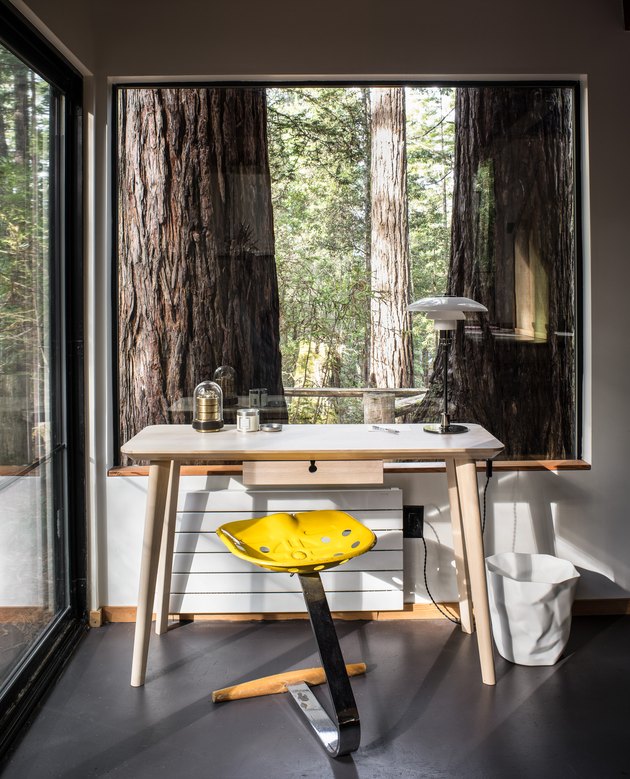 4 of 7
Desk
A writing area is outfitted with a Henningsen table lamp. DeWitt chose midcentury furnishings throughout and works by artists such as Barbara Stauffacher Solomon, Alexander Girard, and Robert Indiana reflect the home's history.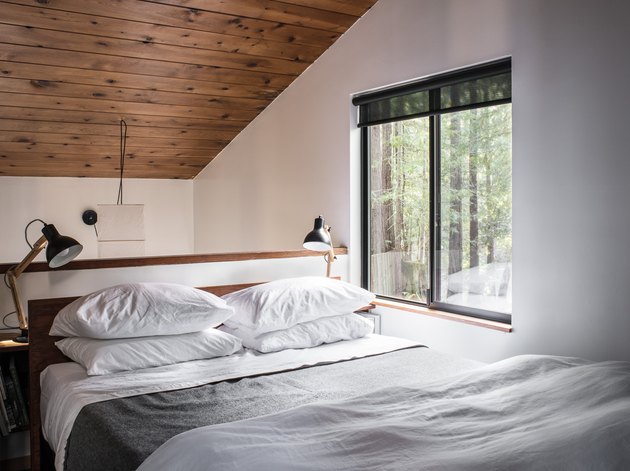 5 of 7
Bedroom
Two bedrooms are located on the upper level. DeWitt kept both spare in their design. A full-height folding partition was installed between the two spaces for privacy.
6 of 7
Closet
The bedrooms originally had simple alcoves with a shelf and a bar rather than closets. The firm installed blue laminate cupboards into the alcoves and incorporated secure storage and areas for linens, towels, and cleaning supplies.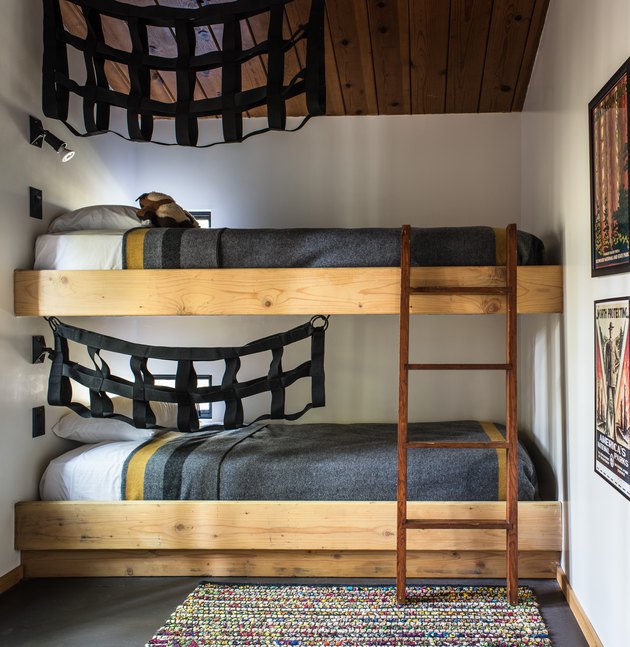 7 of 7
Bedroom
The second bedroom is equipped with bunk beds topped with classic wool blankets.
---
Elizabeth Stamp is a freelance writer in Los Angeles. Her work has appeared in Architectural Digest, Elle Decor, and CNN Style.
View Work