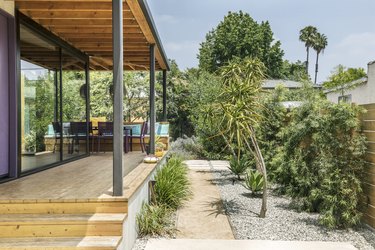 Los Angeles is chock-full of unfeeling stucco bungalows that could use major style makeovers. When Design, Bitches (best name ever) was hired to completely refashion an unloved bungalow, the L.A.-based architectural firm decided to take the structure in an entirely new direction, remodeling the existing home, creating a new landscape design, and adding a garage.
"The original house was ... small, [had] dark rooms, and no real connection to the outside/backyard," Rebecca Rudolph, the firm's co-founder, said. "The biggest challenge was creating an expansive feel."
Rudolph maximized the flow between the indoors and the outdoors with a series of spatial moves that connect the house and the yard. The team removed a part of the dining room and replaced it with a wraparound deck. A master suite is now nestled in the backyard. "By pulling away a 'chunk' of the original house, we have created outdoor spaces that have both an intimate, human scale, and also open up the interior of the house to carefully curated views," Rudolph said.