Some feel the long-lasting trend toward tiny houses is a social movement. More and more people are choosing to downsize and live simply with less. But with a smaller space comes a bigger need for innovation. In the best designs, these homes have multi-level living areas for sleeping and storage. And when it comes to tiny house stairs, a lot of homeowners are losing the ladder and getting creative with steps.
From purely functional options to handcrafted versions with high style, here are some tiny house stair ideas for when you're ready to embrace the freedom and adventure of the simple life.
1. Do something dual purpose.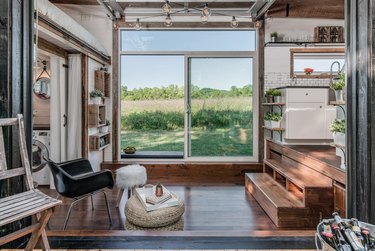 Since space will be limited, you'll want your tiny house stairs to serve more than just one purpose. The risers in this New Frontier Tiny Home lead to the kitchen and have a little extra storage hidden underneath. But the platform also hides a pull-out bed. Didn't expect that, did you?
2. Go simple and chic.
Keeping your tiny house stairs simple and streamlined will give you a lot more space on the main level. Skip the runner, and go for a modern look like this one from Liberation Tiny Homes. The steps coordinate with the dark metal hardware and light wood in the kitchen like a dream.
3. Spiral out.
Some take a minimal and modern approach with their tiny house stairs. But it's okay to lean into some old-world charm like this Tiny Heirloom home does. The dark wood cabinetry and curved stairs add to the coziness of the Tudor-inspired space that has us imagining living in a magical forest.
4. Turn them into drawers.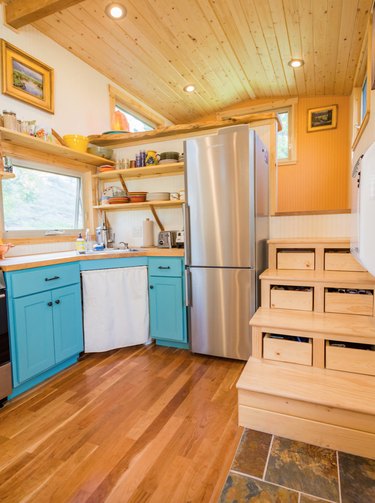 We're loving these light wood risers from Mitch Craft Tiny Homes; they actually function as drawers. And the dual-purpose steps are both minimally chic and super smart. Plus, the pops of color from the kitchen and accent wall add life into the space.
5. Add a next-level ladder.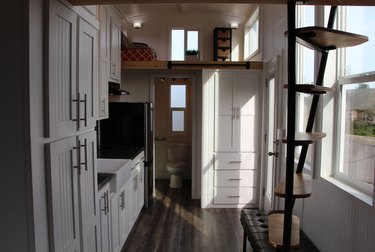 You often see ladders instead of stairs in tiny houses. They take up less space, can be mobile, and are pretty practical. But why go for a boring version when you can install a hybrid like this one by Tiny Mountain Houses? It's a spiral meets ladder meets midcentury modern. And we like.
6. Let them float.
These tiny house stairs from Wind River Tiny Homes are off the scales on style and function. They take up minimal space, but the floating steps make a major design statement. We love the mix of rustic and farmhouse in this home. It's the perfect combo of cozy and airy. When can we move in?
7. Double up.