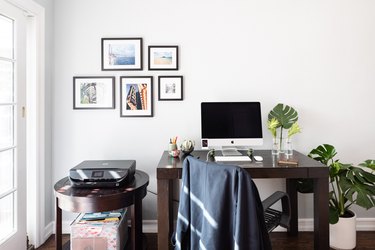 Small spaces can lead to a lot of questions. How am I going to fit all my stuff? Avoid clutter? Make sure that I have the space to eat, work, and relax? This all goes back to staying organized, which is especially important in a compact space that isn't built to comfortably house random knick-knacks and junk drawers.
For advice on exactly what it takes to have a more organized small space, we reached out to interior designers, professional organizers, and other experts. With their tips and tricks, you'll see that staying organized while working with limited space isn't as hard as it seems — it can actually be a fun challenge!
1. Think outside the closet.
Design and lifestyle expert Bobby Berk explains that you shouldn't feel confined to your closet when it comes to storing clothes. "Add a freestanding wardrobe rack to an empty corner to double your hanging space or slim storage containers under your bed for organization that's (literally) out of sight," he tells Hunker. "You can even attach hooks to the front of the closet door for even more hanging space."
2. Invest in quality storage.
Alessandra Wood, Modsy's VP of Style, emphasizes the importance of shopping for the right pieces. "Invest in quality storage pieces if you plan to be a small space dweller for a long time and then layer in pieces like baskets, cute boxes, and shelves," she tells Hunker. "Small spaces are usually tight on built-in storage, so be sure to make the most of all your furniture pieces, incorporating storage wherever possible." This includes under the bed, on your nightstand, and even inside your ottoman.
3. Go vertical.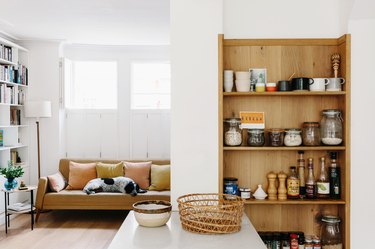 Whitney Leigh Morris of Tiny Canal Cottage and author of Small Space Style tells Hunker, "Pocket organizers, book hangers, wall systems (custom, DIY, or store-bought), and floating shelves outfitted with baskets are a great way to utilize vertical space while providing organizational solutions to your small home or apartment." In other words, look up!
When discussing the use of vertical space, Berk adds, "Line a wall with pegboard in the kitchen to hang everyday utensils and tools for easy access. Or cover a wall in cork tiles to pin up any paperwork, kids artwork, or other ephemera that would otherwise clutter a drawer."
4. Double up on furniture functionality.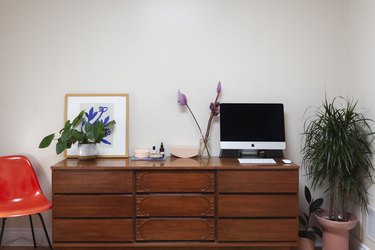 When discussing the importance of storage, Living Spaces's interior designer Emilie Baltorinic advises that you double up on furniture that has multiple purposes. Using a dresser as an example, she tells Hunker, "If you don't have enough space in the bedroom, or live in a studio apartment, you can double up your dresser as a TV console (editor's note: or a computer monitor, like in this photo) or utilize vertical space by choosing a chest instead."
5. Create zones.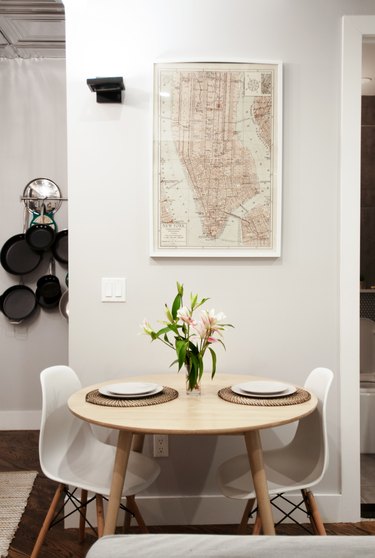 Berk says you shouldn't see a single room as one type of space. "Have one room serve multiple functions by creating organized zones," he says. "A living room can do triple duty as a lounge area, work space, and bar by separating items into areas. Add a wall-mounted desk that closes up to stash all your office needs and a small side table with storage to hold all your barware and glasses."
6. Install shelves above the doorway.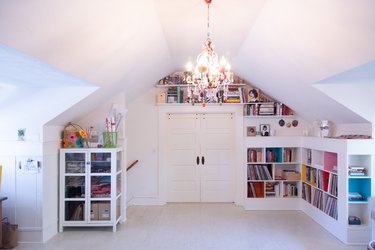 Melissa Keyser, a professional organizer in Portland, Maine, says that the space above your doorway can be a goldmine. "In small spaces, it can be a total game-changer, particularly for storing 'backstock' of commonly used items — like toilet paper, extra toothpaste, and soap in the bathroom or cleaning products in the laundry room," she tells Hunker.
7. Stop buying organizers.
Morris says, "One of my favorite ways to tackle organization is by using vintage, handmade, or hand-me-down items in unexpected ways … You don't need a custom-crafted or store-bought drawer organizer. Just look around your space and consider what you already have available to you." This is a great way to save money and reduce waste.
8. Integrate your office into the space.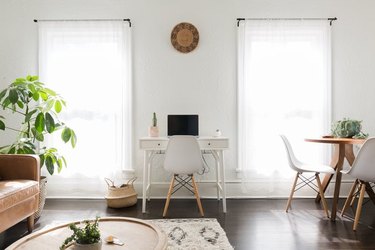 Certified professional organizer Darla DeMorrow, owner of HeartWork Organizing, recommends integrating your office into your space (and making it mobile). "Turn a deep kitchen cabinet into file storage just by adding a file frame," she tells Hunker. "Add a slim console desk instead of a larger model. Purchase a file tote for a mobile office that you can move from bedroom to living room."
Looking for a desk for your small space? We've got some suggestions here.
9. Utilize your fridge.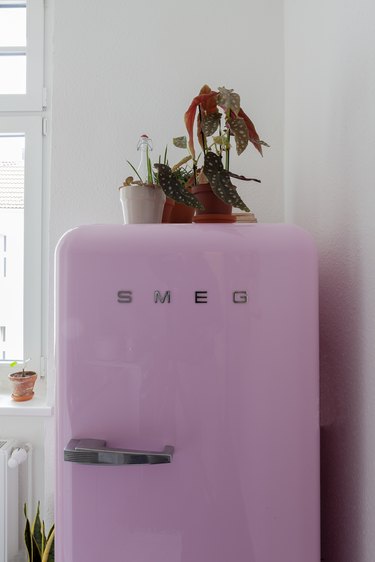 Turns out that your fridge can be a total space-saver. "In the kitchen, utilize that empty fridge wall," Keyser advises. "Use a magnetic knife bar and stick it on the side of the fridge. While you're there, use magnetic spice jars, too. Use magnetic or sticky hooks to hang towels or hot pads."
10. Store and rotate your decor.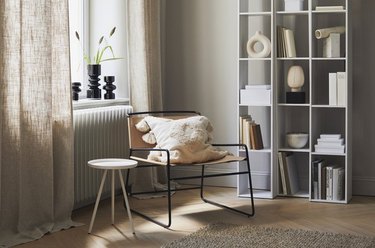 If you're the type of person who loves picking out new decor, you can still make that work in a small space. Wood says, "Think about having a box where you can store these pieces and keep them rotating in and out of your space. When you start to feel like your home needs a refresh, pull from that box to mix things up a bit." Just make sure you don't go overboard on the holiday decor!
11. Ditch the file box.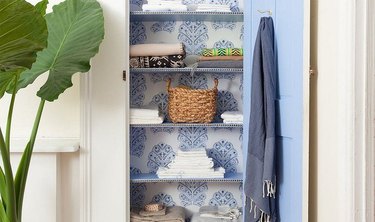 "It helps to stay organized and curb your daily paper clutter by regularly using a mini scanner and organizing your files digitally," says Morris. "However, what should you do with the paper files you cannot scan and have to keep in your small home or apartment? The solution is simple — repurposed picnic baskets." Morris recommends these because they are usually large enough to store A4 paper and US size folders.
12. Embrace auto-delivery.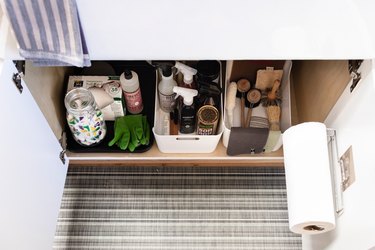 DeMorrow suggests auto-delivery so that you're not storing items you don't currently need. "Put essentials like shampoo and kitty litter on auto-delivery so they arrive just in time, eliminating storage needs," DeMorrow says.
Rather than buying in bulk and having extra boxes lying around, subscribe and save options can be a great (and affordable) option.
---
Jaclyn Schatzow is a freelance writer living in Santa Monica, CA