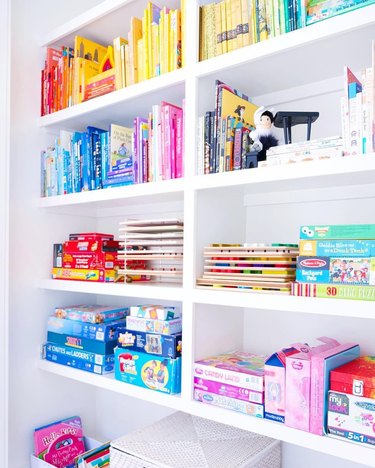 It's fair to say that the lone downside of collecting board games is figuring out how and where to store them. Sure, keeping them concealed in a random hall closet or piled in a corner of the basement is one way to go about it. On the other hand, if you find yourself constantly digging through clutter just to get the Scrabble board out, then perhaps it's time to implement a method that will put an end to the madness. From creative wall displays to clever sorting systems, the seven board game storage ideas ahead are primed to keep the good times rolling.
This clever board game storage idea demonstrated by Grandin Road is the definition of double-duty. If you have yet to start your collection, consider investing in versatile boards like this, that can be displayed as art when not in use, and keep the game pieces stored in a labeled bag or bin for quick and easy access.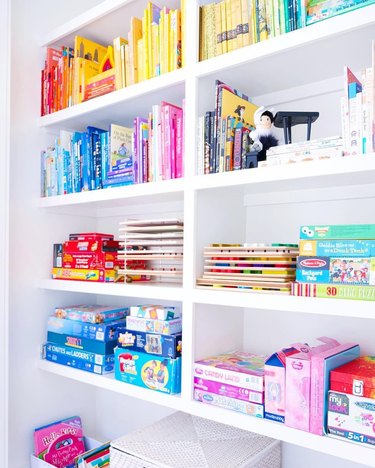 Take a page from The Home Edit's book and adopt a vibrant organization method that just might inspire you to keep things in tip-top shape. Attack your board game storage by color or tonal family and designate each hue to a specific shelf. The cohesive effect is a cinch to maintain and easy on the eyes.
Instead of hanging on to all of the bulky board game boxes, follow Lisa of Neat Freak McKinney's lead and store them in oversize zippered pouches. Neatly cut out the logo and attach it to the bag — be sure to use the same bags to keep it consistent — and store your haul in matching baskets.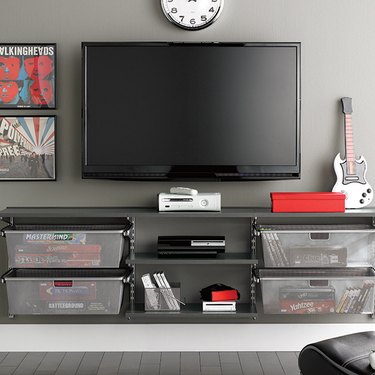 If you're looking for a more permanent fixture to corral your growing board game collection, consider investing in a media center with built-in drawers to keep things contained yet accessible. This modern Elfa unit is chock-full of storage and organization opportunities to stash all of your entertainment essentials — gaming consoles included.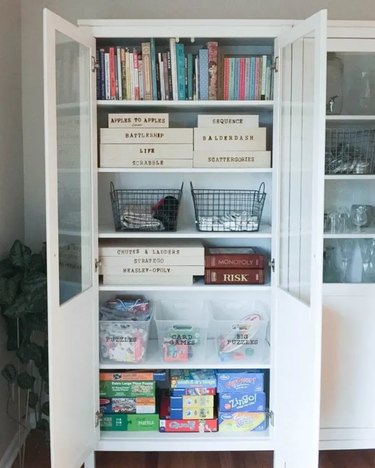 Ann Marie of White House Black Shutters came up with a clever board game storage idea — covering the existing box with a chic wood veneer that includes vinyl lettering. The streamlined approach beautifully conceals the multicolored packaging underneath and creates a consistent look for the items visible through the glass cabinet doors.
If your little ones are constantly losing or misplacing games pieces, this modular flip-out bin from The Container Store is an example of a storage and organization idea that really works. Assign each bin its own game and keep everything from tokens and dice to cards and figurines tucked neatly inside.