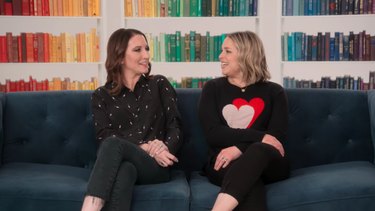 It's been over a year and a half since Tidying Up with Marie Kondo debuted on Netflix, but the streaming service's next organization show is here to save the day. Get Organized with The Home Edit follows the organization experts Clea Shearer and Joanna Teplin of their Insta-famous business The Home Edit as they fix up spaces in the homes of celebrities and normal folks alike.
While we can't totally relate to all of the celebs in terms of what they need organized — Reese Witherspoon worked on a closet for her costumes and awards-ceremony dresses — Clea and Joanna share tons of helpful organization tips throughout the show. We've binged all eight episodes to bring you some of the best!
1. Don't overstuff your storage spaces.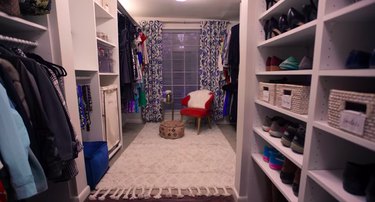 In the first episode, Clea and Joanna tackle the walk-in closet of pediatrician Whitney, which is huge, but filled to the brim. "Just because you have the space . . . it doesn't mean you need to fill it to its maximum capacity," said Clea in the episode. "Let things comfortably breathe."
The design duo transformed the closet into a much more workable dressing room, weeding out the clutter and creating zones for different purposes: clothes, scrubs, accessories, shoes, and a handbag swap-out station. Oh, and there's even a seating area!
2. Purging doesn't have to be permanent.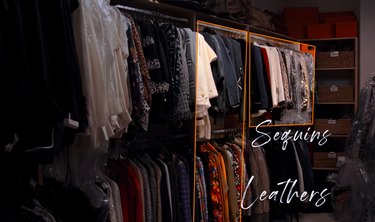 For those of us who failed with the KonMari method because we simply couldn't part with our things permanently, Clea and Joanna's approach might be more suitable — consider putting items you don't necessarily interact with regularly but still love dearly into an "archive" in a less-frequented storage space like the basement.
During a touch-up on her closet, Rachel Zoe struggled with the idea of letting go of her belongings for good. But Clea and Joanna helped her edit her collection down to make the closet more workable by focusing on seasonality — for instance, Rachel's Hamptons wardrobe could be boxed away until next season. But that all said, if there are things that you don't use, don't need, and don't love, get rid of them!
3. Don't let your drawers fill with junk.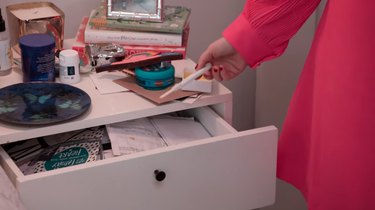 Clea understandably had a bit of a heart attack when she spotted a used pregnancy test — one that was 16 years old — in event planner Jessica's nightstand. Um, yikes!
It's easy to use drawer space as a catch-all for junk, since it's tucked away from view. But don't let that stop you from keeping your drawers tidy! "This is valuable space," said Joanna while editing the junk drawer in the kitchen of the Owens family. "You want to use it for things that you really use!"
The solution is to actually get rid of any garbage that finds its way in there, then create compartments for all of the practical goods (storage inserts are your friend).
4. Use clear storage containers.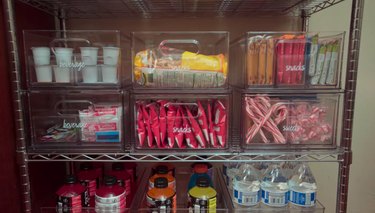 Using clear storage containers keeps you accountable. First, you'll be able to see where everything is, making your stuff easier to access, and second, you won't be able to hide clutter inside, since it'll be on view! "If they can't see it, they don't use it," said Clea (of the Owens Family). "They're used to hiding things behind a cabinet, and this is like 'you are here, this is what we have, use it,'" added Joanna.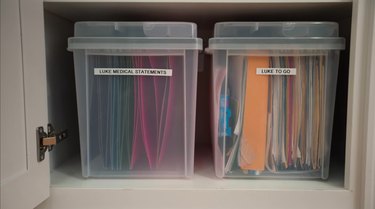 "Labels are magic," said Joanna in the fifth episode. "It's so easy, and it goes such a long way as far as maintaining a system." This is particularly helpful in offices, when there's a ton of paperwork that all looks the same, but it's also useful in kitchen pantries, playrooms, and really any space that needs to hold a wide variety of things.
6. Don't buy one-off items that end up gathering dust on shelves.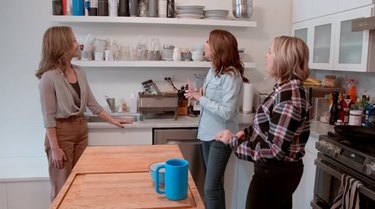 Sales on tableware, silverware, or other kitchen items may be tempting, as real estate broker Ali can attest, but if you snap up too many one-off products, you'll end up with mismatched collections that can get out of hand. Clea and Joanna suggest buying sets. But, if that mismatched look is your style, that's great! Just make sure you edit your collection to only keep what you use.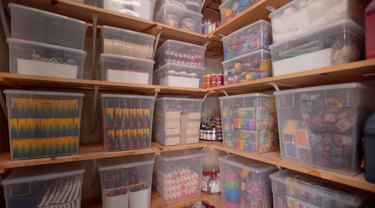 Okay, this sounds counterintuitive, but hear us out. While Clea and Joanna love subdividing storage containers into smaller sections, they admit that it's not always necessary — especially in kids' spaces. It's perfectly okay, and, in fact, suggested to keep things organized by very broad categories. In the basement playroom of Neil Patrick Harris and David Burtka, Clea and Joanna kept to very general zones: an art zone, a maker zone, and a game zone, for example.
And as we learned in the case of Sonja and Mike's Neighborhood Youth Association space, children aren't the best at putting things back in their place! Keeping organization more general for kids — say, in the form of large bins for arts-and-crafts supplies — is easier for everyone involved.