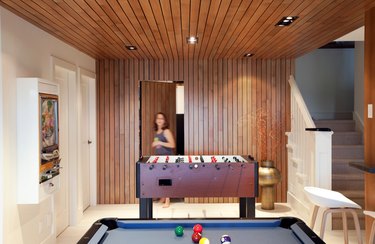 So many families need specific zones for homework and home offices. But carving out a media room or an area for fun and relaxation is important, too. In fact, a few good basement game room ideas can help you feel a little happier in the house.
Are you ready to reinvent your subterranean level? Go for a simple update, and bring in a ping pong table. Or get real about gaming, and turn your basement family room into the optimal hangout spot. The key is making your space feel like a fun retreat.
Here are nine basement game room ideas that will be fun for the entire family.
1. Bring in a pool table.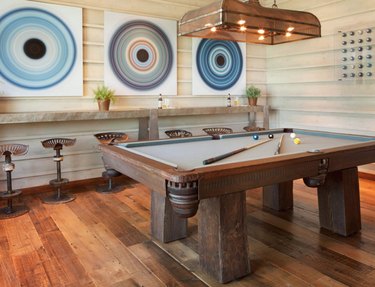 A pool table will make your basement fun for adults and children alike. In this rustic space, Kristin Peake added the table along with graphic wall art and bar stools for spectators. And we especially love how the balls are cleverly displayed on the wall.
2. Add a miniature bowling alley.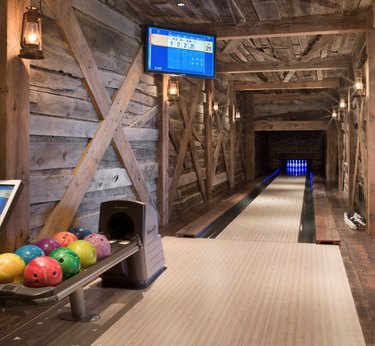 If you have the space, add a bowling lane in your basement. Even if it's on the smaller side, it will be big fun. This alley by Locati Architects is tricked out with a flat-screen TV and fancy pins, but you can just as easily create one using a flat surface and a small bowling set. Then add cool light fixtures to up the style.
3. Find a few old-school games.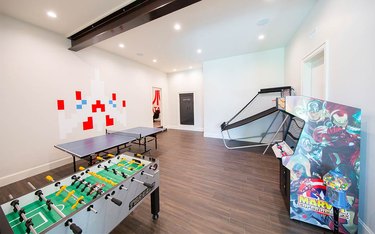 There are a lot of ways to approach a basement game room. But this simple white space proves you don't need bold paint colors to pack a punch. Instead, look for vintage arcade games. Pro tip: They can work just as well in a playroom, and you won't need any additional storage for small toys or accessories.
4. Optimize a small space.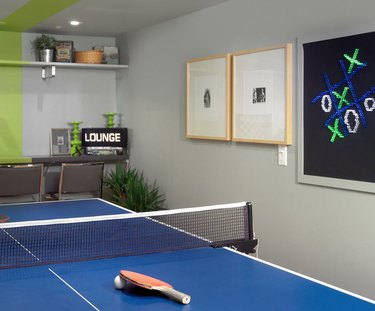 Smaller basements don't mean less fun. You just have to get creative. Think floating shelves for storage and double-duty furniture. This well-organized space from Sealy Design includes just enough room for a bar area and a ping pong table.
5. Claim a corner.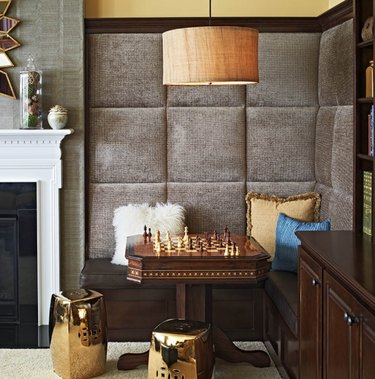 If you don't want to turn your whole basement into a recreational zone, take a few cues from this space Jennifer Harvey designed. She let the basement fireplace be the room's focal point and claimed a small corner for gaming. You can even use a petite table like she did for board or card games.
6. Pick a moody paint color.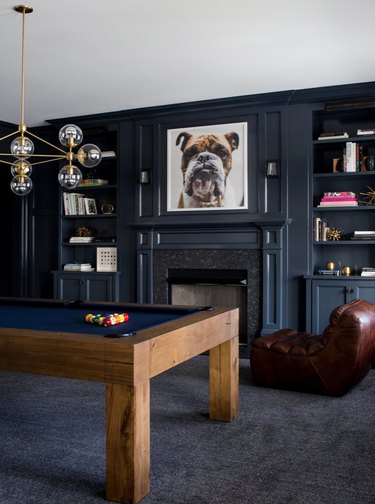 Want a basement game room idea that will add heaps of drama? Apply a few coats of a rich color like black or dark blue to the walls. To keep things from feeling too traditional, though, add a modern light and leather furniture like Chango & Co. did here.
7. Make a cozy space for lounging.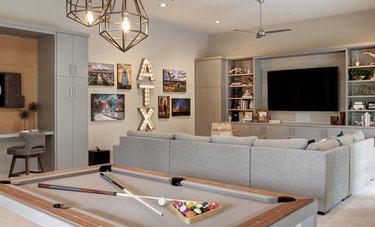 This transitional basement game room from Butter Lutz has all the right accessories for lounging. There's a cozy sectional, a pool table, and a small nook that can hold bar accessories. Plus, the neutral tones create the most calming effect.
8. Warm things up with wood.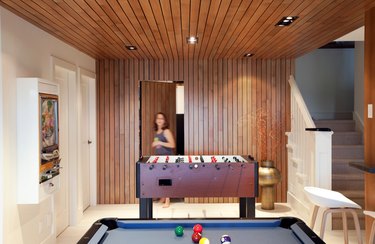 This modern game room feels incredibly warm and welcoming because of the wood paneling that runs up the wall and the ceiling. You can DIY a similar look with wood planks or even faux wood wallpaper.
9. Turn a closet into a game nook.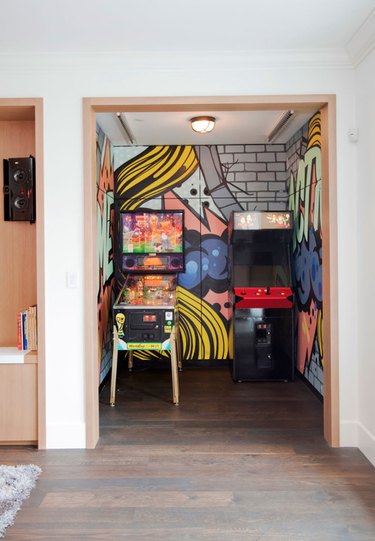 If you're working with a smaller area or your basement also serves as the family office, use a closet for your game space like the Devise Design team did. We love the graffiti-style walls and decorative ceiling fixture.