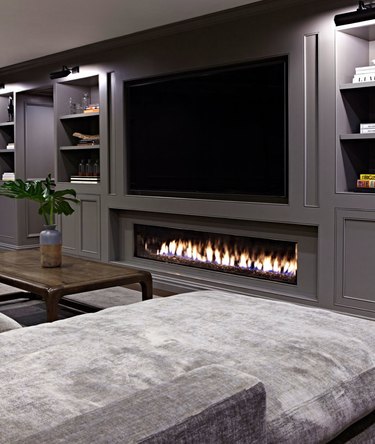 If you're creating a dream family room basement space that's as comfy as it is functional you need a few key elements: great lighting, seating that you can sink into, and a basement fireplace for extra warmth. If you use your subterranean space as a place to entertain, or just plain escape, a fire feature is the perfect finishing touch.
The good news is, the possibilities for a basement fireplace are almost limitless. You don't even need to have tons of room for one. And fireplace installations are somewhat simple. From midcentury to cabin chic, here are eight fabulous basement fireplaces to suit your space.
1. Mount your TV above the fireplace.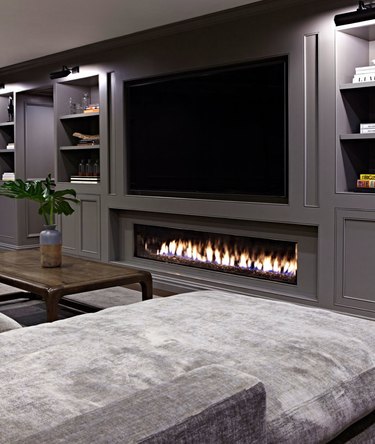 If you're short on space — or you just want to enjoy screen time in front of the flames — a look like this one from Chango & Co would be perfect. Mount the TV above the fireplace, and you'll be able to contain everything on one wall. We also love the added drama of dark walls and a gray couch.
2. Add a fireside bench.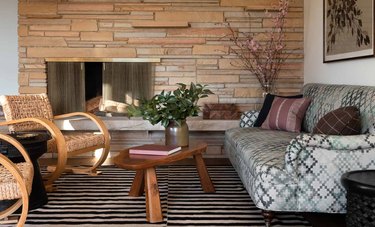 Include a built-in bench or raised hearth right in front of your basement fireplace. You can relax there when you need to warm up by the fire. Plus, larger families in smaller spaces will relish extra seating. The bench will look especially great with a farmhouse fireplace.
3. Put your basement fireplace in the corner.
4. Add a nook for special books.
Work in a smaller scale, tiled fireplace to get some bonus space in the basement. In the leftover area, install a nook for books or extra storage. You'll love the additional ledge for styling, and who doesn't want to read while curled up by the fire?
5. Go old school with a wood-burning stove.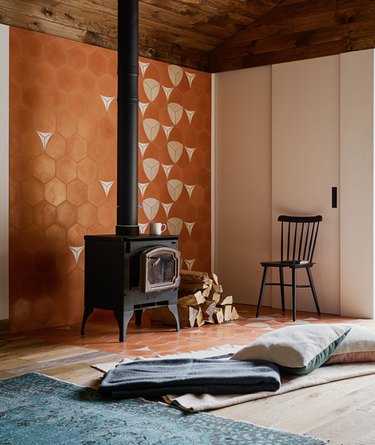 6. Add a shelf just because.
Built-in shelves (that could even work in a living room) create a lovely library in this basement space from White Crane. You can replicate the look, and ensure the modern fireplace is the star attraction, with a custom etched plexiglass frame. Install a shelf right below for an added artistic touch.
7. Stretch the mantel from floor to ceiling.
8. Inject a little Scandinavian style.