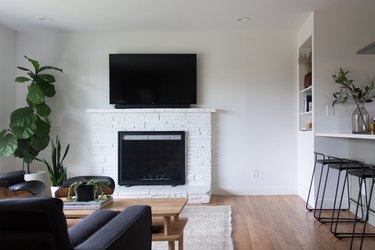 It can be pretty hard to figure out the best family room with a fireplace and TV layout for your space. You want the room to feel cozy and stylish with great wall art, but you absolutely need a TV in there for binging purposes.
But how do you balance the atmosphere of a calming family room with a fireplace and TV? Can you have the best of both worlds? Of course you can! Luckily, there are plenty of ways that you can combine a fireplace with a sleek TV set.
Here are nine easy ways to create a family room with a fireplace and TV layout that feels modern and welcoming.
1. Embrace existing angles and lines.
Don't let the size and potential placement of your TV throw you off. Take a step back and look at the other lines and angles in your family room. Then find a TV that won't overwhelm your other furniture. Here, the set is the same height as the set of windows that frame it, so the two elements don't compete with or dwarf one another. Also, feel free to skip window treatments if you get natural light this good.
2. Let the architectural details speak for themselves.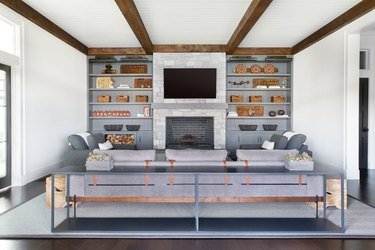 If your family room already has architectural character (we're talking exposed wood beams and gorgeous built-ins like these ones), you're in luck! You can simply center your TV above the fireplace and let both features blend in. Yes, your family and guests will watch the TV. But they'll be mesmerized by your home's detail. Fill your built-in shelves with striking tchotchkes and use a crisp white ceiling paint that will contrast with the wood beams.
3. Use unique tile.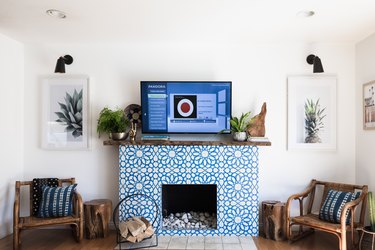 If you're working with a space that makes the TV feel too prominent (or you just want to make its existence in your family room a bit more subtle), try emphasizing the fireplace's design. You can do this with beautifully styled decor on the fireplace ledge. Or, if you're up for a pop of brightness, layer your fireplace with colorful tiles. We especially like these blue ones.
4. Embrace darker tones in the room.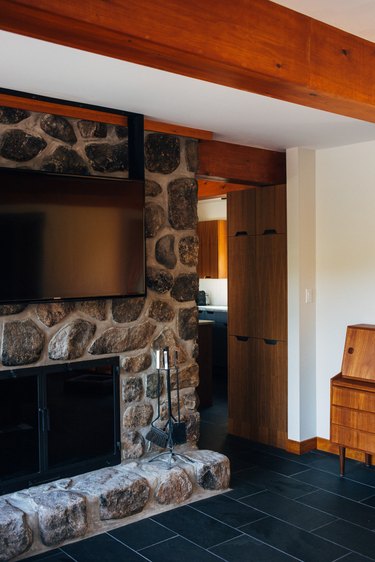 A stone fireplace that's just a little farmhouse can add some much-needed coziness to your family room layout. And, the benefit to darker stone fireplaces, like the one here, is that a flat-screen TV all but disappears into it.
5. Embrace a little asymmetry.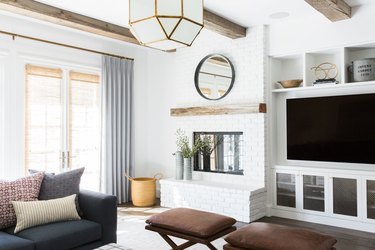 In this Studio McGee family room, the fireplace and TV are next to each other, but they don't exactly match. Instead of feeling random, though, this asymmetry feels intentional. Both the mantle and the TV can be focal points while sharing the spotlight with that gorgeous ceiling light and the open shelving.
6. Balance your lights and darks.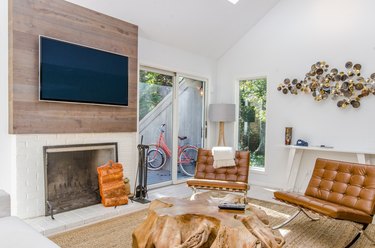 So, we already talked about balancing lines and angles in your family room, but what about colors? If you have a family room filled with light-toned leather furniture and white floors, add contrast by mounting your dark TV. The balance will help with feng shui.
7. Don't give up on retired fireplaces.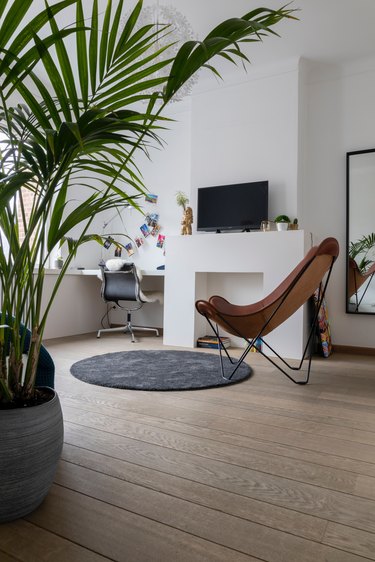 Maybe your fireplace has been out of commission for a while or you painted over it to match your wall color. Either way, all the same rules apply! Make sure the TV you select doesn't overpower the mantel. Also, feel free to use the space for stylish family room storage.
8. Keep your design crisp and simple.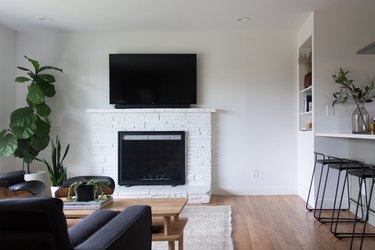 When it comes to designing a family room with a fireplace and TV layout, sometimes less is more. And if you have kids and pets (who need space to roam) or simply want to keep your design modern, let the fireplace and TV be the stars of the show. This room's simple white walls complement the brick fireplace. An indoor plant, like a fig tree, will add some texture.
9. Skip out on mounting the TV.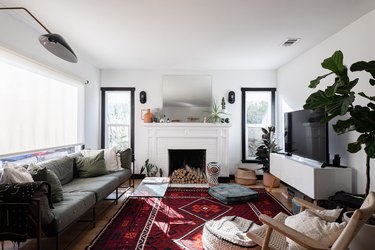 If the look of a stacked fireplace and TV layout doesn't appeal to you, consider moving the TV to a console across from your couch. You can add depth to the wall with the fireplace by adding a large mirror or piece of art above the mantel. Layer in a patterned rug to give the space more color.