Modern wallpaper! It's amazing. There are so many options to suit different styles and different rooms. Some people turn away from wallpaper because it seems old-fashioned. They wonder, "Isn't that stuff for grandmas?" But everyone can get in on the fun, and these modern wallpaper patterns prove it.
The examples we collected include bright and colorful options and understated wallpapers as well. And just a few rolls can spruce up any space, from bathrooms to living rooms to entryways.
Whatever your style, we'll help you find the perfect modern wallpaper. Accent it with traditional art or let it stand alone.
1. Add a quirky octopus print.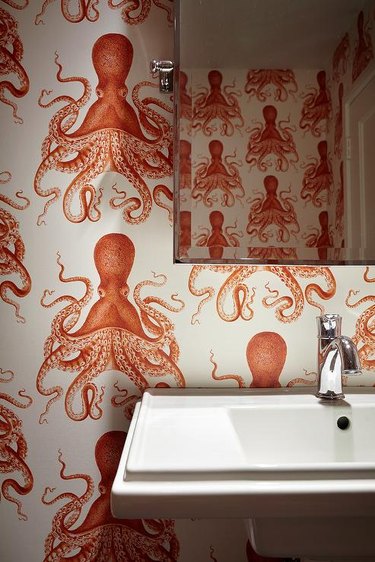 Many people go for nautical or coastal bathroom themes. But adding unique sea-related elements can set your washroom apart from the rest! Give your bathroom walls the pizzazz they deserve with some brightly-colored octopus wallpaper.
2. Create contrast with a geometric mirror ​and​ abstract wallpaper.
Pairing patterns can be difficult, but this midcentury modern wallpaper will work with almost any other vibrant print. It almost feels like a neutral. Plus, it adds interest and character to a simplistic entryway! Get this look in your own entrance by adding a bold mirror with black and white wallpaper.
3. Go for a modern wallpaper in an animal print.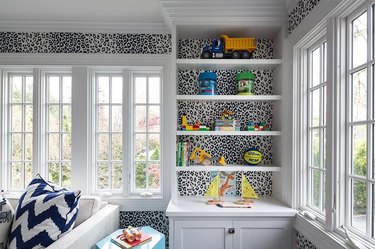 If you're going for a modern look but still want a bold design, install an animal print wallpaper. The white leopard perfectly matches the color scheme of this family room and adds some novelty at the same time. A zebra print or wallpaper with a small geometric pattern could work just as well in this space!
4. Pair an abstract wallpaper with an accent wall.
Pairing a blue bathroom accent wall with complementary wallpaper is a great idea, especially for small spaces. Too much pattern could potentially overwhelm the room. But in this space, for example, the solid-colored wall breaks up the design and makes the gold mirror and vintage light fixture stand out.
5. Try a simple geometric wallpaper in a classic bathroom.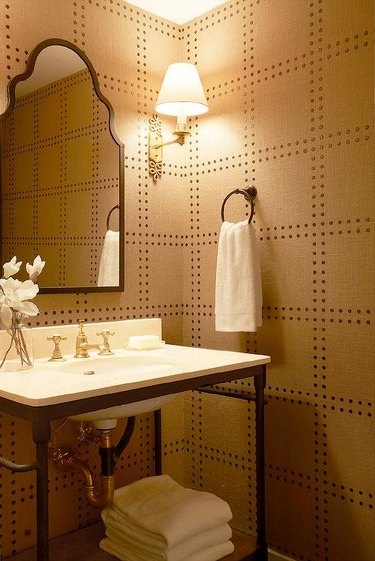 6. To add depth, find a dark wallpaper with a bold pattern.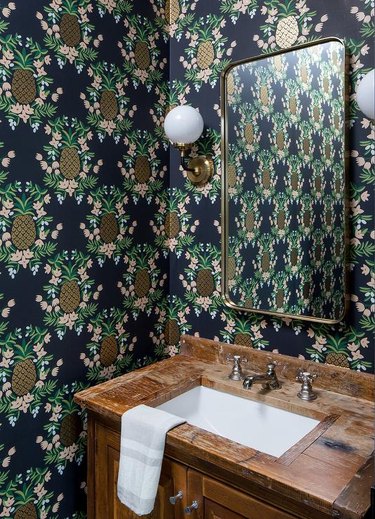 The pineapple pattern on this wallpaper backsplash is fun and unexpected in a bathroom setting. A wooden vanity and opaque wall sconces work perfectly with this tropical yet classic print.
7. Combine bright wallpaper with luxe materials.
Listen: Any bathroom can have a beautiful marble vanity and gold faucet. But not every bathroom has a polychromatic floral wallpaper. Spice up your otherwise traditional space with an unexpected patterned wallpaper!
8. Experiment with color in the entryway.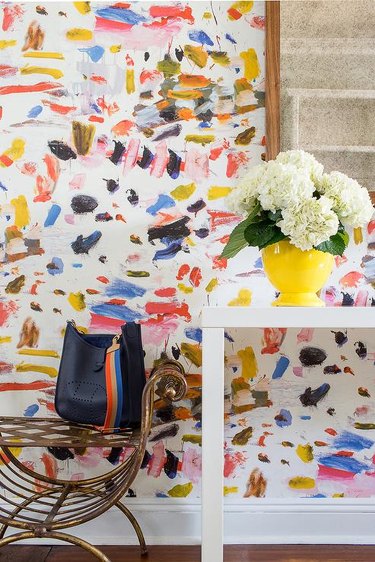 If you're looking to plunge right into the metaphorical wallpaper waters, try a bold pattern in the entryway. Steer clear of the minimal designs here. The space will be compact, so you won't have to worry about too much of a good thing. Use a bright vase to bring out one specific color in your wallpaper, but opt for a more simplistic bench.
9. Don't fear the traditional.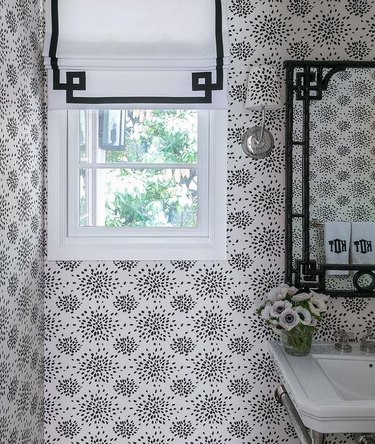 The dotted, almost art deco wallpaper is perfect in a small bathroom. It looks both clean and traditional. Plus, it allows the space to be visually interesting without a lot of decor. Get this look by putting simple wallpaper in an otherwise minimalist space.