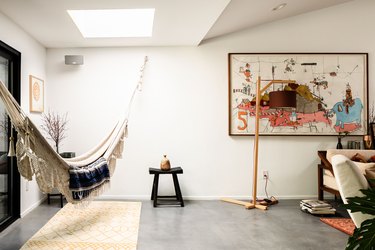 More than ever, having a retreat that's a little sanctuary to do the things we love within the home is priceless, especially if it's one that can serve many people. It could be a place to quiet the mind, to offer stimulation, or to practice mindfulness. We may differ in how each of us define and design these spaces, but what we all seek in one is often the same: a sense that all is OK, whether it's created in a corner, a whole room, or an area bathed in light or none at all. We took inspiration from our tours, the peaceful spaces in our own homes, and from friends who have kids (and nieces and nephews) to offer you ideas to create unique spaces for the whole family. May these design ideas give you a place to start and bring you and your loved ones a place of comfort soon. This also is an opportunity to call a family meeting so everyone gets to contribute to the ideal home retreat.
1. Section off a place — of any size — to exercise.
Keeping the mind and body active is essential, whatever your age. Exercise is a form of meditation for many of us, though not everyone has a large space to section off or an outdoor space for it, but hopefully you can isolate a little activity strip for your each family member's favorite form of exercise. "I dance and create choreography for my classes in a sliver of floor space between the stereo and the coffee table," says Jessica Hoffmann of We Need to Dance, which now offers online sessions to individuals of all ages. "It's a narrow little pathway but has become a space that I immediately associate with dancing and feeling good. I've made this little strip of floor my home dance zone, and layered it with positive associations from every time I've danced there."
2. Maintain a library nook or creativity area.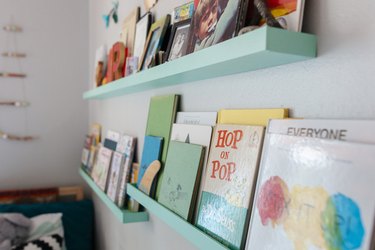 Gather reading material in your household to create a library (or reading nook) for all to enjoy. Put books and magazines on shelves or stack them in a corner with a chair or pillows to enjoy them on. You can do the same with any art supplies you have around the home. (Perhaps less child-friendly items can be placed a little higher on stacks or shelves.) Also take the time to read, draw, and write together to exercise your minds and explore your creativity.
3. Embrace your view — or create one you love.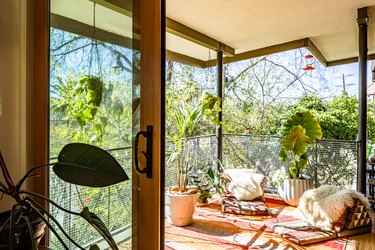 If you have nice view from where you live, take time to make it more comfortable for your family to enjoy by adding a seating area and plants. Soak up sunshine and natural light for your meditation time. And that view doesn't necessarily need to be of the actual outdoors. Create a gallery wall with pictures of fond family memories, people you love, or places you've all been. Bring the outdoors view in with a collection of indoor plants, or purchase a large artwork of a scenery that the whole family likes.
4. Find a little place to hide away in your own home.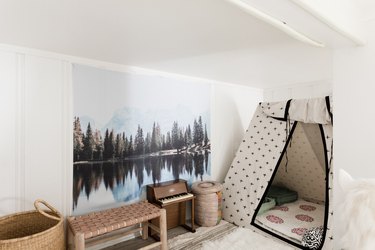 There's comfort to be found in small spaces. "We have two young kids, ages two and five, and we've been at home with them for over a week now," shares Ilana Saul, co-founder of digital media firm Polka Dot Media. "Our house is already small, but ironically our children have been most at ease playing in the little nooks and corners we create. The two of them spent hours in the little tent in their playroom yesterday." You can tour the home she shares with her husband and actor, Mark, here.
5. Or build one by draping an area or constructing a fort.
We all built forts as kids. Remember what it brought us? Pure joy. Remember what it felt like being in them? Safe. They also offered us an escape from the outside world — aka our parents — and a sense of privacy. Let's bring them back. "Fort building has become a part of our daily schedule, along with so many of our friends," adds Ilana, who shares that husband Mark started documenting the phenomenon on Instagram via @tourdeforts. "It's these small spaces that make us feel safe and warm." For those preteens and teenagers in your life, a little boho draping may be more their style. Welcome it!
6. Hang a hammock, chair, or swing inside or outside.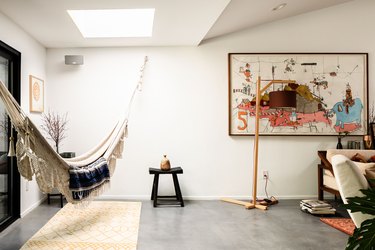 There's something so uplifting about sitting or lying in something that is suspended. While we can't all hang aerial fabric ribbons from our ceilings to hang from (nor have the strength to), there are other options the family can enjoy: a hammock, a swing, a hanging chair, or bench. Hunker has a DIY Macramé Hammock you can make, if you're feeling crafty. We even have a DIY Modern Hammock for your feline member of your family! And if finding adequate supports (or approval from your landlord) is an issue, there are hanging furniture options small and large with built-in frames to bring into your home.
7. Place cushions on the floor for meditative lounging.
Yes, just hanging out on lots of cushions on the floor has long been a welcome pastime to all and often defines a meditation area. Layer an area of the floor with whatever soft items — plush blankets, furry carpets, and even stuffies — your family has to create a heavenly sanctuary on the floor. That area can also be for luxurious indoor picnics as well during inclement weather.
8. And allow for a space to make a lot of noise.
Sometimes turning up the volume is just what the family needs, be it playing musical instruments or unconventional ones (hello, pots and pans and utensils!), or congregating together to listen to streaming music or to a beloved vinyl collection.
All these spaces need not be separate. Combine a few ideas to create a wonderful multifunctional space! We challenge you to create the ultimate library/music/exercise fort as a family today that you can create memories in and photograph to put on your gallery wall tomorrow. :)