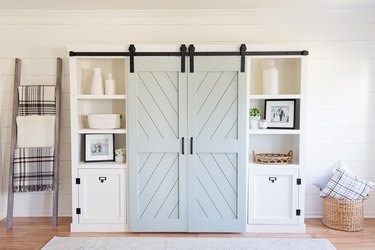 If you're a design aficionado, you want every corner of your home to be beautiful — especially the corners you stare at every evening. It's time to ditch the basic black entertainment unit you bought for your college apartment and get rid of the oppressive oak hand-me-down from Mom. Gone are the days of hideous, bulky entertainment units. Today's options are sleek and suited to your exact decorating style. Plus, they offer plenty of living room storage to help you keep your space streamlined and organized. No matter whether you're a hardened DIYer or squeezing into a small space, there's an entertainment unit option for you.
1. Create a bespoke solution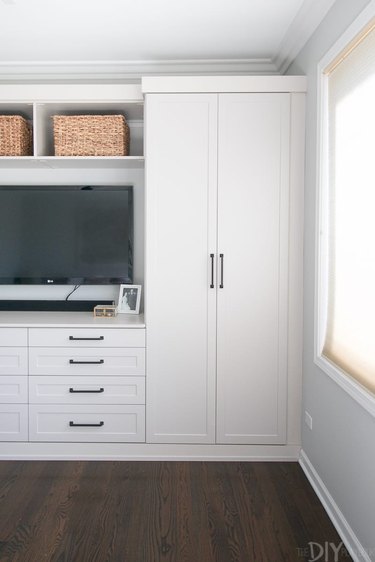 If you've got the space, nothing beats custom built-ins. By designing a custom entertainment unit that perfectly suits your living room, you can add the exact storage you need — like shelving for your enormous collection of vintage VHSs. Hiring a carpenter to craft your new unit can be pricey, like Casey at The DIY Playbook did for this gorgeous bedroom built-in, but DIYing isn't too difficult if you've got basic woodworking skills.
2. Go minimal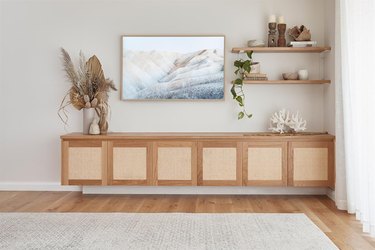 Modern entertainment units aren't the bulky oak monstrosities of which our parents were so fond. Today's models are sleek, simple and stunning — like the Pacific Entertainment Unit from Loughlin Furniture (an Australian company). Mount your television on the wall above the unit to keep the look minimal.
3. Tuck away your TV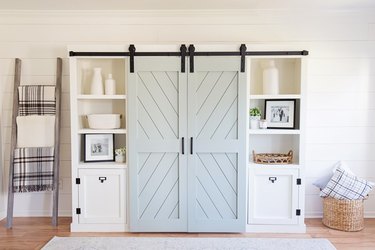 Today's homeowners want their living rooms to do double-duty — and sometimes that means you want to have a good old-fashioned conversation without a black mirror staring back at you. Angela from Angela Marie Made DIYed this pretty white entertainment stand, but her crowning achievement is the two barn doors that keep the TV hidden when not in use.
4. Hack an IKEA dresser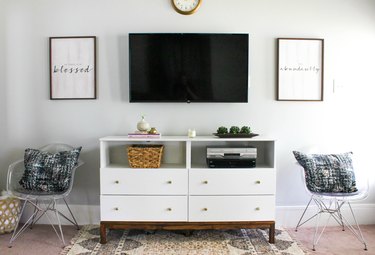 There's no better place for a classic IKEA hack than your living room. Katie from Purely Katie transformed a plain pine TARVA dresser into statement-making living room storage. The dresser only costs $179, making this entertainment unit option a serious steal — and as a bonus, you can customize it to fit your look.
5. Float a Scandi-chic sideboard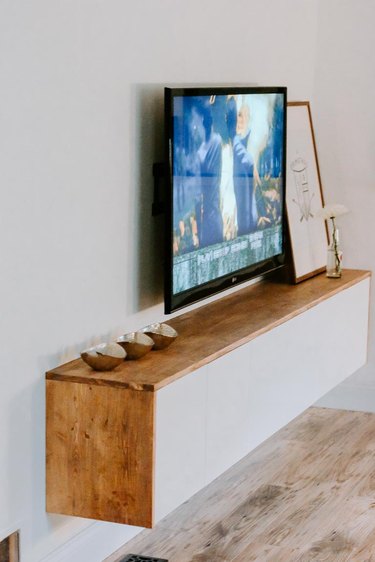 6. Keep close to the wall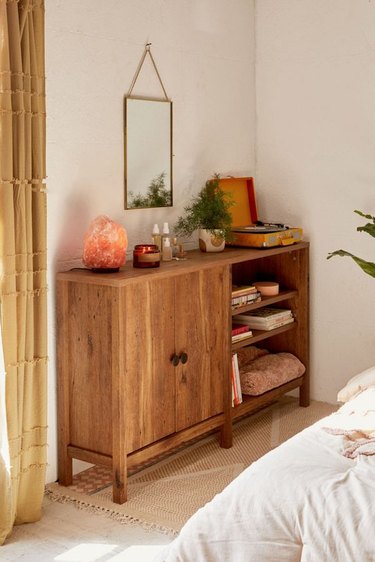 Finding enough living room storage for all your odds and ends can be tough when you live in a small space. One solution: a super skinny media stand, like this 12-inch-deep cabinet from Urban Outfitters ($349). Place books and objets d'art in the open shelving, and use the closed cabinetry to tuck away things better left out of sight.