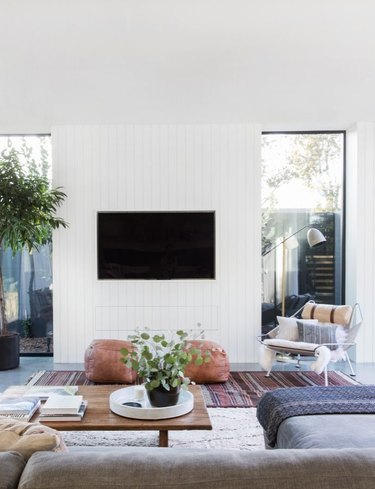 As long as they've been around, televisions have posed a design conundrum for amateur and professional interior designers alike. Unless you have a dedicated TV room, and good for you if you do, you're likely looking for ideas that combine comfy home theater with well-styled living room; a bit more challenging than it sounds, right? So, should you embrace your TV or try to hide it? Good news: Either works. The evolution of TV tech, from big, square boxes to slim, elongated screens, is a real blessing to the world of design and has made incorporating them into attractive spaces an achievable goal.
Keep scrolling for nine genius living room TV ideas that prove it is possible to incorporate a television into a well-appointed space.
1. Inset your TV.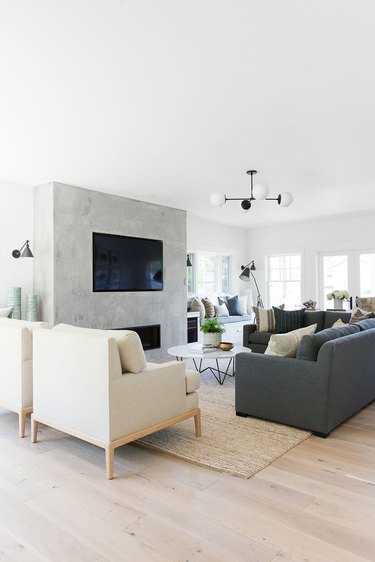 If anyone can pull off a stylish and comfortable living room TV idea it would be interior designer Shea McGee of Studio McGee, who has mastered the elusive art of creating polished yet approachable interiors. The focal point of the room is a substantial custom concrete fireplace surround with a recessed television. The built-in adds weight to the light wood floors and open layout while providing an attractive home for the large screen.
2. Orient some of your furniture away from the TV.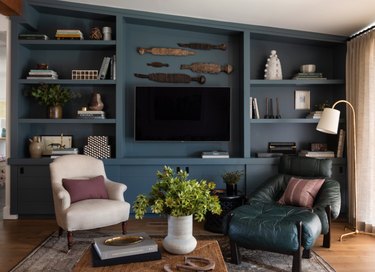 You read that correctly. There's no denying that this is a TV room, but by orienting a set of chairs away from the television and toward a sofa out of view, interior designer Heidi Caillier signals that this room is also about socializing. The moody-blue paint color on the woodwork creates a cozy vibe, perfect for rainy days in the Pacific Northwest where this home is located.
3. Camouflage it.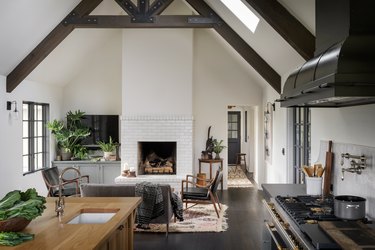 We see you, not-so-little TV hiding behind potted plants. If you want the option of a television without it taking center stage, consider camouflaging it with an assortment of potted plants to help it blend into the background. This is a living room TV idea if you aren't in the throws of binge-watching Game of Thrones. In this kitchen-adjacent living room, Jessica Helgerson mounted the TV off to the side, leaving the striking fireplace as the room's centerpiece.
4. Elevate your TV room.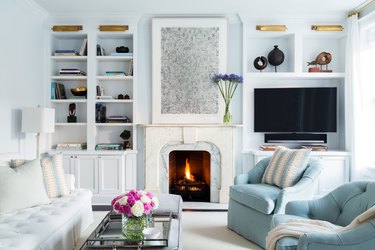 At first glance, this living room TV idea might seem more befitting for canapés than catching up on Sneaky Pete, but life is short ... why not elevate your room to a more formal space, like Chango & Co. did here? This elegant living room features a traditional tufted sofa and lounge chairs, robin's-egg blue walls, and antique brass picture lights for a refined look.
5. Texturize your walls.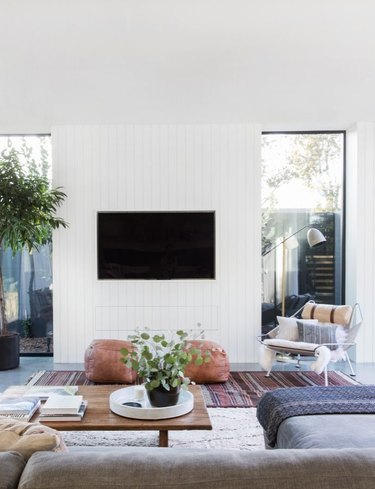 Ceramic tile around a television makes it feel considered and purposeful. This bohemian living room by Amber Lewis features a roomy sectional sofa to maximize seating, a mix of layered vintage rugs, leather poofs, and a measured dose of pattern and color to achieve the laid-back, yet pulled together look she is known for. A pair of floor-to-ceiling windows flanking the TV flood the room with natural light.
6. Make it disappear.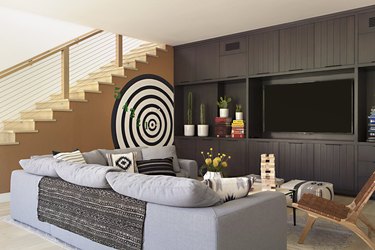 Coordinating the color of your media cabinet with the TV can make it virtually disappear. In this living room by Raili Clasen, an oversize television blends into an expansive built-in stained in a dark shade of brown. Functional and lounge-worthy furniture centered around invite guests to relax, while graphic wall art and playful accessories say this is where good times are had.
7. Extend your ceiling down to your TV surround.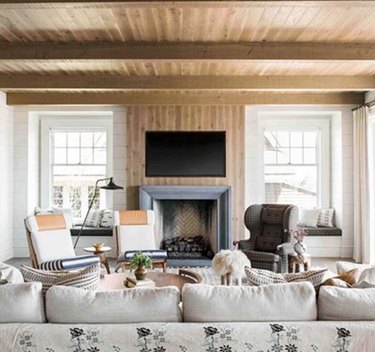 Rough-hewn wood beams and a reclaimed wood ceiling infuse this room with plenty of warmth and character. Cortney Bishop extended the light wood to the fireplace surround and inset a television above a framed mantel to create a calming and rustic backdrop. Bespoke furniture, tongue-and-groove walls, and a neutral color palette combined with one-of-a kind accessories create a space with timeless, old-world charm.
8. Bookend it with French doors.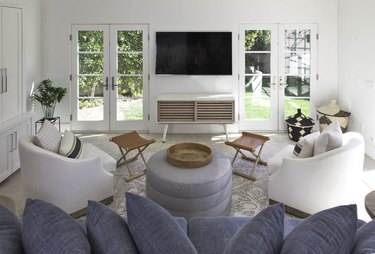 If you're lucky enough to have a double set of French doors gracing your living room, then by all means take advantage of the view by facing your furniture toward them. The team over at Studio Matsalla anchored a large, wall-mounted TV with a low-profile credenza (perfect for hiding the unsightly, but necessary, equipment that accompanies televisions). We particularly dig the deep club chairs thoughtfully paired with leather footstools for ultimate comfort; woven baskets tucked in a corner are the ideal accessory for storing blankets.
9. Go high-tech with a TV that literally doubles as art.
To be filed under "why didn't I think of that?" Samsung has developed a TV that cleverly doubles as artwork. If you simply can't bare the sight of a black box on your wall, or you're looking for an alternative to budget-busting art, consider a high-tech TV like The Frame, which offers a mind-boggling amount of customizable options, with sensors that turn the display on when you walk into the room. Add to cart!
---
Jaclyn Schatzow is a freelance writer living in Santa Monica, CA