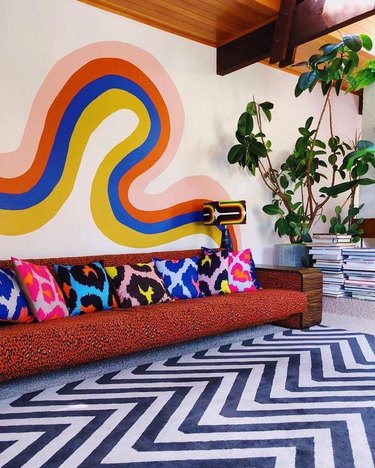 In life there are two kinds of people: those who love a bare wall, and those who can't stand the sight of white space. Which one are you? The walls in your home are where opportunities lie, especially if you're stuck with a small area to work with. Take advantage of that large open space and get creative. No matter your style, there are a number of ways to bring out your personality and taste. Here are eight living room wall decor ideas guaranteed to amplify your home.
1. Blend your TV with artwork.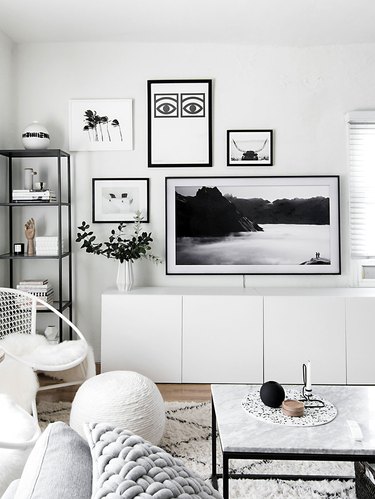 Televisions aren't the most beautiful living room wall decor idea, or are they? Amy of Homey Oh My has seamlessly integrated this Samsung Frame TV into a gallery wall in her minimal living room. The simple placing of monochromatic artwork ties in with the rest of the neutral color scheme, while adding an extra touch of personality.
2. Use woven baskets to create a feature.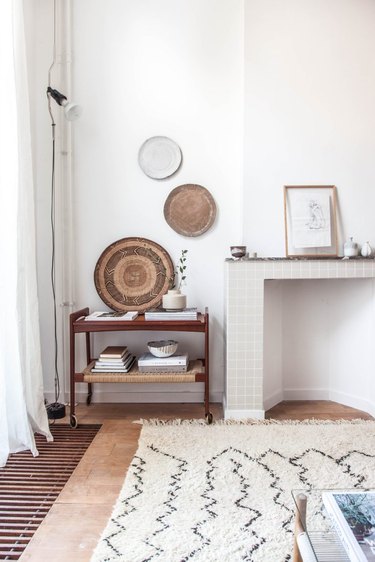 Think outside the box when it comes to decorating your walls — you don't need to settle for artwork only. Woven baskets, vintage objects, and fabric wall hangings will work wonders for bringing something a little extra to your abode, and they're especially perfect if you're on a tight budget. Take inspiration from this simple arrangement by the girls over at Avenue Lifestyle — it's understated yet adds a ton of interest.
3. Make a statement with shelving.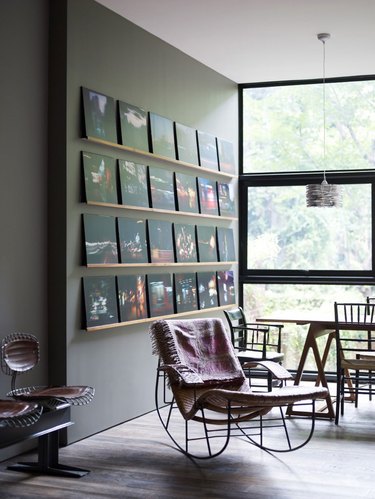 Picture ledges are all the rage at the moment, and we say go big or go home! The team at Archi-Tectonics made use of an entire wall in this Chelsea townhouse renovation by arranging canvas photos to create a dramatic backdrop in the corner of this cozy living room.
4. Create a retro aesthetic with vinyls.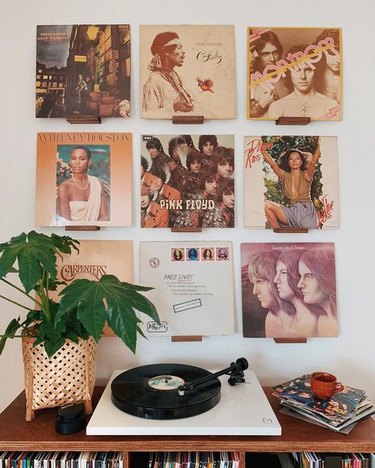 Whether you have a record player or not, this living room wall decor idea from Emily Jane Lathan is super easy to recreate and will add a new level of cool to your home. Simply select enough albums to make a grid (you could even go bigger than this) and hang them up for an alternative gallery wall.
5. Hang a show-stopping mirror (or 10).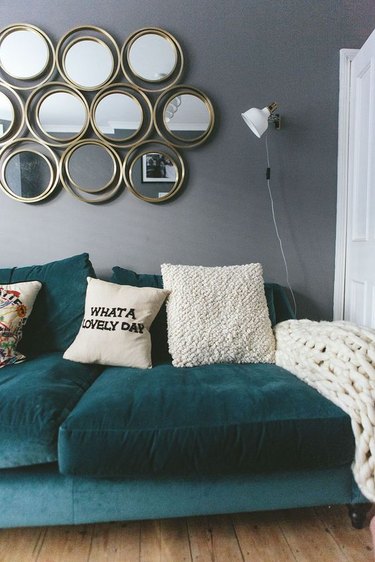 Stuck with what to put on your walls but want to make a statement? This living room by British blogger Olivia Purvis feels both retro and modern at the same time thanks to the geometric assortment of round mirrors. And the antique brass finish looks great with a pop of teal from the velvet sofa. Swoon!
6. Opt for an abstract wall mural.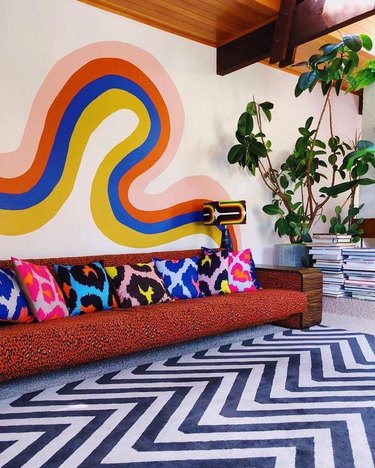 Life shouldn't be boring and this living room wall decor idea by New Zealand-based designer Evie Kemp proves that girls (and boys) just want to have fun. Not to worry: You don't have to be a master painter to create a similar mural — simply choose an abstract shape, some bright colors, and go with the flow. Or, you can hire a professional if you don't feel like your artistic abilities are up to the challenge.
7. Build a wall of plants.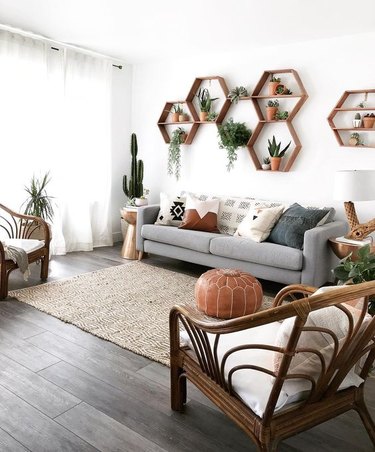 Plants make people happy, and this display of botanicals in a boho living room belonging to Kae of Kaekoo Shop is doing just the trick. The honeycomb-shaped wall shelves are perfect for showcasing plants but can also be used for trinkets, small prints, or even as a wall feature in its own right.
8. Hang a wall tapestry.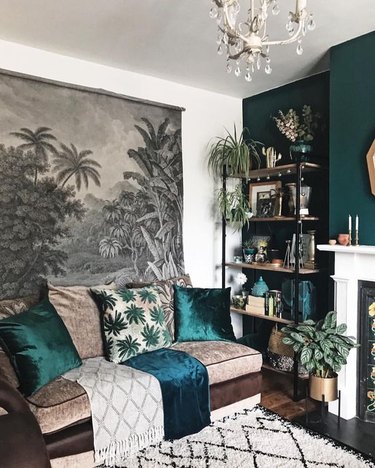 A textural wall hanging makes a contemporary alternative to a painting or poster print and will act as an ode to the '70s. This botanical wall hanging in blogger Melanie Jade's living room brings warmth to the space and ties in the rest of her leafy accessories. If you're looking for living room decor that will cover the entirety of a wall, this is surely how to do it.