Apparently, there's a festival for everything. We've just stumbled upon TinyFest, a celebration of all things tiny living. And yes, like you, dear reader, we have a few questions.
According to its website, "TinyFest is a place for like-minded people to come together and make lasting connections." It's meant to appeal to owners, builders, and fans across all sorts of tiny house categories, from backyard cottages to converted vans to shipping containers.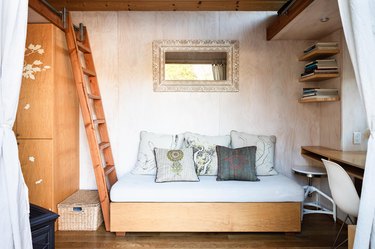 Programming will range from house tours to presentations by guest speakers to panel discussions. There will also be a marketplace selling everything from eco-friendly home goods to tiny house necessities like alternative energy solutions. And like at any good festival, there will also be live music, local food vendors, and beer — lots of beer.
You can experience TinyFest in San Diego from February 29 to March 1, with a second event occurring in Des Moines, Iowa, on June 13 and 14. There will also be a third festival in Portland, Oregon, but dates are still TBD. Single day tickets are $15, with full weekend passes costing just $5 more — not a bad deal for the tiny-house obsessed (or the simply curious).
---
Stefanie is a New York–based writer and editor. She has served on the editorial staffs of Architectural Digest, ARTnews, and Oyster.com, a TripAdvisor company, before setting out on her own as a freelancer. Her beats include architecture, design, art, travel, science, and history, and her words have appeared in Architectural Digest, Condé Nast Traveler, Popular Science, Mental Floss, Galerie, Jetsetter, and History.com, among others. In another life, she'd be a real estate broker since she loves searching for apartments and homes.