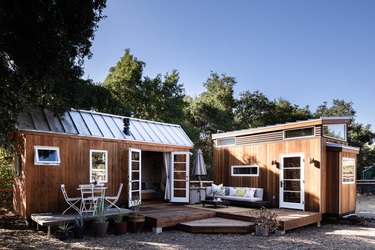 Vina Lustado, designer and owner of Sol Haus Design, is a huge proponent of compact living spaces and the possibilities they offer versus their assumed limitations. Her beautifully designed home and Sol Pod mobile office in the lovely rustic setting of Ojai, California, are showcases in sustainability, from her use of reclaimed wood and solar paneling to salvaged window frames and LED lighting. By going tiny, she aims to make a mighty big statement and such structures a reality for others. Her living space is just 8.5 feet wide and 20 feet long, and her office is 8.5 by 16 feet. They were built with the help of friends and local craftspeople in 2013 and 2015, respectively.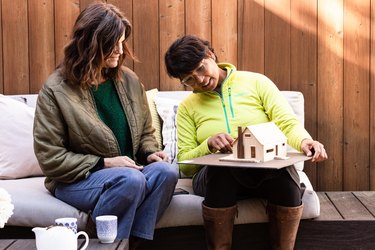 Her design philosophy goes well beyond just minimizing your square footage. "It's about efficiency — in everything," Lustado says. "[It's] obviously in spaces, but also in the way we work, in the way we clothe ourselves even, like everything being multifunctional in your clothing and in your furniture." Her personal mission, which many of her clients share, is, "to minimize time and money, and spend more on things you really enjoy, like experiences, time with family and friends, and meaningful work. It's also about natural resources and energy efficiency to minimize our impact on the Earth."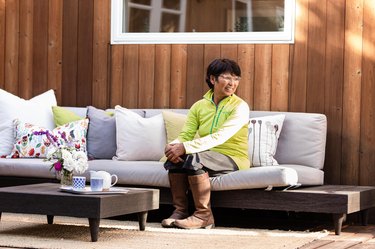 Born in the Philippines and raised in a very rural area, Lustado knows what it's like to truly live off the grid. She spent a lot of her childhood with her aunt and uncle, who lived in a traditional nipa hut made of bamboo with a thatched roof and no electricity. They made food under an open fire and washed their clothes in a nearby creek. "We would take the donkeys and the mules out and spend hours and hours and days with nothing other than nature," she recalls. When Lustado's family immigrated to the States when she was seven, that time in the jungle really stayed with the designer and informed how she strives to live today, which is, "simply and close to nature." She found that Ojai, about 80 miles from Los Angeles, in Ventura County, provided a similar environment.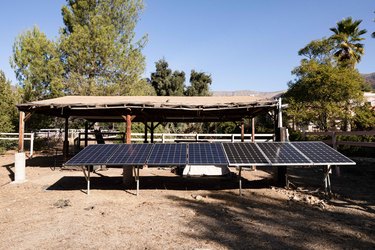 Her home and office on wheels are situated in the valley, surrounded by trees, mountains, and hillsides. "People call it like a nest, and to me that really rings true, where it's kind of cradling you and making you feel safe and secure," she says, while mentioning another draw to the area: "Ojai is a hotbed for progressive thinkers and innovative ideas, and so when I first moved here [in 2009] it felt really good, because the community is into sustainability and nature, and it's also a very spiritual center, I think because of the landscape." And like many tiny homeowners, Lustado rents the land she lives on versus owning. The ability to take her tiny home wherever she chooses is one of the big advantages, after all. And this aspect — mobility — also narrowed down the materials she could use in it.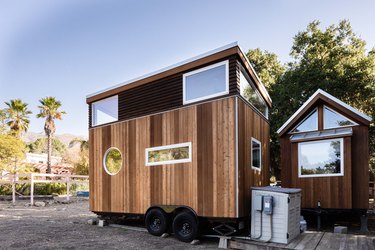 Inside, Lustado's use of contrasting wood, from the walls to the furniture to the floor, was more than an aesthetic choice. "In tiny houses you can't use what's typically drywall board on the wall, because during travel it will crack and not maintain its shape, so I had to use something else," she explains. "Wood is a better material for the walls in tiny houses. So the one on the wall is a plywood 3/4 inch, called CDX, a plywood that you would typically use outside." The designer brought it inside because of its waterproofing properties for the bathroom, then she applied a white wash on top, using an organic wash from Germany called BioShield, to help reflect light in the closet-size space.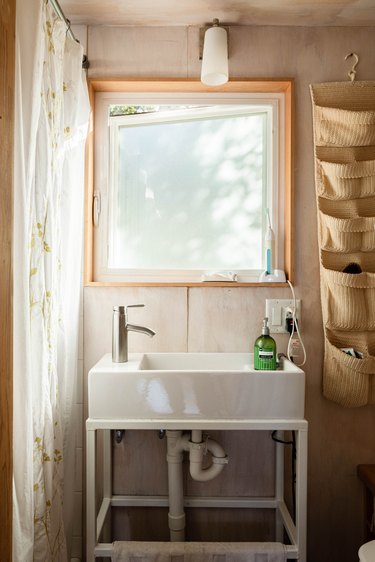 Her floors are recycled wood from an old house that her millworker, Kris McCourtney, reclaimed from a previous client who had applied a dark stain to it. Lustado did a lot of work sanding it down to expose the grain and restore its original oak character. The cabinetry elsewhere throughout her tiny home — desk, storage unit, and bedroom — is completely green and ethically sourced, she's proud to note: "The plywood itself is from Columbia Forest Products. They're completely nontoxic, they don't have formaldehyde, and their company has fair-labor-trade practices, so that's also really important to me, to have really ethical practices with the materials I source."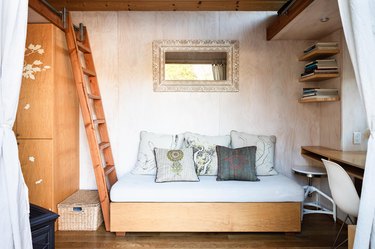 In terms of the layout of her home, Lustado measured every inch in order to design furnishings with maximum functionality and comfort, from how she placed the windows and doors to being smart about her storage, from floor to ceiling. "A lot of my design influences are Japanese and Scandinavian, so there is a lot of natural light and natural materials like wood. The front door of my tiny house is located off the side and there are two large French doors that were recycled, repurposed from Craigslist, that serve as an entry into the 'great' room." (This is a term tiny home people use to describe their multipurpose room.)
Light, of course, is one of the biggest factors in designing any space. While most people want to welcome as much natural light as possible into the home, there are factors to consider especially when it's a tiny one. When Lustado was building hers, she learned that "if you have too many windows, that can overheat the space and provide less insulation value." Places she may have wanted to have a window initially, such as above her couch, were nixed when energy consultants advised otherwise in order to comply with with energy-efficiency standards. But Lustado still found a creative solution despite the restriction, placing a mirror above her couch to allow for additional natural light to fill the space and give the illusion of a bigger room.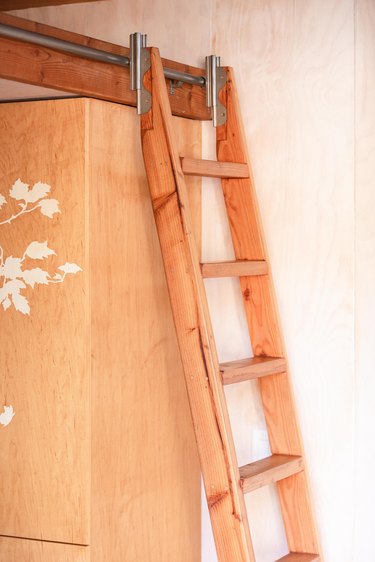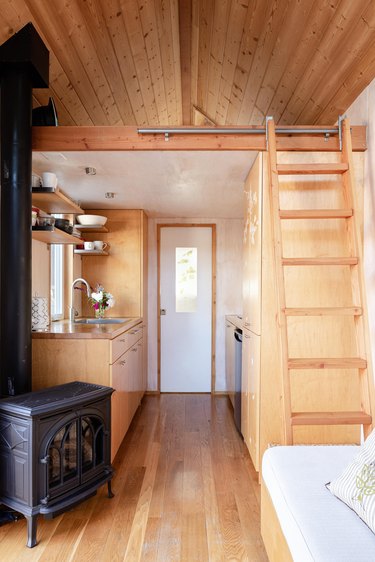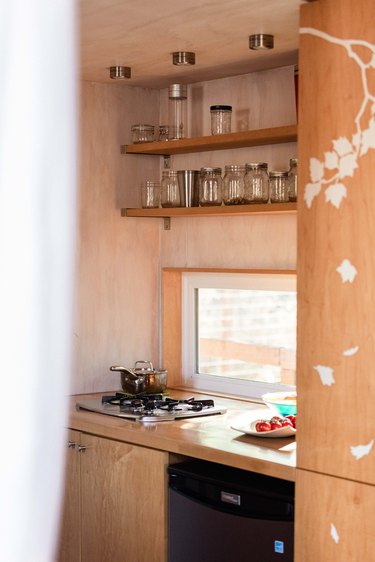 To the left of the great room is the kitchen, where you can see touches by her artisan friends, including a muralist who did a stenciled tree painting on the cabinet doors. "That stenciling is from a sycamore tree, and we oriented it, all these leaves specifically, so it all goes down naturally and has a really natural flow." That motif continues through a glass piece on the the pocket door near her bathroom.
The surface-mounted LED lighting above the kitchenette was purchased from IKEA for its affordability and energy efficiency and matches nicely with the stainless-steel elements in the shelving, sink, and cabinetry hardware.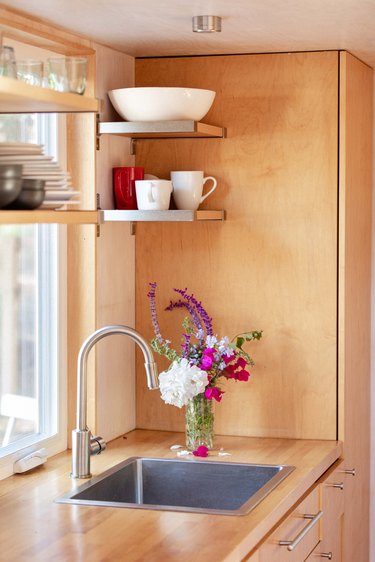 Diagonal from the kitchenette is her most beloved item in the home and the most expensive: a Lillehammer gas propane fireplace by Jøtul in Sweden that she wants to emphasize is "completely safe" despite skeptics. "I can just turn on the fireplace with the switch of a button on a remote control, so I can be in my bedroom and turn it on," Lustado says. "It's pretty luxurious, and it basically heats up the home in 15 minutes. It's amazing."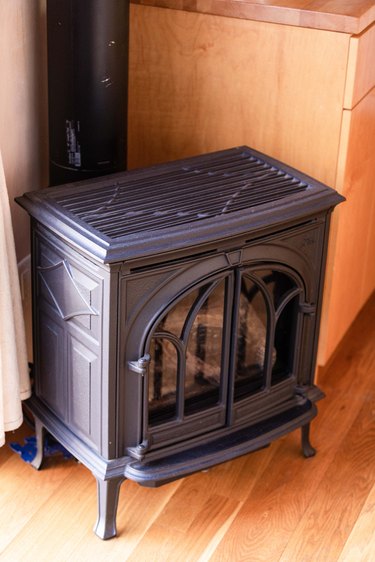 Up the ladder to the left of the sofa is her sleeping loft that has a queen-sized bed beneath a gable roof, with storage behind the mattress, running the length of the floor. The adjustable wall sconces are by lightexture in New York and made of clay. "When you turn them on, they have little twinkling lights coming out around the sculpture," she shares, "so it looks like stars at night."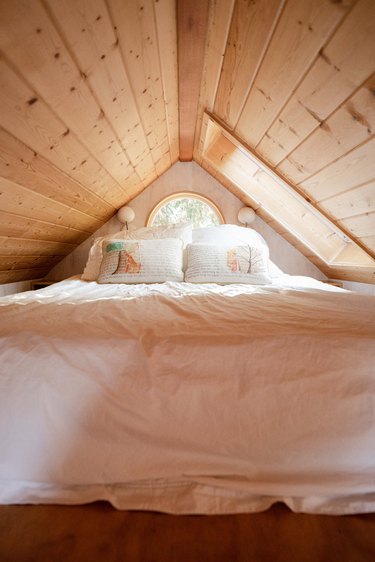 The small circular window, the square window in the loft, and really all the windows of both tiny structures are their most eye-catching features. She purchased the first two windows for her home from the Habitat for Humanity store in nearby Santa Barbara for a friendly price (just $200 for three windows), and turned to a local supplier for Milgard windows for the others, including the trapezoidal window in her office.
Outside, the vertical siding is cedar with rain screen behind it, so when it rains, it resists mold. And the trim on the corner of her office is extruded aluminum to protect it from nicks during travel.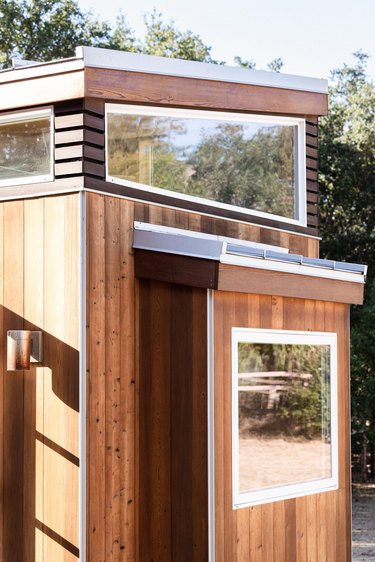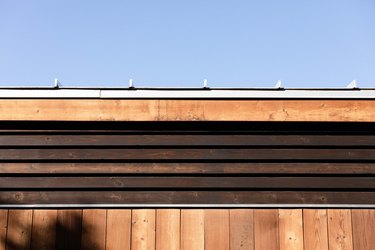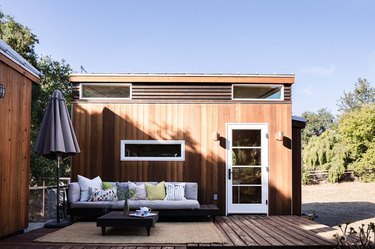 Inside her office, the walls are maple veneer, and with the way the windows and structure itself are placed, there's a play of light on the walls throughout the day that Lustado loves. The floor is from Cali Bamboo, which she highly recommends for their prices and customer service, and the cabinetry, like her home, is made of Columbia Forest plywood.
To the right of the French door when you enter is a countertop with a small sink. Lustado designed a chopping board to be flush with the counter to expand prep space when the sink isn't in use. The little nook is a functional kitchenette as there is a portable, foldable induction stove in one of the drawers. And the most popular item in the office for visitors is the baby blue Urban Outfitters refrigerator tucked beneath the counter, though the designer is the first to admit colors, especially bright ones, aren't generally her style.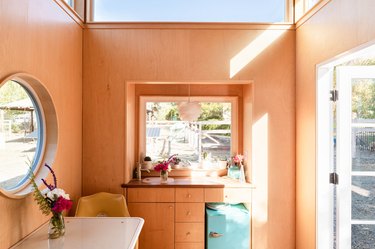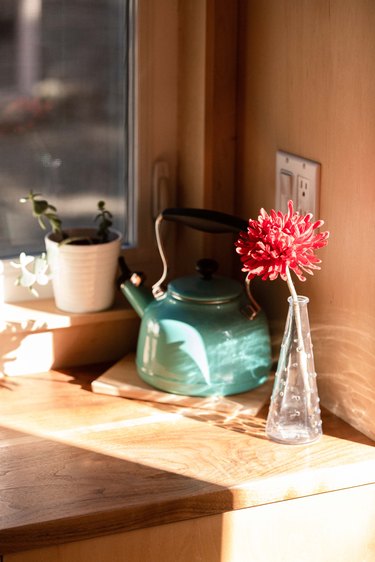 "I don't use colors that much, because I like to keep things neutral and use color to accent, but this was going to be a permanent piece. I think it actually brightens up the space quite a bit," she says. She added the yellow chairs, a thrift-shop find she bought from a friend, to enhance the retro feel of the space.
In the work area that sits atop the trailer wheel area, all the furniture is customized. They nest together and can be reconfigured for travel purposes or for whomever is working in the office, sometimes up to three people at once. Finding storage solutions wherever she could, there is shelving that runs the length of the area, and there are also huge drawers underneath the raised floors. "It was all driven by functionality," says Lustado, who also worked with a solar consultant to minimize the electrical load of the refrigerator, electric heater, and the lighting.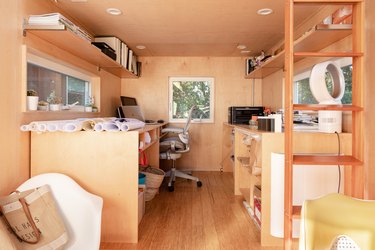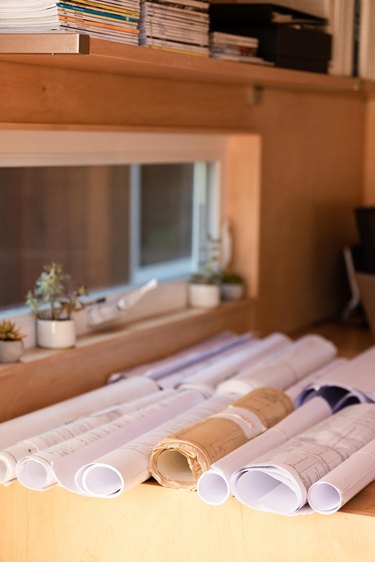 If you're thinking her office and tiny home are pipe dreams, she wants to convince you that this lifestyle is not out of reach: "Green building has a reputation for being expensive because a lot of people use materials and technology that are expensive, but I wanted to prove to myself that this doesn't have to be the case." In her case, it took ingenuity, friends, and local artisans to help, and a trustworthy partner who is also a builder to see it through.
Fortunately, you can benefit from her research, designs, and knowledge to achieve the same. Anyone can purchase both designs through Sol Haus at reasonable prices, and her home design even comes with a picture book that shows all the construction from the beginning to the end. In fact, Sol Haus Design is selling its tiny house plans for 40% off through December 31st, with $100 of each sale going to Habitat for Humanity of Ventura County. If you want to go tiny, do it in charitable style this season.
Today, her tiny house already has a life well beyond her property. It's been built by clients in the United States, Australia, Canada, and other countries all over the world. Will you be next to embrace a tiny footprint?