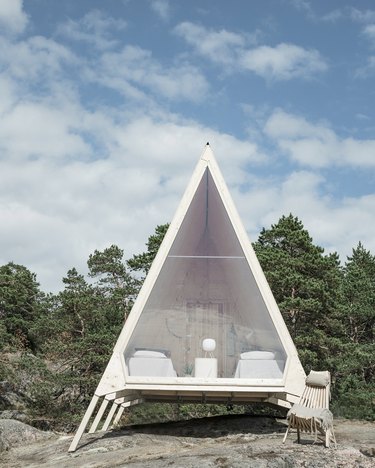 Welcome to Scandi-land, our celebration of the magic that is Scandinavian design. All week, we'll be bringing you tours, features, and shopping guides that dive deep into what makes Nordic design so covetable. Want more to read? Check here.
Arresting bright whites, natural elements, and sleek minimalist decor are all typical of Scandinavian design. A unique one-room summer cabin — located on the majestic Finnish island of Vallisaari, a 20-minute ferry ride from Helsinki — incorporates these markers while employing a variety of sustainable components. Commissioned by the European renewable energy company Neste and designed by Robin Falck, the getaway is a prime example of ways designers can use sustainable elements without sacrificing style.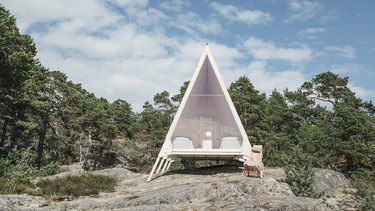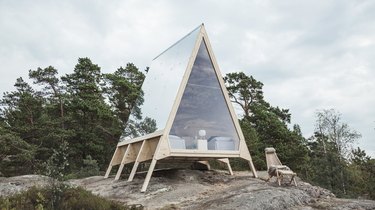 "Cabin culture is a big part of the Scandinavian culture. Pretty much everyone has a cabin somewhere where they spend their summers and weekends. Relaxing, saunaing and working on their cottages," Falck says. "Neste wanted to start the discussion of being more eco-friendly in how we live and use our cabins in Scandinavia." Solar panels generate the energy for the cabin. The stove, which can be used for both cooking and heating, runs on renewable diesel from Neste. In addition, all materials used in the $30,000 project were sourced from nearby suppliers and timber shops to further reduce the carbon footprint of the build.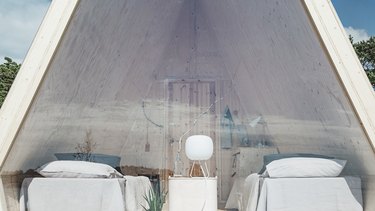 The space measures just over 100-square-feet. An eco toilet is located outside of the building and guests pick up water at a communal supply on the island. The cabin is also mobile — it can be easily assembled or broken down without heavy machinery.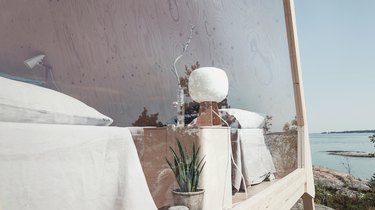 A cylindrical side table from Verso Design complements the Finnish fur plywood flooring. The bedding stays neutral to continue the natural theme.
Falck cites the time constraint as the biggest challenge. "I got the assignment in March and the cabin had to be done by June. We made it but it was quite hectic at times," he says. Despite the challenge, the cabin (dubbed "Nolla") received its first visitors in August.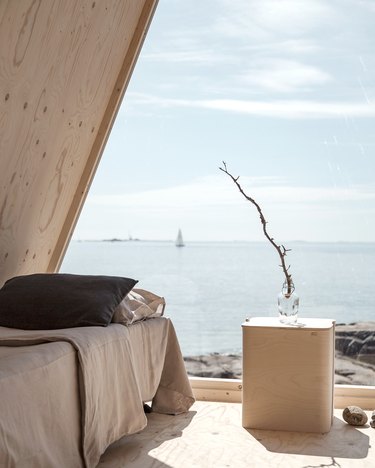 Naturally, there's no wi-fi or electronic entertainment here; the cabin is about disconnecting and thinking about how to maintain a zero-waste status during a guest's stay.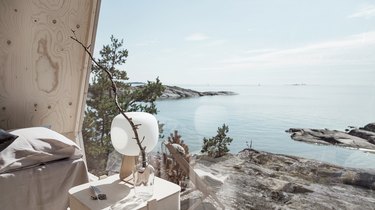 "The external materials used for the cabin includes a reflective aluminum sheet that helps to keep such a small cabin cool during the hot summer months," says Falck. The aluminum also acts as a mirror, reflecting the surrounding beauty.
"We must tackle the environmental issues from all fronts," Falck believes. His advice is simple: "Buy less, make less trash. It's one of the most effective drivers." And it doesn't have to be boring. "Make it into a game. How green can you go?" Falck advises. "It should not make you feel burdened: instead, freed."