Who: Iris Alonzo of Everybody.World
Where: Westlake District, Los Angeles, California
Style: Constantly evolving, with a celebration of secondhand pieces
As co-founder and creative director of a brand dedicated to being sustainable and ethical, Iris Alonzo of the L.A.-based clothing and goods company Everybody.World is in the business of producing items with long lifespans and giving new life to discarded items. Everybody.World invented the first 100 percent recycled cotton jersey, after all. And the way she has designed her loft, which is resplendent in its array of colorful, textured, and imaginative furnishings, is consistent with these practices: filling it with primarily secondhand or multifunctional pieces.
For the last 11 years, she has lived in one of the most recognizable buildings on Wilshire Boulevard, the historic American Cement Company Building, constructed in 1961 as the company's headquarters, thus the cement latticework exterior to showcase its work. Now a live/work space, Alonzo actually had her eye on the building since she was a teenager: "I used to always drive by, and there was a number on the side of the building that I just started calling all the time" during her flip-phone days, she recalls. "I would call up and say, 'Hello, are there any units available for rent?' trying to sound like an adult," but for years, no such luck. Around 2008, a unit finally opened up that she lived in for a short time, until this one, a few stories higher, became available with quite the view.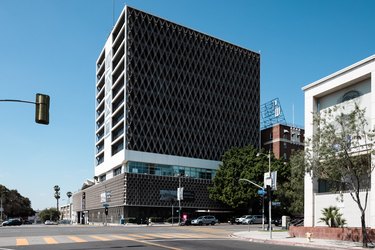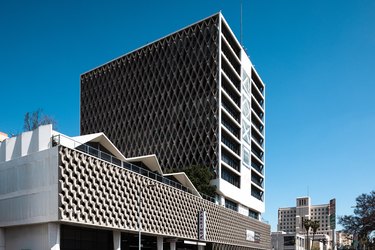 In order to make the space their own — Alonzo shares the loft with Charlie, one of the sweetest dogs in the world — she had some help from family and friends, whose pretty clever and stylish contributions really elevated the space. One of her brothers, an architect, designed her bedroom with mirrored doors and an adjoining walk-in closet to section it off from the rest of the loft. "It was his idea to build it at an angle," she shares, "which I thought was really important to open this up," simultaneously creating an entryway and a more interesting flow into the loft versus a hard straight line.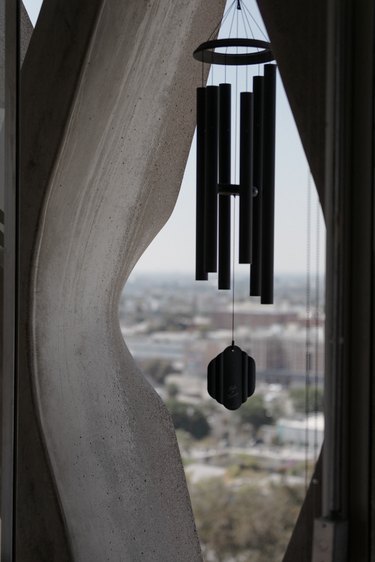 Her two other brothers each added something special to her space as well: one was miraculously able to hang a wind chime outside; the other made custom, movable staircases for Charlie, giving him easier access to the couch and bed.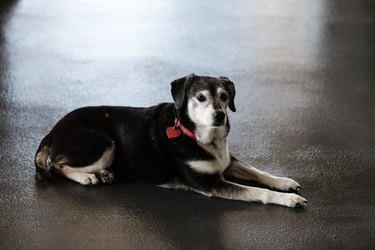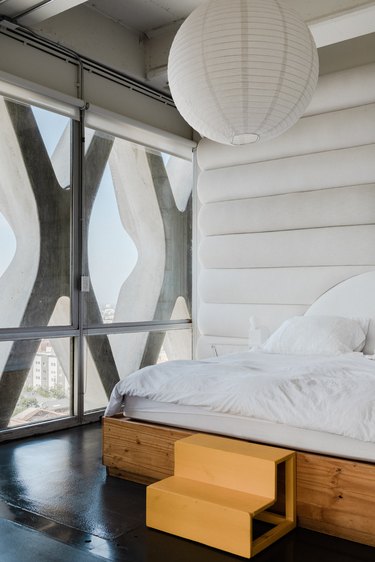 In the bedroom itself, Alonzo turned to her friend's company Work + Sea to address what anyone who lives in a multiunit building can relate to: neighbor noise. She was tired of being woken up by her neighbor, whose kitchen is on the other side of her bedroom wall, loudly preparing breakfast, so Alonzo asked the designers for "a soundproofing solution that's beautiful." The result is a cushioned wall that doubles as a massive headboard. And for the dividing wall between her room and closet she chose '80s-era glass blocks to allow natural light in.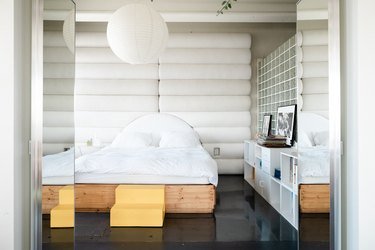 While her bedroom and closet walls are fixed, as well as her kitchen island for now (as she's planning a renovation of that area soon), the layout of the rest of the loft is always evolving. "I'll take out a few chairs, put them in the office, bring in something else," she explains, mentioning that the Everybody.World office is conveniently a few floors up. "It's a hodgepodge [in here] ... there are certain things that have really come with me the whole way, like this tree from my very first apartment near Fairfax, then there are things I'm just constantly collecting," such as the other plants of all sizes that decorate her home. "Each has its own personality. It's important to me to keep them happy."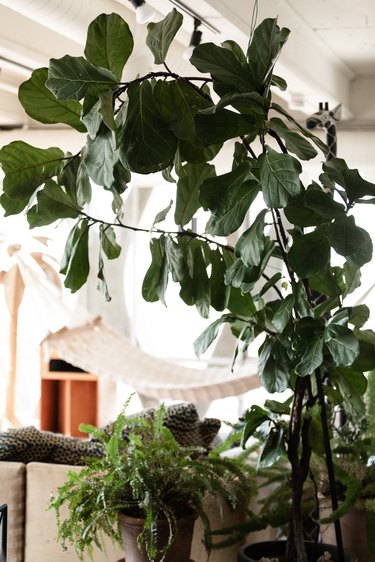 The main attraction for most visitors is, of course, the incredible, unobstructed view of MacArthur Park and downtown to the east, and a cement diamond-framed view of Pico Union and beyond to the south. "What's really cool is that it's constantly changing. No two days are alike, because the sky is never the same," says Alonzo. "The sunset happens here (motioning west), and it kind of reflects on the water and the buildings. The sunrise, especially during fall, is like fire, a bright orange."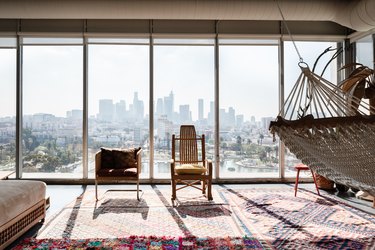 But the focal point of the loft on this day is a recent acquisition that makes those views even dreamier. "Every time I'm exhausted I just want to be in a hammock. It's like the ultimate lullaby to be in one, but I never found one that was really substantial enough, or one that could have a semipermanent place," she says. That is, until she found this hammock on a trip to Oaxaca. "I added clips so I could take it down if I wanted to, because I also project movies here when I pull down the blinds. But I wanted to have something that was substantial enough that, if I left it up, I could feel like it had a place here."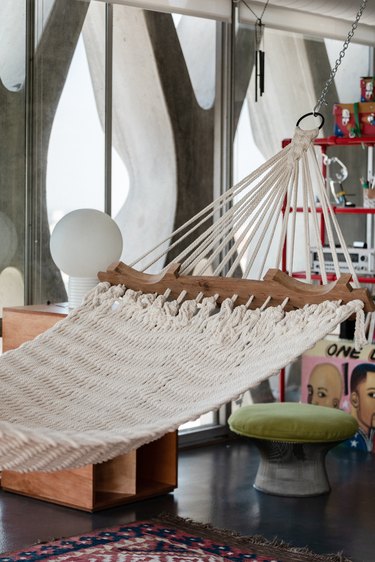 Placing clips on the hammock and wheels on other furniture allows her to move things around the loft with ease. "Every time my friends come over they say, 'Oh, you've completely changed everything,'" she laughs. "I like that. It will be a Thursday or Friday night, and I'm just like, I'm gonna move everything around."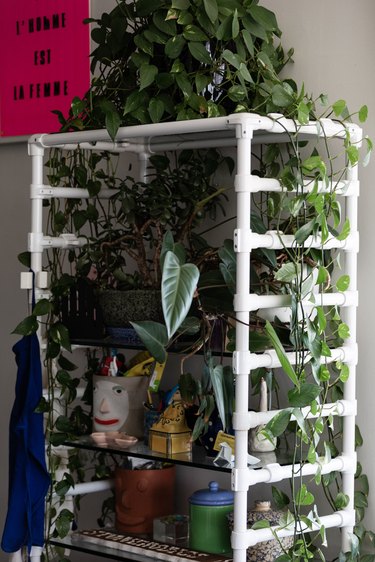 That's why Speedrail plays a big role in Alonzo's life as well, because of its versatility. The company is based in the Midwest, but Industrial Metal Supply in the Valley carries Speedrail locally, and it's available in steel and aluminum in different thicknesses. "I buy it in 12 to 20 foot lengths, powder coat it, cut it, and then use it like tinker toys to create different things." Two sets of shelving units in her loft are made from it — one in her kitchen, the other by her bedroom — and many pieces in Everybody.World's office.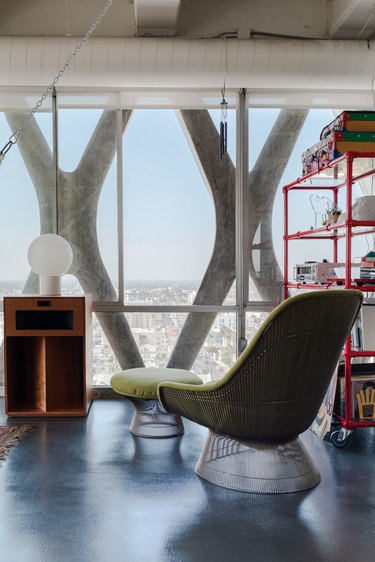 Most of the other furniture in her home she found on Craigslist (scouring for pieces on it is a longtime passion), including her complete dining room set, a vintage IKEA yarn-wrapped oval stool, and a large sectional she had reupholstered with three different fabrics by a friend's mom who does car upholstery.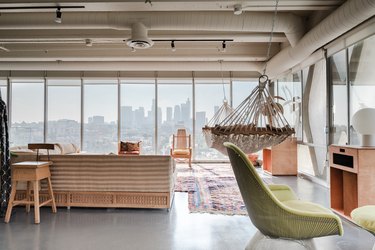 On the couch is actually a limited edition Everybody.World body pillow, the patterned Jean Pigozzi "Hungry Snake" pillow, which weighs almost 10 pounds and is in the shape of a snake digesting a house. Her fun rattan palm tree lamp was also purchased locally at "a really random furniture store on Western" whose staff couldn't believe she really wanted it. And a friend, who does vintage sound systems for homes, hooked her up with the unique-looking wood speakers on both sides of the hammock.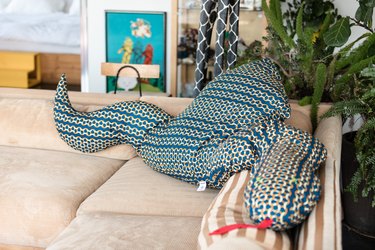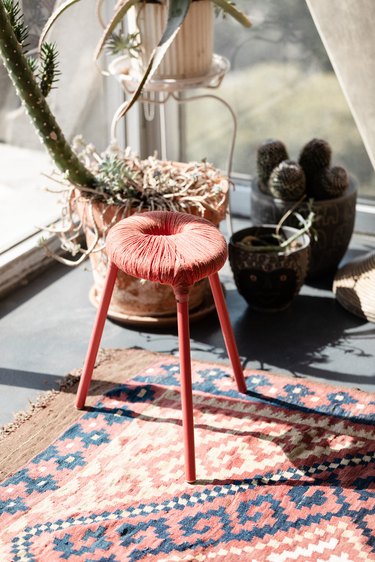 Everywhere you turn in Alonzo's home you get a wonderful eyeful, from all the rich textiles and cool flea-market finds, like the oversize shoe planters she picked up at the Rose Bowl, to the beauty of daily life unfolding at MacArthur Park Lake below, seen through the floor-to-ceiling windows. What more can a person ask for?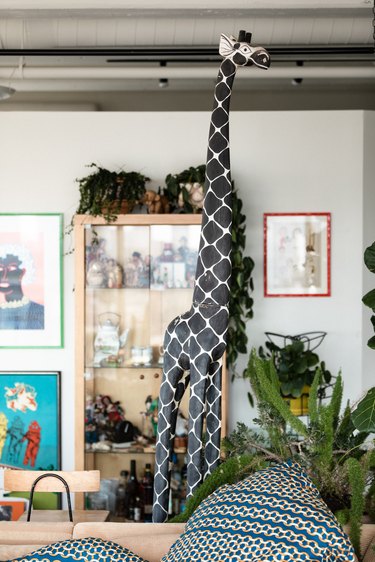 Apart from a new kitchen — with a drastically different color scheme and ideally a mobile island — she'd like to add another "comfort zone" item that ranks right up there with the hammock: a bathtub. Other than that, she admits what she really wants in the future is "less and less."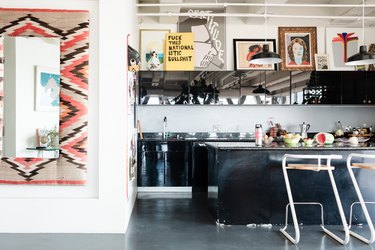 "I used to buy knickknacks, but I don't want any more," expresses Alonzo. "I only want things if they're functional — I just want things that have a purpose." Pointing toward her closet, she adds, "I think that I'm going to turn that into a more functional space that's not just dedicated to my clothing."
Well, guess what pairs nicely with a glass-block wall . . .