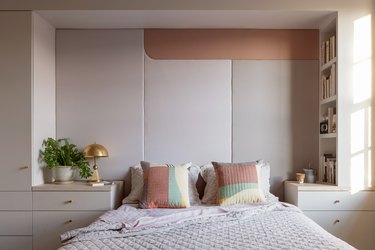 After Portlander Pam Williams discovered her neighbor's apartment renovation by Jessica Helgerson Interior Design, she jumped at the chance to make over her space. Williams had actually been thinking about moving she was so down on her home. But that neighbor's revamp changed her mind. "She needed a true refresh," Helgerson said. "We wanted to create an apartment that could be serene and energizing all at once."
The design process began by Williams giving the team a few adjectives that fit her personality and the team took it from there, deciding to bring in more color and light. The one-bedroom home in Portland's Pearl District now features increased storage space, a large built-in sofa to welcome guests, and a rainy day nook — ideal for a city that receives more than its fair share of rainfall.
Overall, it's proof that if you're sick of your space, but are willing to put in the investment, you can wind up with something that feels right.
---
After interning at Dwell magazine in San Francisco, Kate began writing about arts, design and culture for other national publications. She is based in Los Angeles and San Francisco.