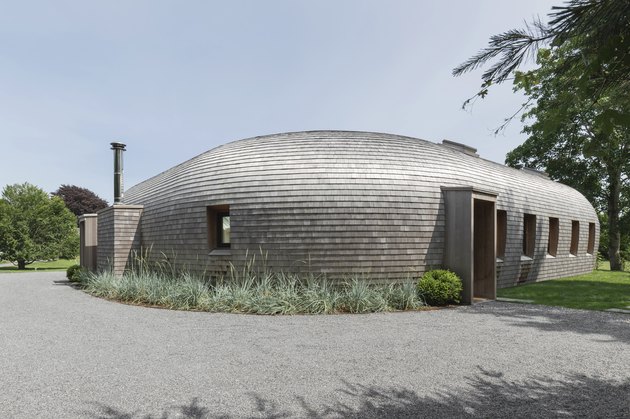 Going green often gives architects a chance to think outside the box. Nina Edwards Anker of NYC-based Nea Studio did just that with her design for the aptly named Cocoon House, a multi-layer, round-walled home located on the coast of Long Island. Edwards Anker's architectural studio is no stranger to designing items that are both strange and wonderful as well as eco-friendly, and the rounded house, which is powered entirely from solar energy, is no exception.
Using prefabricated structural laminated timber trusses, the house (built as a vacation home) is made up of two distinct halves measuring 16-feet-tall: one that offers privacy and another more transparent half made from glass walls that provides ocean views. Despite the home's unique shape, the Cocoon House is in harmony with its surroundings, featuring cedar cladding to fit in with the surrounding historic neighborhood.
1 of 10
Exterior
After diligently searching for a company that could achieve supplying the unusual rounded timber trusses, the team found Unalam, a company in nearby Upstate New York that could meet the challenge. "The construction techniques and process that led to the double-curved geometry of the house, as well as the LEED certification process, were challenging learning experiences for us all," Edwards Anker said.
2 of 10
Exterior
Stepping into the Cocoon House, built as a vacation home in Long Island, is like taking a step into the future. But the design was inspired by many ideas throughout history, including round-style homes of various indigenous communities.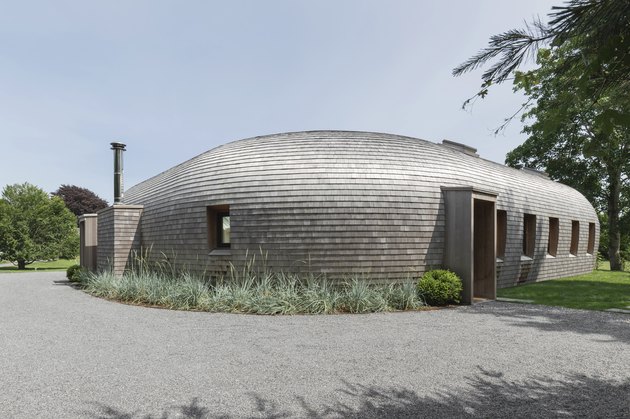 3 of 10
Exterior
Outside, a neutral palette lends the ideal background for the colorful aspects of the home. "Native beach grass, local cedar shingle cladding, and [a] permeable gray gravel driveway create a monotone palette of soothing lavender and gray tones," Edwards Anker said.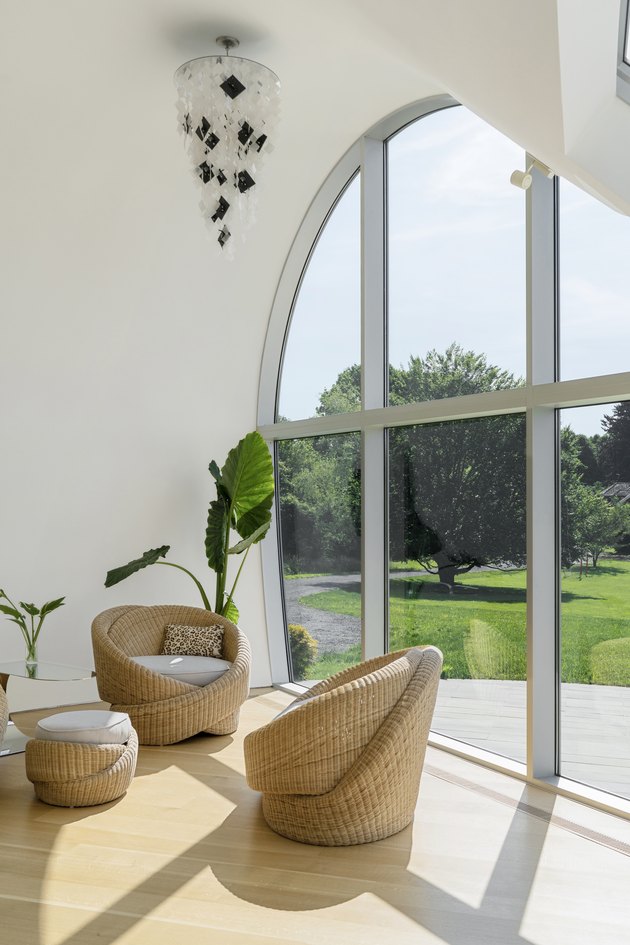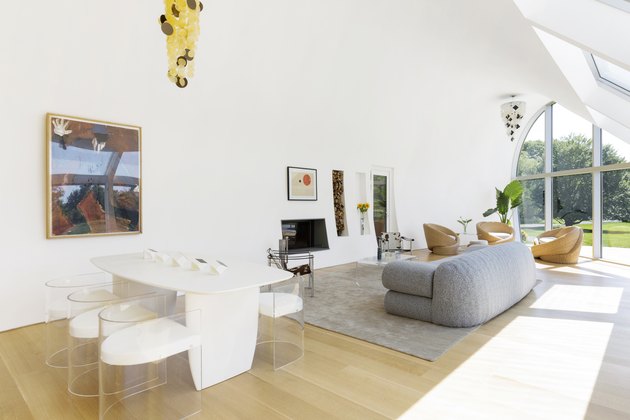 5 of 10
Living Room
The Beanie Sofa (made from lentils) designed by Nea Studio, defines the living room space and provides comfy seating in front of the energy-efficient fireplace. The heating and cooling systems of the house were designed to be as eco-friendly as possible. A southern-facing glass facade does more than afford picturesque ocean views — it also functions as a passive heating system for the home.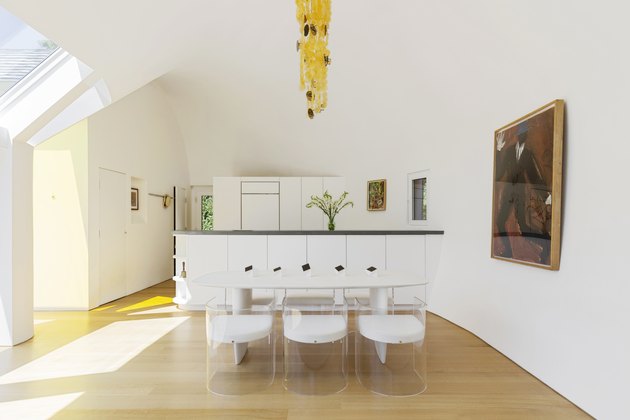 6 of 10
Kitchen
Eco-friendly and LEED certified, the home's circular body is inherently more eco-friendly than a typical house, as fewer materials were used for the build and less energy is used to heat and cool the house. The team used no structural steel, instead substituting timber, which lowered the carbon emissions that were used in processing the building materials. Also, by using wood, the design has a more natural presence — inside and out.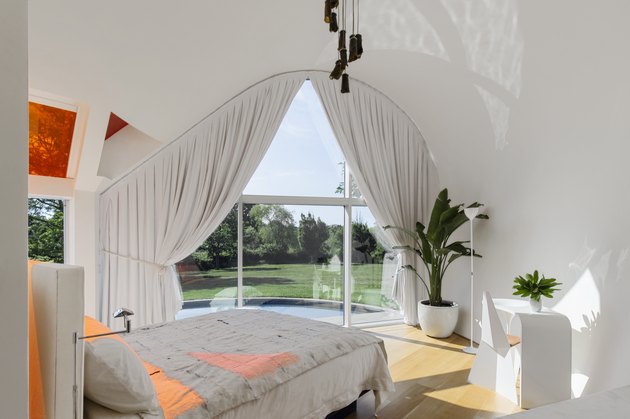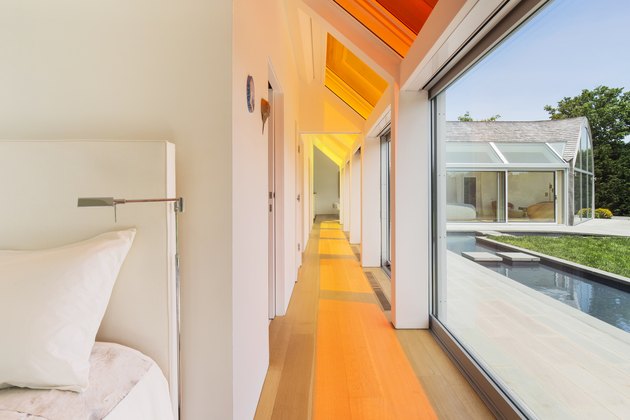 8 of 10
Hallway
The translucent skylight windows in the hallway were inspired by Goethe's color theory. Colors ranging from vermillion red (to signal rest) to light yellow (to signal activity), follow through the hallway and into the bedroom.
9 of 10
Bedroom
A minimal interior design coincides with the philosophy of the construction: highly functional, well-organized, and inspired by nature. A custom wood vanity table is paired with Nea Studio's Crystallized Chair, made from bent recycled aluminum.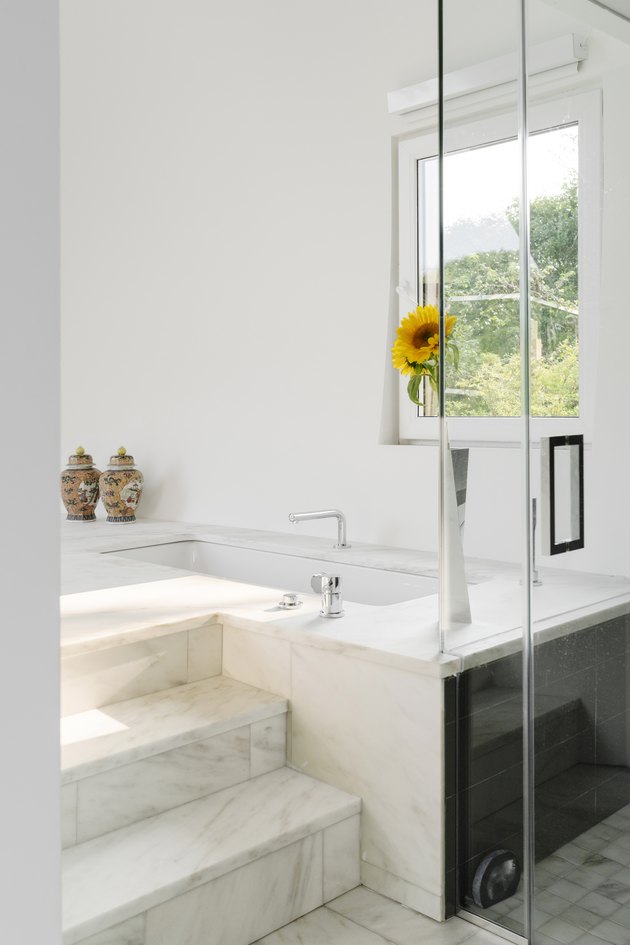 ---
After interning at Dwell magazine in San Francisco, Kate began writing about arts, design and culture for other national publications. She is based in Los Angeles and San Francisco.
View Work