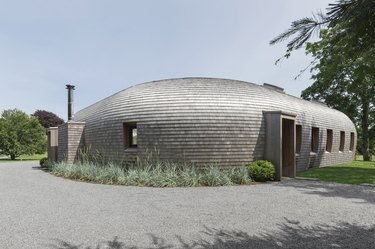 Going green often gives architects a chance to think outside the box. Nina Edwards Anker of NYC-based Nea Studio did just that with her design for the aptly named Cocoon House, a multi-layer, round-walled home located on the coast of Long Island. Edwards Anker's architectural studio is no stranger to designing items that are both strange and wonderful as well as eco-friendly, and the rounded house, which is powered entirely from solar energy, is no exception.
Using prefabricated structural laminated timber trusses, the house (built as a vacation home) is made up of two distinct halves measuring 16-feet-tall: one that offers privacy and another more transparent half made from glass walls that provides ocean views. Despite the home's unique shape, the Cocoon House is in harmony with its surroundings, featuring cedar cladding to fit in with the surrounding historic neighborhood.
---
After interning at Dwell magazine in San Francisco, Kate began writing about arts, design and culture for other national publications. She is based in Los Angeles and San Francisco.
View Work