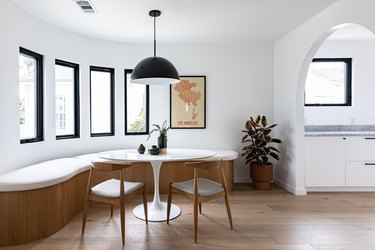 Sustainability is increasingly shaping the way we live. From shopping locally to doing our part in cutting back on plastic consumption, there are lots of ways to reduce our carbon footprint on the planet. Translating these best practices into our homes goes beyond swapping old furniture and decor with eco-friendly pieces — though the impact of that certainly doesn't go unnoticed. When it comes to the big-picture elements, such as the architecture and design of a house, we have the opportunity to make choices that not only help conserve energy but reduce emissions as well.
1. Keep the windows large.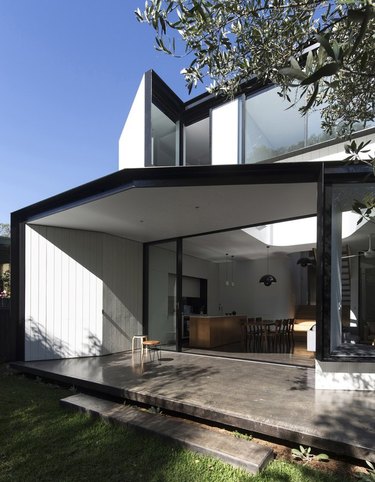 When being built, a home can be positioned to maximize the amount of natural light it gets, which allows dwellers to rely less on energy sources. Large windows, for instance, not only help increase ventilation but also boost the amount of sunlight we receive, especially when they're south-facing. The architect behind this Sydney abode did just that and even went beyond to incorporate an oversize, floor-to-ceiling sliding glass door, blurring the line between indoors and out.
2. Opt for salvaged wood.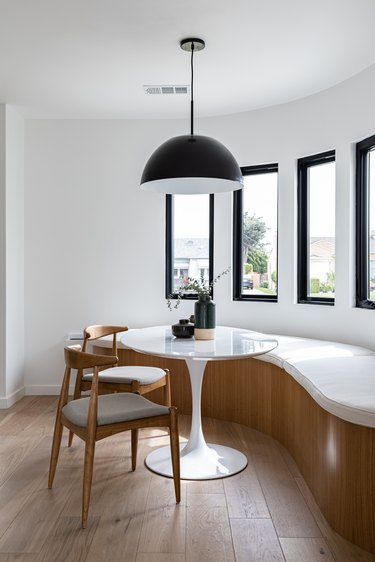 Understanding where materials are sourced is the first step in preserving environmental resources. Take wood flooring as an example. You can either opt for entirely new flooring, which can further contribute to deforestation, or you can opt to use reclaimed hardwood (sourced from old buildings) that would otherwise end up in a landfill. Bamboo flooring is also a great alternative. The sustainable crop self-generates, and quickly at that, growing as easily as grass.
3. Get creative with materials.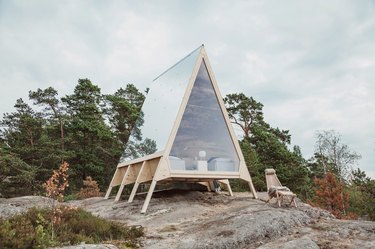 This zero-waste cabin, situated on the Finnish island of Vallisaari is proof that eco-friendly home design doesn't mean a compromise on style. Reflective aluminum sheets installed on the sides of the A-frame structure help keep the interior cool during the summer while the stove inside, used for cooking and heating, runs on renewable diesel fuel.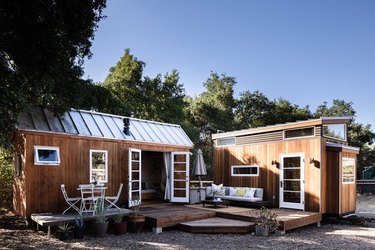 Tiny dwellings are the pinnacle of eco-friendly home design not only for a decreased carbon footprint but because of the green materials that they're often made out of. Enter this dreamy Ojai abode, which takes sustainability to new heights with its salvaged window frames, LED lighting, and solar-paneled roof. Peek inside and you'll notice that even the furnishings and millwork are upcycled with ethically sourced materials to boot.
5. Insulate, insulate, insulate.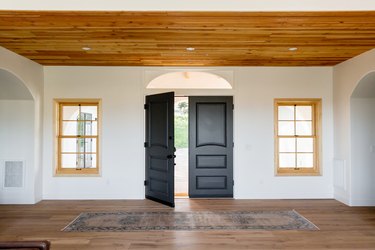 A properly insulated home is crucial for conserving energy. This means everything from the actual construction of a home to the gaps in window casements. Something as seemingly innocent as a sliver of an opening underneath an entry can cause your heating or cooling systems to work twice as hard to compensate for the loss. Attics are notorious heat traps, so ensure that yours is efficiently sealed.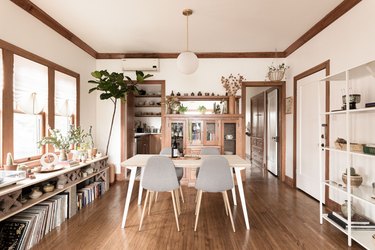 It's not a coincidence that the wide majority of eco-friendly home designs consist of a minimalist scheme. Reducing the amount of furniture we purchase not only contributes to less overall waste but gives us the opportunity to give old pieces a new lease on life. Take a page from Kristine Claghorn's book, who filled her space with secondhand furniture, refurbished vintage pieces, and even a few clever DIYs. It's a great example of living minimally without having to give up on comfort and style.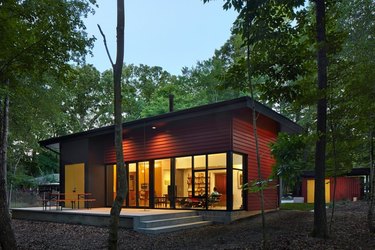 One of the hallmarks of this eco-friendly home by ThoughtCraft Architects is its rainwater collection system. It collects fresh rain, typically by way of gutters, funnels it through a sand filter, and eventually into a tank. It can be used for irrigation and even basic household purposes. Spoiler alert: It doesn't have to entail an unsightly cistern in the backyard.