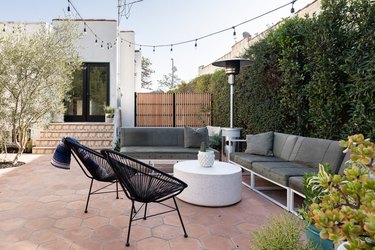 Our outdoor spaces are incredibly important. And if you're planning a renovation to make that exterior acreage livable for as long as possible, take it as your opportunity to go green. There are eco-friendly patio ideas to fit almost every budget, and you can feel good about creating space for yourself while making better choices for the planet. Win-win. Here's how to do it.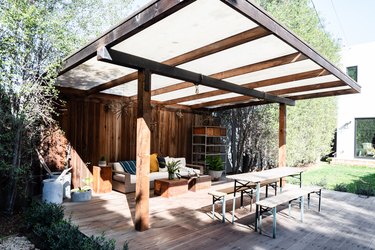 In this stunning outdoor renovation in Los Angeles, reclaimed wood and repurposed furniture take center stage. And while wood decks keep you from having to maintain a grassy lawn, they're not without environmental costs. However, using reclaimed wood — for a deck, outdoor walls, shade structure, or all three — will help you reduce, reuse, and recycle. Plus, it can also lend a really chic rustic or industrial vibe to your outdoor space.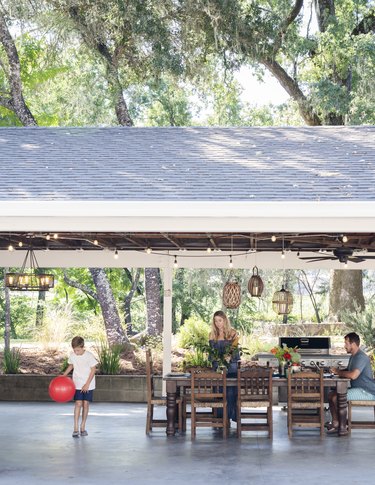 Yardzen co-founders Allison and Adam Messner upcycled their carport into a multiuse space that's ideal for working from home or remote learning. It's a "California room where everyone gathers," says Allison. It's also an example of maximizing space while minimizing both cost and environmental impact. We recommend thinking about what you have that can pull double duty outside. How can you transform an area without discarding anything? Even a small garage can be reenvisioned into an indoor-outdoor space.
3. Think from the ground-up.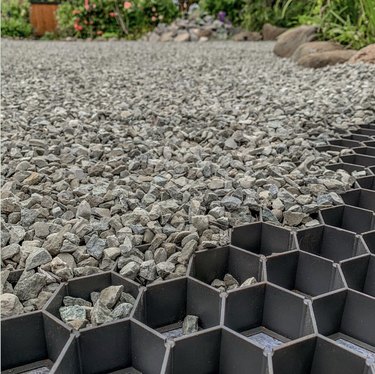 Concrete is such an affordable and durable solution for an outdoor space, but TBH it's not the greenest. Companies like CORE, however, offer permeable alternatives that are not only made of recycled materials but are also sustainable in so many other ways. For example, they reduce heat and manage storm water.
4. Make strategic decisions (and stay on budget).
Not everyone can afford a full eco-friendly overhaul of their patio. But seemingly small decisions matter, too — whether those choices are about materials or salvaging what you have so it doesn't go to the dump. In this chic but modest $5,000 renovation, Kendra Poppy replaced two large pavers with permeable gravel and chose to repaint the existing concrete to freshen the space and make it feel moden. Climate-appropriate planting helps finish the space and make it just right for entertaining in the fall.
5. Choose eco-friendly furniture.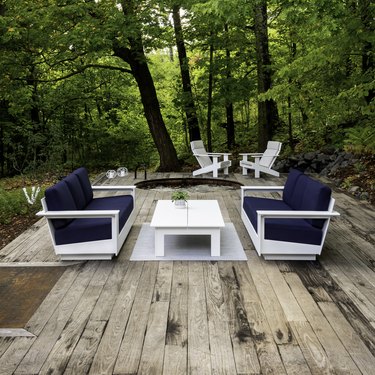 Sometimes it's as simple as choosing decor manufacturers that have the values you want to embrace. Take Loll Designs, based in Duluth, Minnesota. The company makes all-weather furniture and outdoor accessories with recycled plastic. (Each Loll Adirondack Chair consists of about 400 recycled milk jugs!) Beyond that, the company practices what it preaches by supporting a slew of eco-friendly initiatives, improving the local watershed, and donating to 1% for the Planet — a global initiative that encourages brands to contribute a portion of their yearly profits to environmental organizations.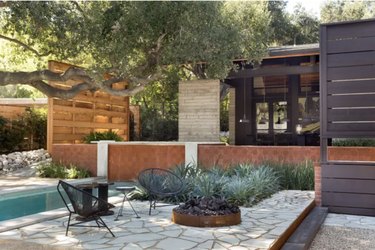 Plants are core to landscape design. And low-water, zone-appropriate greenery choices mean your outdoor space won't be a drain on natural resources in the years to come. They won't require as much maintenance, either.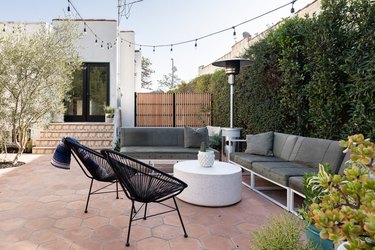 Solar is super when it comes to clean energy, and it's a perfect eco-friendly choice for outdoor lighting. There are countless styles of solar pathway lights and even solar options for the cafe-style string bulbs that we all know and love.