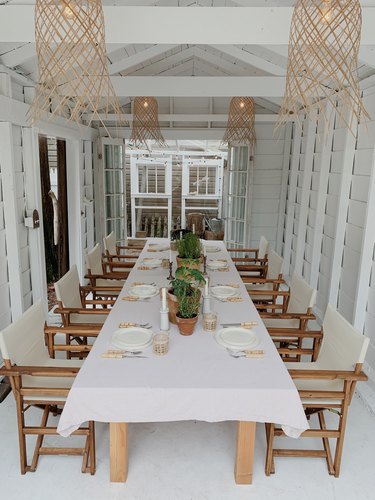 Hunker may earn compensation through affiliate links in this story. Learn more about our affiliate and product review process
here
.
When you're short on space, you have to use what you got. And in some cases, what you've got is a small garage that isn't living up to its full potential. If it's not storing a car or your junk, could it be a proper living area? A remote office? An at-home gym? With these inspired small garage ideas, and perhaps some help from a savvy contractor, an entirely new living space could be right there waiting for you on your property.
1. Double your living space.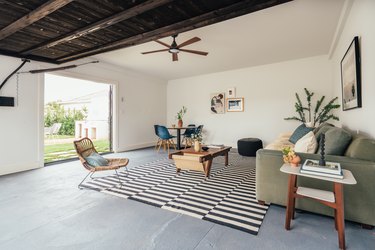 2. Create an income stream.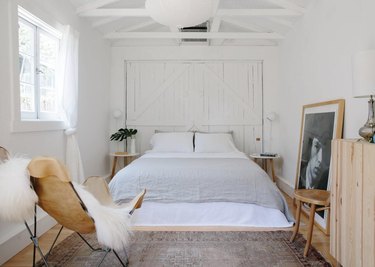 This Los Angeles garage, from 1913, was easily reimagined as a rental studio, and it goes for more than $100 a night on Airbnb. The most costly feature was the bathroom remodel. Otherwise, white paint and a reimagined garage door that works as a focal point behind the bed transformed this vintage space into a modern Bohemian getaway.
3. Add a spot for events.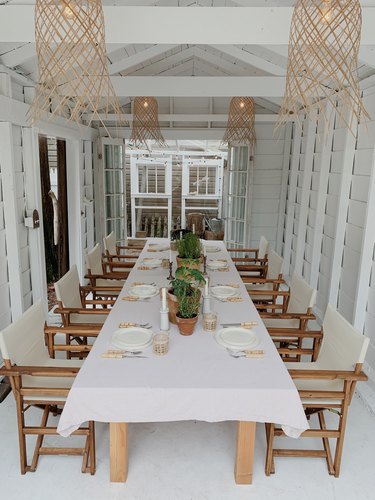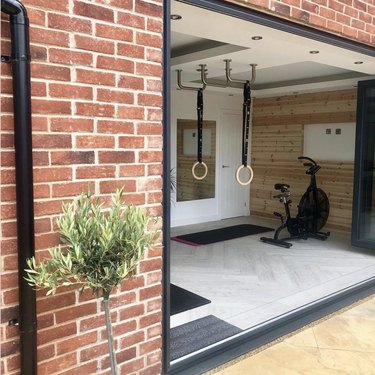 It's unsurprising that many of us are compelled to bring our public activities home — whether they're related to work or play. And this modern garage in the U.K. is enough to make you quit your fitness membership. An alternative to the basement gym, this garage workout space boasts herringbone floors and a wall of mirrors. Plus, it opens to a garden patio for plenty of fresh air while the owners break a sweat.
Perhaps the most popular small garage idea on the wishlist is the home office, since many of us work or learn from home in some way, shape, or form. This Salt Lake City carport is mostly furnished with familiar, budget-friendly home office decor — think: pieces from IKEA, West Elm, and Staples. But it makes the most of a previously dark and cluttered garage space.
6. Create a kid-friendly spot.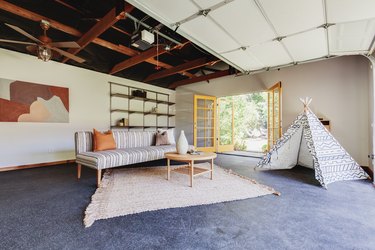 For families with growing children, an open, adaptable space with gym flooring might be just the trick. This 19x21 garage conversion in Eastern Los Angeles is on the larger side for an older detached garage (it's actually a two-car space from the '50s). But that extra room means it could be anything from an at-home gym or kids playroom to a future ADU. Right now it opens up to the yard, with a play structure, but as the kids age the space can mature with them.