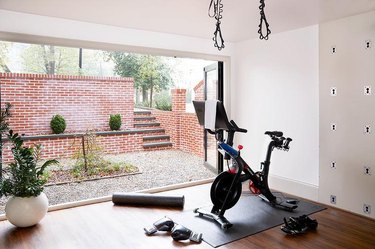 And the best part? You can design it to be a space you actually enjoy spending time in. From incorporating comfy sofas for a "break room" or bi-fold doors for a light and breezy vibe (yes, you can do that!), the possibilities are seemingly endless. So whether you're searching for a luxurious fitness retreat or hunting for inspiration on a serious budget, we've got you covered with these seven basement gym ideas.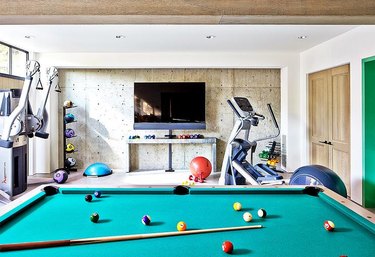 Martha Angus nails this stylish basement gym meets game room idea by bringing in functional finishes (like concrete) alongside warmer materials like wood beams and doors. To recreate this look in your own home, utilize a feature wall that brings in texture and interest in an an otherwise simple space.
2. Utilize sliding barn doors to create separation.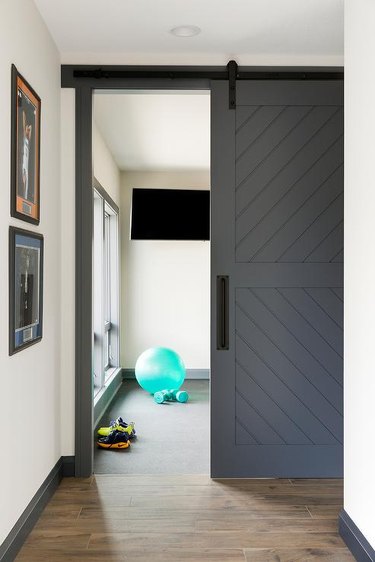 This tucked away basement gym idea by Bria Hammel is proof that you don't have to allow your workout space to dominate the entire lower level of your house. Instead, create separation with sliding barn doors which double as a functional feature while also adding rustic flair.
3. Add architectural interest with wood paneling.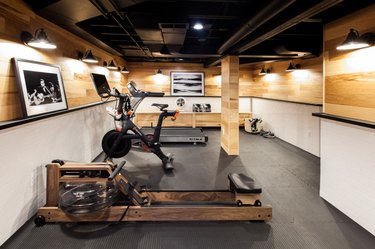 4. Create a break room with a lounge area.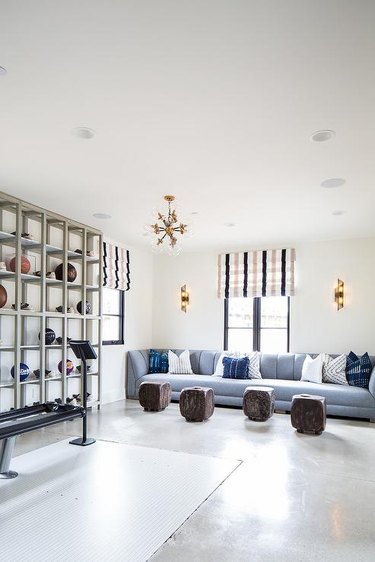 Who says your basement gym can't encourage some well-deserved rest? Take notes from this space by Tracy Lynn and incorporate a lounge area where you can happily take a break between workouts. Just think of it as your very own luxury locker room. To optimize the floor plan, choose an extra long sofa that will fit snugly against the wall, leaving plenty of open space for gym equipment.
5. Lighten up an unfinished space with painted walls and floors.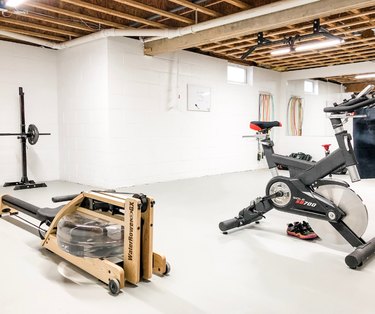 A full renovation is not always in the budget, but that doesn't mean your basement gym has to feel dingy and depressing. Annmarie turned her unfinished lower level into a light and bright workout space with painted white walls and freshly stained floors. Sometimes a little elbow grease makes all the difference.
6. Use functional built-ins to store accessories.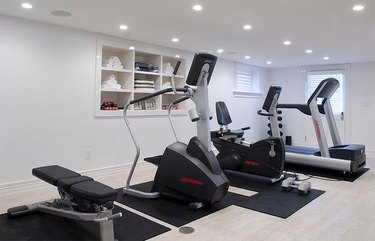 These simple built-in cubbies designed by Threshold Interiors add functional storage for towels and hand weights. Plus, they're versatile and can be repurposed for another use if the space ever gets redesigned. To recreate this basement gym idea, style shelving with a few decorative accessories, like picture frames, to make the space feel warm and integrated with the rest of your home.
7. Install bi-fold doors for indoor/outdoor flow.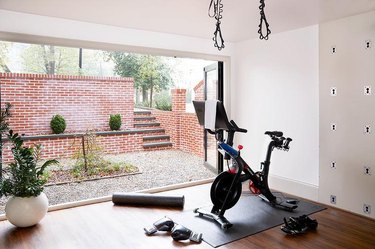 The biggest deterrent to spending any time in a basement is typically the lack of natural light, but D Stone Builders puts that concern to rest with this indoor/outdoor space complete with bi-fold doors. Follow their lead, and take the idea a step further by adding a few potted plants indoors so that you really feel like you're one with nature.